Analyze Risk & Reward with a Stock Option Calculator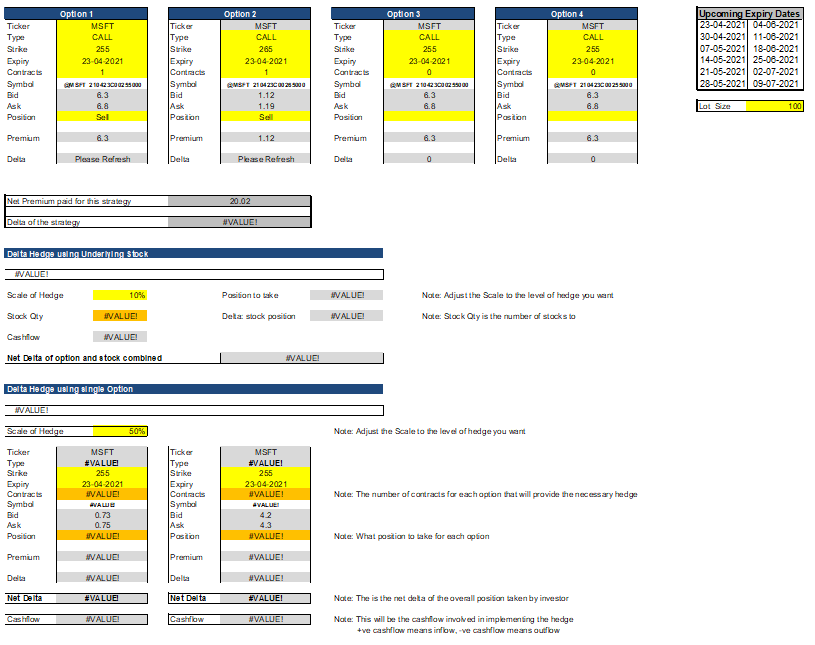 Understanding and Analyzing Risk & Reward with a Stock Option Calculator
Stock options have become an essential tool in creating an attractive financial portfolio. Investing in equity options requires a proper knowledge and understanding of the risks associated with each trade. This can be a complex and daunting prospect, but with the help of a Stock Option Calculator it is much simpler.
What are Stock Options
Stock options are contracts that give the buyer the right, but not the obligation to buy or sell shares of an underlying stock at a pre-determined price on a determined date in the future. Generally, an investor buys a stock option to hedge their risks and maximize returns. While stock options are attractive, they are high-value trades that require investing a large amount of money and therefore comes with a high amount of risk.
Option Pricing
Option pricing is the process of finding out the most profitable option that provides the best returns with the least amount of risk. This requires taking into account of various factors like the time to expiration, current market price, implied volatility and the price of the underlying stock. The Option Premium calculator can help you find out the Black-Scholes target premium of a call and put options with a few simple inputs.
Option Analysis
Option Analysis plays a vital role in understanding and analyzing the risks associated with trading equity options.This involves calculating profit and loss of a trade, taking into account factors such as the cost to purchase the option, any commissions paid and implicit fees. The Binomial Option Pricing Model Excel helps you determine theoretical option prices and the associated risks of the trade by using inputs such as the values ofstrike price, expiration date, current stock price and associated dividends.
Retirement Planning & Financial Planning
Options trading is most often used by investors during retirement planning, portfolio diversification and financial planning. Trading can offer a steady stream of income and even increase your nest egg but future performance is difficult to predict. Proper understanding of volatility and other associated risks can help manage portfolio risk and make better investment decisions.
MarketXLS and Financial Tools
MarketXLS provides a range of financial tools that make understanding and managing risk associated with stock options a much simpler and smoother process. From [Option Premium Calculator](https://marketxls.com/option-premium/) to [Binomial Option Pricing Model Excel](https://marketxls.com/binomial-option-pricing-model-excel/) and [Profit and Loss Calculator](https://marketxls.com/profit-loss-calculator/), MarketXLS provides clear insights into planning and managing your financial portfolio.
With the help of MarketXLS, understanding and deriving the most profitable options while minimizing risks associated with them is now much easier. MarketXLS provides original and reliable financial tools that take away all complexities associated with stock options and retirement planning. Investing with confidence and ease is now only a few clicks away.
Here are some templates that you can use to create your own models
Search for all Templates here: https://marketxls.com/templates/
Relevant blogs that you can read to learn more about the topic
Take the Guesswork Out of Options Trading with a Call Option Calculator
Real Time Stock Option Pricing In Excel (Any Version)
Options Profit Calculator
Options Profit Calculator
Option Premium
Interested in building, analyzing and managing Portfolios in Excel?
Download our Free Portfolio Template
Call:

1-877-778-8358
I am so happy you are here. My name is Ankur and I am the founder/CEO of MarketXLS. Over the past four years, I have helped more than 2500 customers to implement their own investment research strategies and monitoring systems in Excel.
Implement

"your own"

investment strategies in Excel with thousands of MarketXLS functions and starter sheets.
Get started today