Basics
Fundamental analysis
Getting Started
How to use MarketXLS
Informative
Portfolio
Portfolio analysis and optimization
Portfolio Management
Stock Comparisons
Stock investments
It All Starts with a Watchlist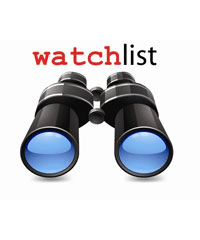 What is a Watchlist?
Every buy-and-hold investor, whether a beginner or someone who is very experienced, needs a watchlist. A watchlist is simply a list of stocks that you are interested in owning. Maybe you don't have much cash right now, or you feel the shares are too expensive. If you have a watchlist, then when those circumstances change, you can act quickly.
How Do You Get Started with a Watchlist?
Do you love Starbucks coffee? Do you shop at Costco religiously every Saturday afternoon, and at Home Depot on Sundays? Is your 25-year-old Stanley Black & Decker drill the greatest tool you've ever owned? And are the perks on your JP Morgan Chase Sapphire Preferred credit card so awesome you get a free flight every year? Corporations that make products and provide services that you already know and love are a good place to start. Add a few of these companies to your list, and you are on the way.
Another way to get started is to do some reading on various investing websites. What are analysts recommending? As you read, do you understand the case they are making and agree with them? If so, then maybe that ticker should go on your list. But if you don't really know what they're talking about, it's usually best to move on to something else. It's possible they are giving bad advice, or that you need more experience before buying that stock. Either way, it's probably not for you right now.
What Objective Criteria Should You Use for Inclusion on Your Watchlist?
Once you have some experience with investing, you will find that you gravitate towards stocks with particular characteristics. Perhaps you really like dividend-paying stocks, or stocks that have recently IPO'ed and have a unique and powerful idea. Or maybe diversification is important to you, and you want to include stocks from each sector and/or with various market caps. Or you may believe that renewable energy is about to take off, so you want to invest in stocks that will benefit from that trend.
These are all reasonable inclusion criteria; but in every case, QUALITY is the most important characteristic of all. What are some criteria you can use to identify quality?
Earnings – you want to be sure your company is making money, not losing it. Earnings per share should be greater than 0. An exception could be made for very new (and thus very speculative) companies. And any company may have negative earnings now and then; but you want to see positive earnings for most quarters.
Earnings Growth – the best companies not only have positive earnings each quarter, but those earnings grow over time. These are companies that are capturing additional market share, expanding into new markets, and offering new and improved products and services.
Free cash flow – companies with good free cash flow are able to service their debt, pay dividends and/or buy back shares, pay bills, and survive economic downturns.
Low debt-to-equity ratio – Companies with too much debt can struggle when times are tough. How much debt is too much depends in part on the interest rate environment. When interest rates are high, I personally like debt to equity to be no more than 80 – 100%. But in low interest rate environments, it sometimes makes sense for companies to take on more debt. For example, a company may need to raise some capital to launch a new product. They can either issue more shares, or borrow the money. If this company pays a 4% dividend, but can borrow at 3.2% interest, borrowing may be the better (cheaper) choice. Recently, because of low interest rates, and because the coronavirus pandemic motivated a lot of companies to borrow so they would have plenty of cash available during uncertain times, I've been using 150% or even 200% as the upper limit for this ratio.
Profitability – there are several metrics you could use. Here are 3 common ones.

Return on Equity is net income divided by shareholders equity. A high number indicates the company is using that equity efficiently.
Return on Invested Capital measures the efficiency of capital expenditures. If a sawmill buys a new saw for the purpose of increasing output, how did that capital expenditure impact cash flow and earnings?
Net Margin is net income divided by total sales.
In addition to quality, some investors may only want to include companies with good ESG (Environmental, Social, Governance) scores.
There is an almost infinite number of criteria you could use, but the ones mentioned here would give you a good start. While you do want to limit your list, don't be too exclusive. The watchlist needs to be flexible.
How Many Stocks Should You Have on Your Watchlist?
There are more than 4300 stocks trading on US exchanges. If you add stocks from Europe, Asia, and other regions, that number approaches 20,000.
The watchlist is a curated list of companies, created by you for you. Recommendations I've seen for the optimal number of stocks on the list range from 20 to 200 and the actual number depends on your personal preference. My own preference is between 150 and 250. Yours may only be 12 or 15. It depends on how much time you have available for investment activities, how many stocks you ultimately want to own, and how loose or tight your quality criteria are. Whatever number you start with, it's likely that your list will grow over time.
So What Am I Watching for on My Watchlist?
You have a lovely list of good quality stocks that are interesting to you. Now what? As always, the answer may vary depending on what type of investor you are. Here are some possibilities:
A good entry price – value investors don't want to overpay for a stock. They will wait for the share price to dip. Those dips can happen for a variety of reasons: the market as a whole may be down, or the sector is out of favor. Maybe the company had one bad earnings report and the market soured on the company, but you believe it is a temporary problem. These scenarios present a buying opportunity and you are ready to take advantage. On the other hand, a lawsuit, an SEC violation, or company guidance that indicates a few rough years coming up can cause the share price to dip, but may also mean the company is of lower quality than you previously thought. You should try to figure out the cause of any significant dips before you proceed. (In a future article I hope to cover valuation criteria you can use to determine a good entry price.)
Relative Strength Index (RSI) – different investors use RSI in different ways. As a value investor, I often use it to time stock purchases. Buying when the RSI is low (perhaps when it is between 25 and 45) will often result in a nice pop in stock price just after you buy. No guarantees of course. A low RSI can also indicate a stock that is highly distressed and to be avoided, so it is especially important to ensure you are looking only at high quality stocks when using the RSI.
Attractive technical indicators – any technicals that indicate the price is about to go up can be interesting. Buy and hold investors don't usually rely on technicals too much, but even they enjoy stocks that go up in price just after they buy them. Swing traders are more likely to enter a new position based on attractive technicals.
Using MarketXLS with Your Watchlist
With MarketXLS, you can put your list of tickers in an Excel spreadsheet and then add various quality and valuation criteria. Every time you open the list, simply refresh it and you can see quickly which stocks are good choices right now.
Here's an example of what this might look like:
I entered tickers in column A and then asked Market XLS to bring in the information in all other columns. Yellow columns are basic info, blue columns are some of the quality criteria discussed in this article, and green columns are a few of the possible valuation criteria you could use.
I'm not recommending for or against any stocks, but when I looked at this list, I see 2 that bother me. HD has a very large amount of debt and a negative ROE over the past 12 months and SBUX has a P/E of 131 which is VERY high, and also has a negative earnings growth rate. I like these companies, but those types of problems take a while to resolve. Maybe I'll create a 2nd watchlist, kind of a "Not Now, Maybe Later" list, and move these 2 stocks there. DAL's debt, cash flow, and ROIC also look worrisome, but I believe this is entirely due to the pandemic's impact on the travel industry. I personally believe the pandemic will resolve and DAL will be profitable again. On the other hand, KBH, FDX, and AAPL look like reasonable choices at this moment in time. That could all change tomorrow of course! And if it does, I will know all about it because of my watchlist and MarketXLS.
Disclaimer
None of the content published on marketxls.com constitutes a recommendation that any particular security, portfolio of securities, transaction, or investment strategy is suitable for any specific person.
The author is not offering any professional advice of any kind. The reader should consult a professional financial advisor to determine their suitability for any strategies discussed herein.
The article is written to help users collect the required information from various sources deemed to be an authority in their content. The trademarks, if any, are the property of their owners, and no representations are made. All trademarks referenced are the property of their respective owners. Other trademarks and trade names may be used in this document to refer to either the entity claiming the marks and names or their products. MarketXLS disclaims any proprietary interest in trademarks and trade names other than its own or affiliation with the trademark owner.
Interested in building, analyzing and managing Portfolios in Excel?
Download our Free Portfolio Template
Call:

1-877-778-8358
I am so happy you are here. My name is Ankur and I am the founder/CEO of MarketXLS. Over the past four years, I have helped more than 2500 customers to implement their own investment research strategies and monitoring systems in Excel.
Implement

"your own"

investment strategies in Excel with thousands of MarketXLS functions and starter sheets.
Get started today
Get Access to
1 Billion

Usable Market data points

IN YOUR EXCEL SHEETS

WITH EASY TO USE EXCEL FUNCTIONSGet started today