Get Ready for Retirement With Scott Burns' Retirement Calculator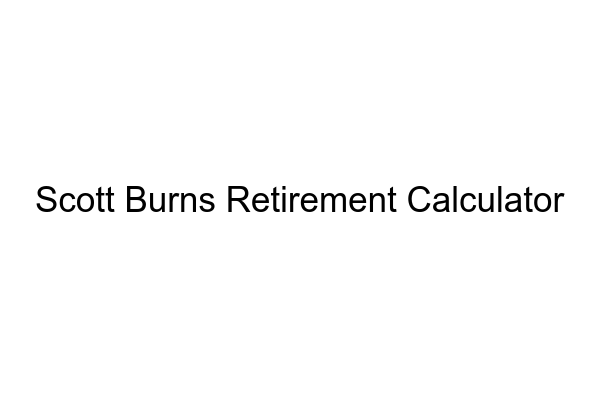 Get Ready for Retirement With Scott Burns' Retirement Calculator
Retirement is one of the most important and rewarding life milestones. As such, it is important to make sure to properly plan and prepare for retirement to ensure financial stability and a comfortable lifestyle. Luckily, the retirement planning process can be improved by using Scott Burns' Retirement Calculator.
What Is The Scott Burns' Retirement Calculator?
The Scott Burns' Retirement Calculator is an online service designed to simplify the retirement planning process. Developed by financial planner and columnist Scott Burns, the calculator helps users to calculate their desired retirement income and savings, as well as track their investments and asset allocations over time.
The calculator is based on Burns' retirement planning principles, which include:
Investment Planning: Helping you to make the most of your investments and maximise returns
Financial Planning: Turning your long-term financial goals and objectives into reality
Tax Planning: Estimating and addressing your future taxable income
Investment Strategies: Offering advice on the most effective investment and asset management strategies
Investment Advice: Providing tailored advice and guidance to help achieve maximum investment returns
Cost of Living Adjustment: Calculating the amount of income needed to maintain a desired lifestyle post-retirement
How Does The Scott Burns' Retirement Calculator Work?
The Scott Burns' Retirement Calculator is relatively easy to use, as it requires users to simply input their data including their current age, their desired retirement age, the expected rate of inflation and their expected Social Security and pension income. The calculator will then calculate the required yearly retirement income, as well as any retirement savings needed to bridge the gap in cash flow.
In addition, the calculator also provides users with insights on their asset allocation, portfolio risk, as well as potential returns on different investment instruments such as stocks, bonds and savings accounts at different risk levels. The calculator also advises users on their investment strategies and investment management.
How Can MarketXLS Help With Retirement Planning?
MarketXLS is an Excel plug-in created to help you analyse and manage your investments, allowing you to find the best investment options and investment strategies to achieve your financial goals. The plug-in is designed to be used together with the Scott Burns' Retirement Calculator and provides additional features such as real-time data feeds, portfolio analysis tools, risk analysis tools and more. With MarketXLS, you can gain an in-depth understanding of your investments, enabling you to make better decisions with your retirement funds and ensure financial freedom.
Final Thoughts
Scott Burns' Retirement Calculator is a great tool for retirement planning. It simplifies the retirement planning process and provides users with critical insights on their retirement income and potential returns. Combining the calculator with MarketXLS' comprehensive investment analysis suite can help ensure that you make the most of your investments and achieve your long-term financial goals.
Here are some templates that you can use to create your own models
Search for all Templates here: https://marketxls.com/templates/
Interested in building, analyzing and managing Portfolios in Excel?
Download our Free Portfolio Template
Call:

1-877-778-8358
I am so happy you are here. My name is Ankur and I am the founder/CEO of MarketXLS. Over the past four years, I have helped more than 2500 customers to implement their own investment research strategies and monitoring systems in Excel.
Implement

"your own"

investment strategies in Excel with thousands of MarketXLS functions and starter sheets.
Get started today