Maximizing REIT Returns With a Screener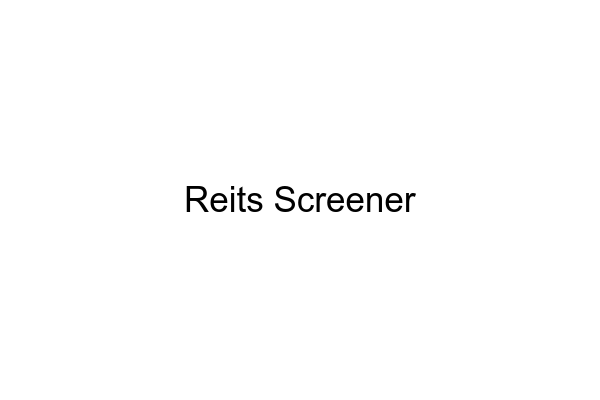 .
Maximizing REIT Returns With a Screener
Real estate investment trusts (REITs) are a specialized type of investment that offers many advantages over traditional stocks and other investment vehicles. REIT stocks have outperformed the S&P 500 index in recent years, and have become popular for investors seeking a way to diversify their portfolios. As with any type of investing, however, it's important to understand the benefits and risks associated with REITs before investing.
What is REIT Screening?
REIT screening is an investment strategy that involves researching potential investments, analyzing investment criteria and evaluating risk management potential. This process is much the same as stock picking, but the criteria for selecting REITs is quite different than selecting individual stocks. The process of REIT screening can help investors identify potentially lucrative real estate investment opportunities.
Why Should You Use a Screener?
REIT screeners provide investors with detailed information about a wide range of real estate investments. They provide investors with data and analysis to help them evaluate an investment's potential and make an informed decision. The benefits of using a REIT screener include narrowing the search criteria and reducing the number of investments to consider. Additionally, investors can use screeners to identify property investments that best meet their criteria for return on investment, risk, capital appreciation, and other criteria.
How to Maximize REIT Returns With a Screener
Once investors have identified potential investments through REIT screening, it's important to create a portfolio construction strategy to maximize REIT returns. The strategy needs to be tailored to individual investors' needs and risk tolerance. A good starting point is to analyze the properties and assess their potential for capital appreciation, risk management, and income potential. Investors should also consider diversification benefits, such as the return potential of investing in diverse types of properties in different local and regional markets.
MarketXLS: Streamlining the Investment Process
Investors looking to maximize their REIT returns can create customized REIT screeners to find the best investments. MarketXLS offers a comprehensive suite of tools to assist investors in every step of their investment process, from research to analysis and portfolio construction. With MarketXLS, investors can gain access to in-depth REIT data and analysis and create tailored portfolios to suit their individual investment needs.
REIT investments can be a great way to diversify portfolios, but it's important for investors to understand their options and do their research before investing. By using a REIT screener and creating an effective portfolio construction strategy, investors can take advantage of the benefits of REITs and maximize their returns. With MarketXLS, investors can streamline the investment process and easily assess and evaluate potential investments.
Here are some templates that you can use to create your own models
Search for all Templates here: https://marketxls.com/templates/
Interested in building, analyzing and managing Portfolios in Excel?
Download our Free Portfolio Template
Call:

1-877-778-8358
I am so happy you are here. My name is Ankur and I am the founder/CEO of MarketXLS. Over the past four years, I have helped more than 2500 customers to implement their own investment research strategies and monitoring systems in Excel.
Implement

"your own"

investment strategies in Excel with thousands of MarketXLS functions and starter sheets.
Get started today