Option Strategies
Options strategies
Maximizing Returns with Covered Put Options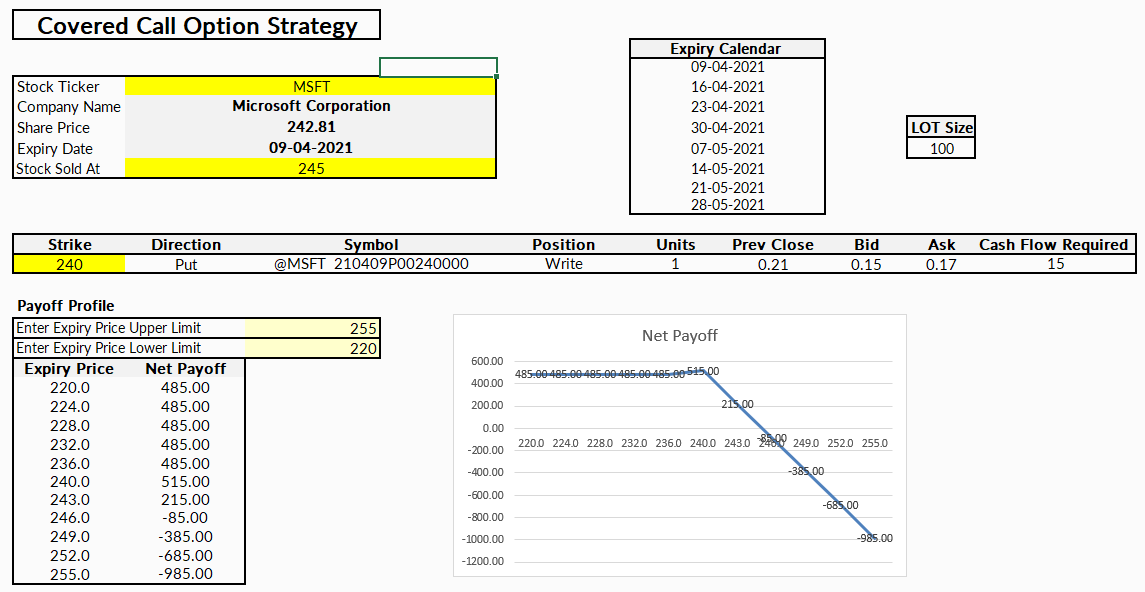 Maximizing Returns with Covered Put Options
Put options, one of the two primary types of option trading, are contracts that give the holder the right to sell an underlying asset at a pre-determined strike price up until the option's expiration date. As a directional strategy, put options benefit from decreasing asset prices, meaning they are a popular bearish market weapon. By combining call options and put options into a single trading strategy, known as the collar option strategy, traders can reap the rewards of the market's downside, while lessening and controlling their overall risk.
What Are Covered Put Options?
Covered put options, or simply "puts," are an options trading strategy that combines the purchase of a long put option and the sale of a short put option. Traders will buy a put to gain leverage and attempt to profit from a down-trending market, while utilizing additional put sales to generate added income.
The goal of this strategy is to reduce one's overall risk while securing a predetermined maximum reward. By hedging their risk, traders are able to avoid large losses due to market volatility or any sudden swings.
Working With Put Options
Put options primarily function as a hedge for traders to avoid market uncertainty and protect their current holdings. By taking out a long put option, traders can, in essence, insure their current holdings against a drop in stock prices. The downside to this approach is that traders have to pay a premium to have coverage from a protective put.
The maximum reward from a covered put option is limited to the strike price, or the predetermined price in the option contract, less the premium paid. This makes covered puts best suited for bear markets, where they will most likely benefit from market price declines.
Exploring Time Decay and Market Volatility
Options come with a concept called time decay, a metric that measures the value an option will lose over time as its expiration approaches. The concept of time decay benefits traders looking to construct put options, as its effects tend to lower option prices and increase the likelihood that a trade's profit will exceed its premium.
Given that put options take place in bearish markets, market volatility can play a key role in the success of a strategy. Volatile markets can see large returns in a short amount of time, but also come with a litany of risk. Understanding the relationship between volatility and one's put options is important, as it could mean the difference between a successful trade or a total loss.
How MarketXLS Fits In
Market volatility and time decay can be difficult concepts to navigate, but with MarketXLS, both traders and investors can make sense of the complex world of options trading. MarketXLS's cutting edge financial spreadsheets allow users to customize their strategies and take a deep dive into markets, measuring risk and reward as they adjust their portfolio. By providing traders with the tools they need to maximize their returns on put options, MarketXLS helps investors take the guesswork out of their trading.
By combining MarketXLS's helpful spreadsheets with cautious trading, covered put option traders can maximize their returns while managing their risk.
Here are some templates that you can use to create your own models
Covered Put
Covered Put
Collar Option Strategy
Search for all Templates here: https://marketxls.com/templates/
Relevant blogs that you can read to learn more about the topic
Covered Puts – What They Are & How You Can Profit From Them (Marketxls Options Data)
Maximizing Profits with a Bull Put Spread Strategy
Options Trading (Strategies)
Put Ratio Spread (Explained With Example)
The Wheel Strategy For Options (Explained With Example)
Interested in building, analyzing and managing Portfolios in Excel?
Download our Free Portfolio Template
Call:

1-877-778-8358
I am so happy you are here. My name is Ankur and I am the founder/CEO of MarketXLS. Over the past four years, I have helped more than 2500 customers to implement their own investment research strategies and monitoring systems in Excel.
Implement

"your own"

investment strategies in Excel with thousands of MarketXLS functions and starter sheets.
Get started today