optionsprofitcalculator-com
Take Control of your Options TradingMeet the #1 Option Trading plugin in Excel. (Options Data is Included)In Partnership with OptionsProfitCalculator.com
[tcb-script src="https://fast.wistia.com/embed/medias/tmkawg0i8c.jsonp" async=""][/tcb-script][tcb-script src="https://fast.wistia.com/assets/external/E-v1.js" async=""][/tcb-script] Record Your Option TradesMonitor your Trades in Real-timeMake your own models and calculatorsShare your trade setups with your friendsCreate & Compare Custom StrategiesAdd calculations to your options portfolioSave historical trade setups for future referenceCompare stock fundamentalsRank your past trades and avoid repeat mistakes
Streaming Real-time Option Pricing
Never lose track of your trades with our real-time streaming prices in Excel.
The numbers that you see on your Excel will change by themselves and will match your trading platform Bid/Ask prices so you can make profitable decisions real-time
Advanced Options Filtering
Use our innovative easy to use functions to filter option contracts as per your own criteria.
For example, find me all options for TSLA that expire between x date and y date and those that have strike price between x and y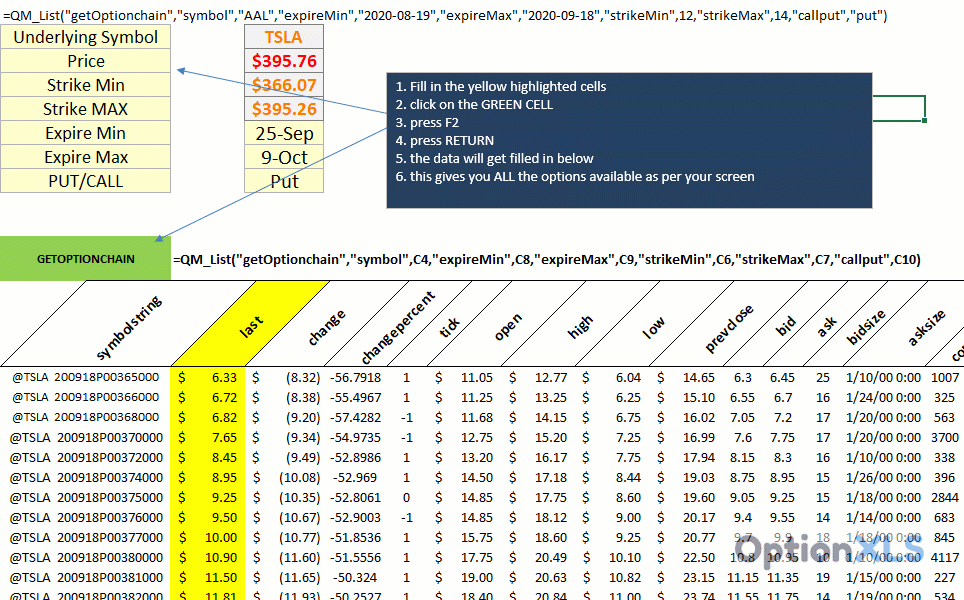 Options History
See how your option's prices changed overtime in History.
Get End of the day or Intra-day (minute by minute) history of all recently expired and active contracts.
Options Ranking and strategy selections
Rank Option Contracts with multiple factors like premiums, spreads etc
Define your weights on various factors of option contracts and then see the best ones that meet your criteria the best
Get Started quickly with our Open templates
Get started in not more than five minutes with our ready-to-use Option templates.
All templates are open code, reusable and can be adjusted quickly for your own requirements.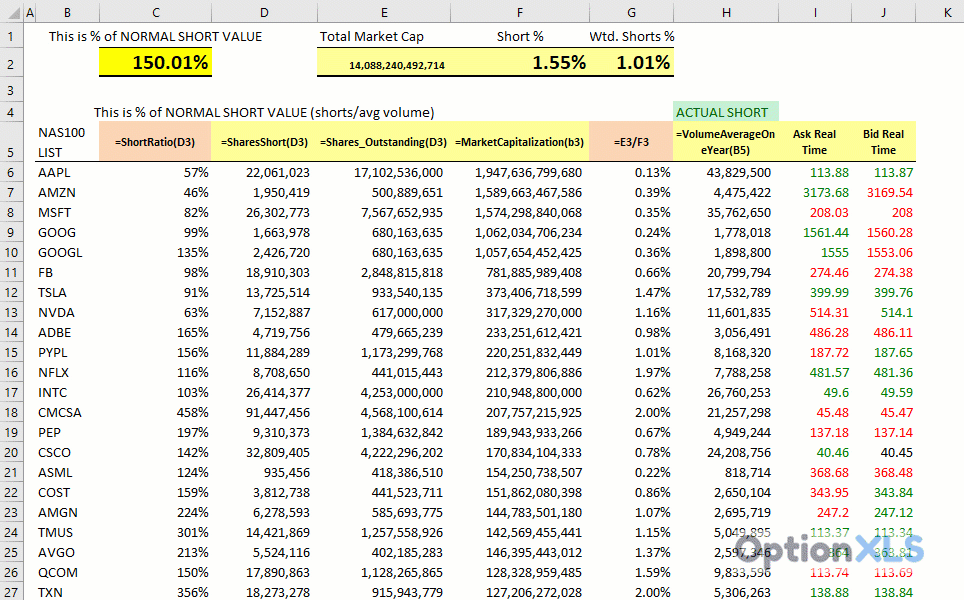 Special Offer: Lock your discounted price courtesy OptionsProfitCalculation.com
Shortcode could not be rendered
Interested in building, analyzing and managing Portfolios in Excel?
Download our Free Portfolio Template
Top 100 Gainers Today
Top 100 losers Today
Stand with Ukraine
As the situation in Ukraine escalates, many of us in MarketXLS are left with emotions too overwhelming to name. If you'd like to show your support, but aren't sure how to, we want to help make it easier for you to act.
For any amount donated, we'll extend your MarketXLS subscription for double of the donated amount. Please send proof of your payment to support@marketxls.com to avail the extention
From all of us at MarketXLS, thank you!