Find Dividend Yield for Multiple Stocks Using Google Sheets and MarketXLS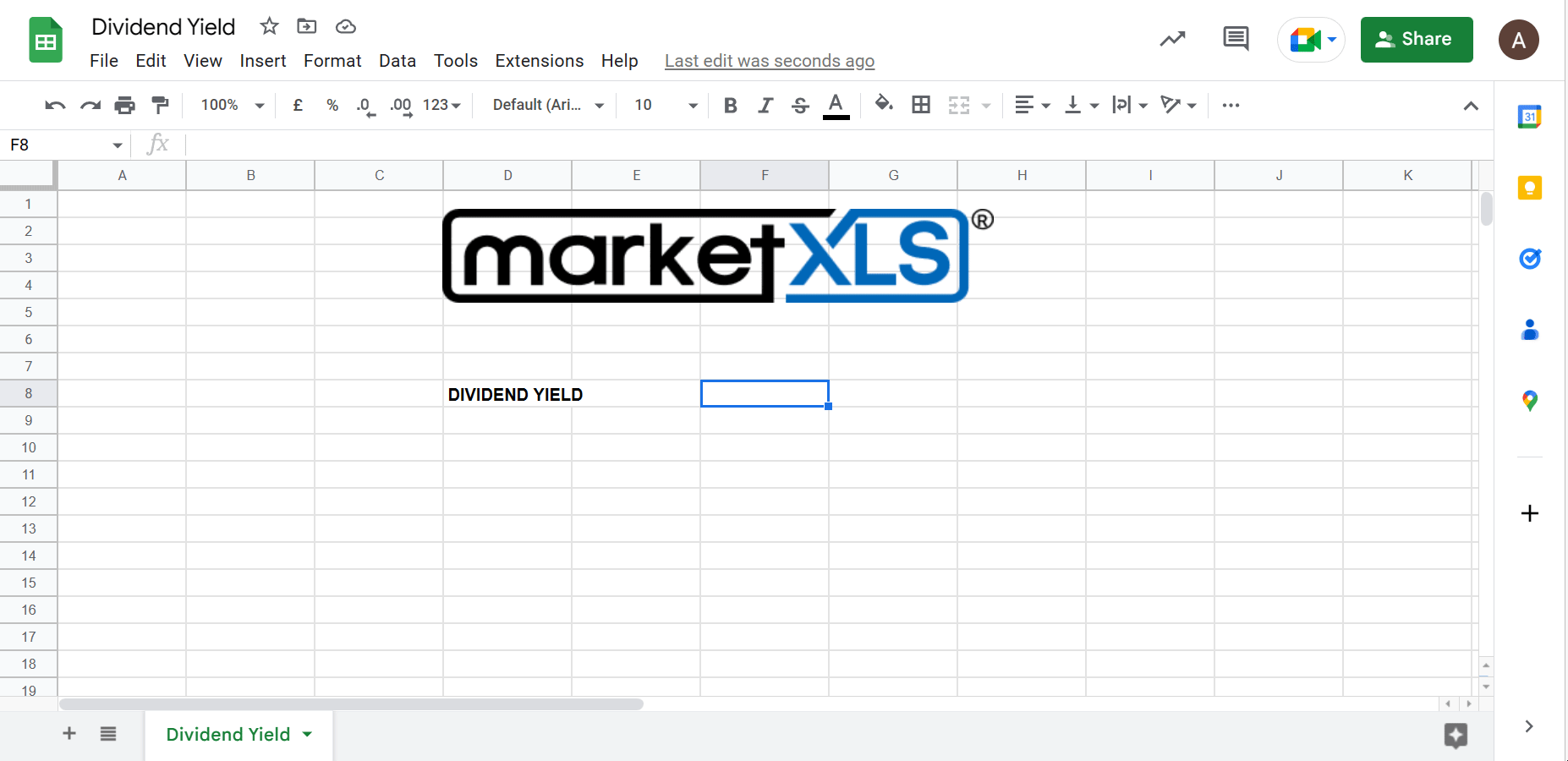 Understanding Dividend Yield: Definition, Calculation, and Importance
Dividend yield is a crucial financial metric that measures the profitability of an investment in a stock. It is calculated by dividing the cash dividend paid over a certain period, usually one year, by the current share price of the security. The result is expressed as a percentage, indicating the return on investment that investors can expect from holding the security.
While high dividend yields can be attractive to investors looking for high returns, it should not be the sole criterion for investment decisions. Investors should always conduct their own due diligence and evaluate the financial standing of the company before investing.
How to Calculate Dividend Yield in Google Sheets with MarketXLS Function? =MarketXLS_dividendyield("MSFT")
Google Sheets, combined with MarketXLS, offers a powerful tool for managing finances and analyzing stocks. To calculate the dividend yield of a stock such as Microsoft Corporation (MSFT), for example, use the MarketXLS function: =MarketXLS_dividendyield("MSFT"). This function will automatically get the current dividend yield of the stock.
Apart from the dividend yield, MarketXLS offers over 100 functions, including the most recent ex-dividend date and the amount of dividends paid in the most recent payment. You can download the plugin from the Google Sheets app store.
How to use MarketXLS in Google sheets?
MarketXLS is a powerful add-on for Google Sheets that provides users with financial analysis tools for creating custom spreadsheets. With MarketXLS, you can access up-to-date market data from premium enterprise-grade sources, live and real-time financial and market data, analyze complex financials, build custom calculations, and automate portfolio analytics.
To get started, install the add-on from the Google Sheets app store, and access all the add-on's features from the convenient sidebar. With MarketXLS, you can retrieve stock quotes, financial statements, charts, ETF performance data, access financial calculators, and portfolio analysis tools.
The Windows desktop version of MarketXLS provide many other relevant MarketXLS functions on dividends as shown below.
| Function Title | Function Example | Function Result |
| --- | --- | --- |
| Dividend Frequency | =DividendFrequency("MSFT") | Returns the frequency with which the dividend is paid. |
| Dividend Pay Date (MM/DD/YYYY) | =DividendPayDate("MSFT") – Returns the most recent dividend pay date for MSFT. | Not considering the future expected dividend. |
| Dividend Payout Ratio | =DividendPayoutRatio("MSFT") | Returns the percentage of earnings that have been passed on to shareholders |
Use AI driven search for all functions on MarketXLS here: https://marketxls.com/functions
Download from the link below, a sample spreadsheet created with MarketXLS Spreadsheet builder.
Note this spreadsheet will pull latest data if you have MarketXLS installed on your Windows machine (not in the Google Sheets). If you do not have MarketXLS consider subscribing here
https://mxls-templates.s3.us-west-2.amazonaws.com/MarketXLS-Model-ID-Va6Ody.xlsx
Relevant MarketXLS Templates on this topic
Use AI driven Search for all templates on MarketXLS here: https://marketxls.com/templates/
Relevant blogs that you can read to learn more about the topic
Dividend Growth Investing
Monthly Dividend Stocks (3 Good Monthly Dividend Stocks)
Get Ahead with a Dividend Calendar Spreadsheet Strategy
Interested in building, analyzing and managing Portfolios in Excel?
Download our Free Portfolio Template
Call:

1-877-778-8358
I am so happy you are here. My name is Ankur and I am the founder/CEO of MarketXLS. Over the past four years, I have helped more than 2500 customers to implement their own investment research strategies and monitoring systems in Excel.
Implement

"your own"

investment strategies in Excel with thousands of MarketXLS functions and starter sheets.
Get started today
Get Access to
1 Billion

Usable Market data points

IN YOUR EXCEL SHEETS

WITH EASY TO USE EXCEL FUNCTIONSGet started today