Fundamental analysis
Stock investments
Stocks
Monthly Dividend Stocks (3 Good Monthly Dividend Stocks)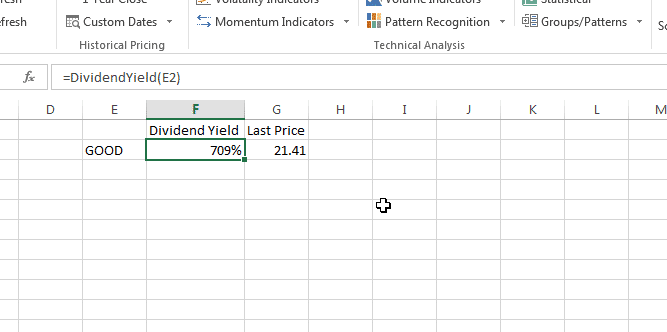 Why Monthly Dividend Stocks
Seasoned investors interpret dividends as the cash payments disbursed to shareholders monthly, quarterly, semi-annually, or annually; or frankly the system for reinvestments. As for the beginning investor – dividends can be treated as passive income. It is pretty straightforward – corporate earnings not used for expansion are issued to shareholders periodically. Although most companies issue dividends on a quarterly basis, you can certainly find companies that payout each month.
Monthly dividend stocks are a great resource for reinvestment compounding as well as monthly income for retirees or a source to help pay the bills. With dividend reinvestment, you can grow a position quickly as each month can bring an opportunity for an additional share, plus some brokers do not charge a transaction fee for dividend reinvestments. The majority of our bills and even subscriptions are monthly payments, so starting out investing in monthly dividend stocks can absolutely take care of some of the smaller bills each month.
Dividend investors seek out companies with high dividend yields for one reason – higher cash payouts. Reinvesting those dividends into the same stock builds the share count of that position, and over time the amount of income payouts will steadily increase. Many retirees have built investment portfolios that can sustain their lifestyle and even pay all their routine expenses solely from the dividend income earned on the account.
Investing in blue chip stocks
Investing in blue chip stocks that have a sound reputation are not only good value investments, but they typically pay a generous dividend. These companies have longevity and a history of maintaining solid earnings to position them to be able to grow their dividends. Coca-Cola pays dividends quarterly but is an example of a stout company who has paid consistent dividends since 1962. Every time a Coca Cola branded beverage is consumed, just think a portion of the earnings from that drink could be coming to your account. Consistent dividend payouts mark a reliable investment that people can depend on for income. It is extremely rare for a blue chip company to cut dividends.
Throughout your investment journey, you will most definitely experience major market swings up and down. When the market is soaring upward into a bullish market, then the value of your portfolio will appreciate. However, when the market reaches bear conditions of a 20% drop in the major stock indices, the payout of dividends will not be affected. Although the stock price may dramatically decrease, the dividends will still be in your account as scheduled and could help soften the current woes of falling prices.
Dividend income and your federal income taxes
Dividend income is a savvy method to minimize your federal income taxes. Unlike earning extra income for working a side job, dividends receive special tax benefits. The tax rate on dividend income is related to the amount of taxable income earned throughout the calendar year. For anyone falling within the 10% and 15% tax brackets, there are zero taxes owed on any dividend income. For all other tax brackets, there is a 15% tax hit on all earned dividend income.
Potentially the best characteristic of monthly dividend stocks, besides the obvious monthly income, is the accelerated compounding effect of the overall investment. For longer holding periods, the dividends earned can be added to the initial purchase. This can turn a modest 5% return into an 8-10% return easily. The more shares acquired through reinvestment, the higher the return will be. This is such an elementary approach every investor should consider.
Investors of dividend stocks should consider companies with dividend yields of 4% or greater. A 4% dividend yield is double the amount of the S&P 500. For retirees and income specific investors, 4% is a great target to collect top tier cash from your investments. Here are a few superb companies issuing solid monthly dividend income to their investors:
Gladstone Commercial Corp.
GOOD.png" alt="Monthly Dividend Stocks" width="418″ height="178″ class="aligncenter size-full wp-image-5022″ />
Gladstone Commercial Corporation is a Real Estate Investment Trust (REIT), which means it must distribute at least 90% of its earnings to shareholders to continue to benefit from special tax credits. Gladstone Commercial is a corporation under the Gladstone Companies banner that specializes in industrial and office properties. Its monthly dividend payouts derive from its investments in the commercial leasing business.
Gladstone Commercial focuses on leasing space to small to mid-size businesses. The company has been issuing monthly dividends for over 10 years with revenue and earnings growth over the past five years. Since Gladstone is one of the smaller REITs on the market, it may experience a higher level of volatility than some of the larger and historic companies.
● Market Cap: $585.7 million
● EPS (TTM): -0.06
● Annual Dividend: 1.50
● Dividend Yield: 7.18%
Main Street is a Business Development Company (BDC), which is a financial company that invests in small to mid-size private companies similar to a venture capitalist firm. The company manages nearly 200 company investments amounting to approximately $3 billion in the capital. Its debt and equity financing is offered to private companies for growth and acquisitions that typically range from businesses with revenues from $10 – $150 million.
The company is nearing its tenth anniversary as a public company and has paid consistent monthly dividends throughout its tenure. It's steady financial growth and seven years annual average of 13% return on equity, allows its shareholders to flourish in increased dividend income year after year. The investment strategy of this business is geared towards the growth of its ventures, which correlates to the growth of its expanding portfolio of tangible assets.
● Market Cap: $2.24 billion
● EPS (TTM): 2.89
● Annual Dividend: 2.28
● Dividend Yield: 5.79%
Realty Income Corp.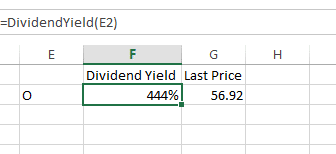 When it comes to monthly dividend stocks, Realty Income Corporation might be the top ranked equity to own. Realty Income is also a Real Estate Investment Trust (REIT). The company is a leasing corporation with nearly 5,000 properties in 49 states with the majority of leases ranging from 10 to 20 years. The business model is every real estate investor's dream – strictly collect rent checks, while the tenants are responsible for insurance and maintenance.
The money Realty Income collects turns directly into dividend income. For shareholders, it is essentially like you own rental properties yourself. Not only has Realty Income paid monthly dividends for over 20 years, but it has continued to increase its payout for over a decade. It's clear business model has positioned the company to focus on real estate expansion rather than the day to day headaches of property management. Rent for its properties generally rise 1-2% each year which results in growing earnings that leads to growing dividends.
● Market Cap: $15.9 billion
● EPS (TTM): 1.15
● Annual Dividend: 2.54
● Dividend Yield: 4.37%
Reputable companies will provide reliable passive dividend income and are more likely to distribute increased payments over its history. It absolutely will take patience to build a sizable holding in a company that can cover a major expense in your everyday life. However, reinvesting the dividend payments into more shares will only surge the compounding of the initial investment and drive up your monthly payouts. Also, bear markets affect the stock prices, not the earnings a business produces, so the scheduled payouts will deliver regardless of a current price decline. So, it makes all the more sense to investment in Monthly dividend stocks.
Strong cash flow is a crucial factor in experiencing long term success for companies that pay monthly dividends. Businesses need cash to continue to grow its mission and monthly dividends dip into that pot, so having substantial free cash flow positions the company to manage both – more business ideas and more shareholder income.
The expression "the higher the yield, the better" is a path towards disaster. High dividend yields in the area of 4-5% are great for retirees looking for a potent income stream and for early investors looking to compound their portfolio's return. But investors should stay clear of companies declaring off the chart yields and aggressive year over year increases. This tactic is used to grab the attention of potential investors. The problem resides in the company's financial conditions and these tactical dividend pushers typically have inconsistent business production. Seek out companies with a reputable history of disbursing monthly payments, plus sound financial statements displaying steady growth in cash flow, revenue, and earnings.
Interested in building, analyzing and managing Portfolios in Excel?
Download our Free Portfolio Template
Call:

1-877-778-8358
I am so happy you are here. My name is Ankur and I am the founder/CEO of MarketXLS. Over the past four years, I have helped more than 2500 customers to implement their own investment research strategies and monitoring systems in Excel.
Implement

"your own"

investment strategies in Excel with thousands of MarketXLS functions and starter sheets.
Get started today
Get Access to
1 Billion

Usable Market data points

IN YOUR EXCEL SHEETS

WITH EASY TO USE EXCEL FUNCTIONSGet started today