Master the Art of Trading with Mark Douglas' 'Trading In The Zone'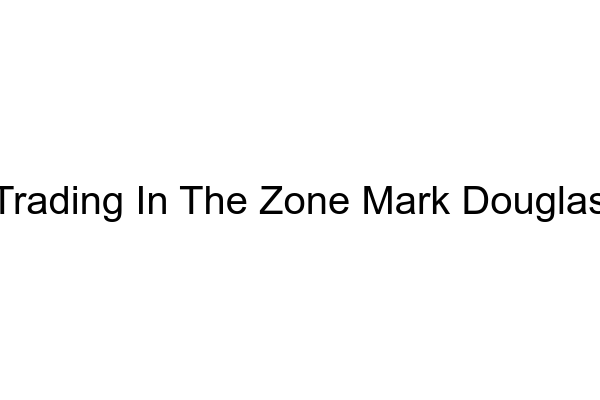 Mastering The Art of Trading with Mark Douglas' 'Trading In The Zone'
Trading stocks and commodities has become increasingly popular but anyone looking to make a living from this venture needs to become an expert in the field, at least in regards to the financial markets. Mark Douglas' book 'Trading In The Zone' is a great resource for aspiring traders to master the art of successful trading. It covers the psychology and state of mind that one needs to adopt to succeed, as well as how to think in terms of risk management, emotional control and strategy.
Trading Psychology
A key component to successful trading is the development of your trading psychology, which involves the understanding of trader emotions such as fear, greed and overconfidence. That is why 'Trading In The Zone' is such a great resource for all traders, as it helps them learn to approach a trade in a disciplined and methodical way, instead of simply relying on hunches – something which could lead to huge losses. Mark Douglas also emphasises that this approach needs to be applied during both winning and losing moments, as it will help prevent emotional decision-making and the clouding of judgement.
Understanding Risk Management and Market Analysis
The book looks at risk management, an important concept to grasp in order to be a successful trader. It explains and defines methods such as position sizing and stop losses to help protect against excessive losses. Additionally, Douglas outlines how to do an extensive market analysis which includes both technical and fundamental analysis. He outlines the use of technical indicators, trendlines, and support and resistance levels, as well as market cycles and the risk reward ratio. Being comfortable with all these concepts can be overwhelming at times, but 'Trading In The Zone' helps by breaking it down into simple steps.
MarketXLS – Helping Traders be Successful
The Trading in the Zone book by Mark Douglas has a wealth of knowledge for traders of all levels, from beginners to seasoned pros. Recent advancements in technology, such as MarketXLS, have made it even easier for traders to use this knowledge and be successful. MarketXLS provides traders with easy-to-use yet powerful Excel-based tools that enable traders to analyse stock prices, historical and current financial data, generate technical indicators, backtest trading strategies and more. With MarketXLS, anyone can easily trust themselves to make their trades in the Zone and be successful.
Here are some templates that you can use to create your own models
Search for all Templates here: https://marketxls.com/templates/
Interested in building, analyzing and managing Portfolios in Excel?
Download our Free Portfolio Template
Call:

1-877-778-8358
I am so happy you are here. My name is Ankur and I am the founder/CEO of MarketXLS. Over the past four years, I have helped more than 2500 customers to implement their own investment research strategies and monitoring systems in Excel.
Implement

"your own"

investment strategies in Excel with thousands of MarketXLS functions and starter sheets.
Get started today