ETFs
Stock investments
Stocks
Investing In Chinese Stocks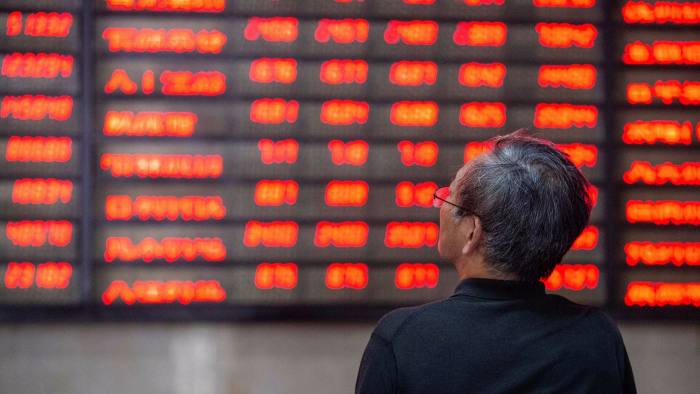 Markets worldwide are much more integrated now than before, allowing businesses and investors a chance to tap into investment opportunities they could never access from a distance.
Emerging markets are grabbing investors' attention as some people look for places to diversify their portfolios.
"Emerging markets are selling at discounted valuation multiples to the U.S. markets, but perhaps have a short-run benefit tied to global growth coming out of the pandemic," says Jeremy Schwartz, executive vice president and global head of research at Wisdom Tree Asset Management.
China has posted high growth over the past two decades and may surpass the United States to become the world's largest economy over the next few years. So, what's the best way to put your money into foreign markets like China?
Ways to invest
American Depository Receipts and Chinese A-shares
One way to access the foreign market is to look into American Depositary Receipts (ADRs). These receipts (ADR) are negotiable certificates issued by a U.S. depositary bank representing a specified number of shares—of a foreign company's stock. The ADR trades on the U.S. stock exchange as any domestic shares would. They trade in U.S. dollars, so none of the usual hassles stem from foreign exchange.
The U.S. bank or financial institution abroad holds these underlying assets. Like domestic publicly-traded companies, these foreign corporations provide U.S. banks with regular, updated financial statements.
Any dividends and capital gains are realized by Holders of ADRs realize in U.S. dollars. However, dividend payments are net of currency conversion expenses and foreign taxes. Usually, the bank automatically retains the necessary amount to cover the costs and foreign taxes. American investors would need to seek a credit from the IRS or a refund from the foreign government's taxing authority to avoid double taxation on any capital gains realized.
Exchange traded funds
Another way to invest in Chinese stocks is to invest in mutual funds or exchange-traded funds (ETFs) that track the Chinese stock exchanges. An exchange-traded fund (ETF) is a type of security that tracks an index, sector, commodity, or another asset but can be purchased or sold on a stock exchange the same as a regular stock.
By investing in mutual funds and ETFs, investors can instantly diversify their portfolio while getting exposure to foreign companies, spreading their investment across various companies. Since Mutual funds and ETFs don't have to be actively managed, they tend to have lower costs than other investments and have less risk than investing directly overseas. When comparing funds, look for a mutual fund or ETF that tracks the Chinese indices.
Some popular choices include:
KraneShares MSCI China Environment ETF (KGRN)

KGRN tracks the MSCI China IMI Environment 10/40 Index, which gauges Chinese securities' performance that generates at least 50% of their revenues from environmentally beneficial products and services. The ETF provides exposure to companies poised to benefit from China's increasing investments in clean energy technologies. It follows a blended strategy, investing in a mix of growth and value stocks with a range of market capitalizations.
Global X MSCI China Consumer Discretionary ETF (CHIQ)
MSCI-China-Consumer-Discretionary-ETF.png">
MSCI-China-Consumer-Discretionary-ETF.png" alt="" width="446″ height="170″ />CHIQ tracks the MSCI China Consumer Discretionary 10/50 Index, which gauges the performance of the large- and mid-cap Chinese consumer discretionary securities.7 The ETF provides exposure to the consumer discretionary segment of the Chinese economy. It is comprised of 75 securities and follows a blended strategy, investing in both value and growth stocks.
VanEck Vectors ChinaAMC SME-ChiNext ETF (CNXT)
AMC-SME-ChiNext.png">
AMC-SME-ChiNext.png" alt="" width="446″ height="170″ />CNXT tracks the SME-ChiNext 100 Index, which gauges the performance of the 100 largest and most liquid Chinese A-share stocks listed on the Small and Medium Enterprise Board and the ChiNext Board of the Shenzhen Stock Exchange. The ETF provides exposure to non-government owned small- and medium-sized enterprises in China. The information technology, consumer discretionary, consumer staples, and healthcare segments of the Chinese economy are well-represented within the fund.
3.  Invest through a market maker or affiliate firm
Not all Chinese companies trade on U.S. stock exchanges. They majorly traded on Chinese exchanges instead. The three significant exchanges are:
Hong Kong Stock Exchange: Over 2,400 companies are listed on the Hong Kong Stock Exchange, with a total market capitalization of over $38.2 trillion.
Shanghai Stock Exchange: The Shanghai Stock Exchange was established and is the second-largest stock exchange in the world in terms of capital raised.
Shenzhen Stock Exchange: Over 2,200 companies are listed on the Shenzhen Stock Exchange, and over 10,600 securities.
Several U.S. brokerages have tie-ups with foreign brokers to facilitate investment in foreign stocks. You can open an account for foreign stocks through them.
N-Shares
N Shares are companies controlled by mainland Chinese companies or individuals, with the company's establishment and origin in mainland China. It must be incorporated outside the People's Republic of China (PRC) and traded on the New York Stock Exchange, the NASDAQ exchange, or the NYSE American with a majority of its revenue or assets derived from mainland China. Most of them are incorporated in Bermuda, the Cayman Islands, the British Virgin Islands, Nevada, or Delaware. Most N-Shares are the American exchange equivalent of P-Chips.
Extraction of Data for Chinese stocks using Market XLS
MarketXLS provides a one-stop solution to all your needs for trading in the financial markets. Keep your sheets updated with live Stock Quotes in Excel. Streaming market data for stocks, ETFs, options, mutual funds, currencies refreshed or refresh on-demand. You can get all the historical data (EOD, Intraday) you may need with MarketXLS functions or in a few clicks. Update the Excel tables dynamically and save your time in formatting those tables.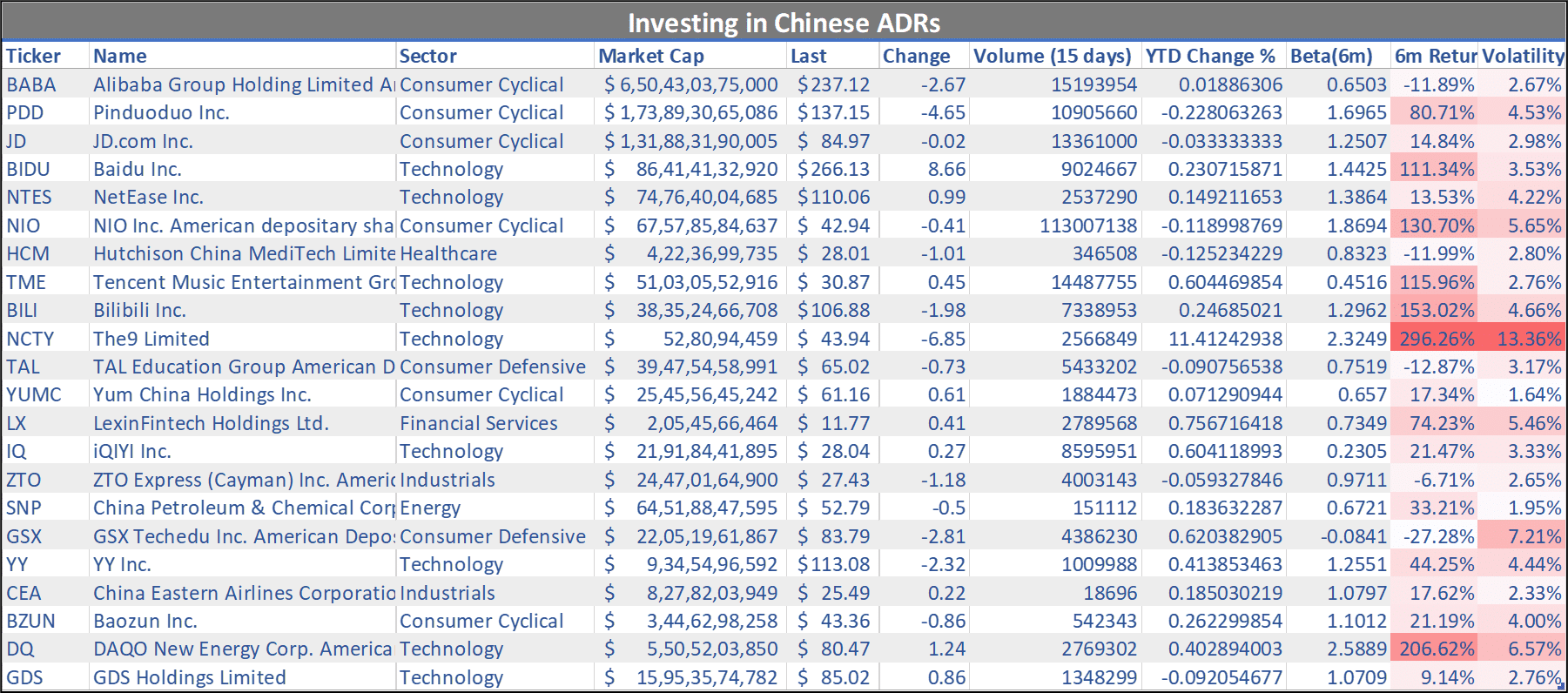 An entire list of Chinese ADRs, the ETFs that trade based on Chinese stocks, and their details can be produced with the help of MarketXLS. Using the various screeners that MarketXLS has to offer, the investor can quickly screen stocks as per his preference and risk appetite and get fundamental and technical data related to the stock.
Well known stocks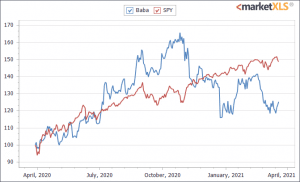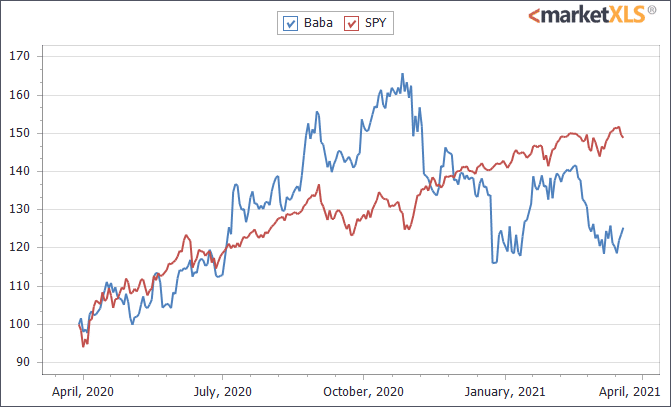 1. AliBaba Group Holding Limited (NYSE: BABA)
Alibaba Group Holdings Limited is a Chinese multinational technology company that operates via Taobao and Tmall. It specializes in e-commerce, retail, internet, and technology and has diverse portfolio of companies worldwide in numerous business sectors.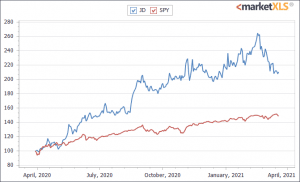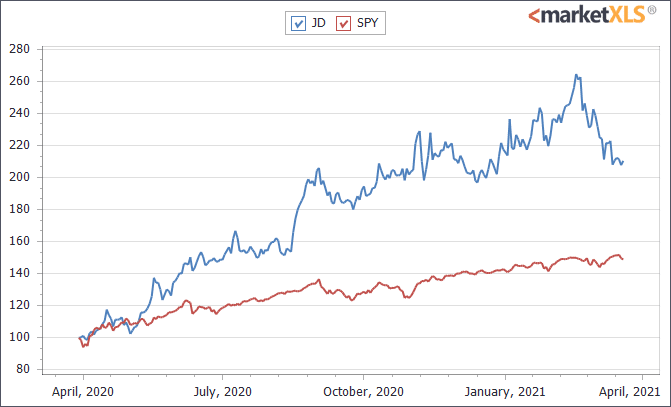 2. JD. Com Inc (NASDAQ: JD)
JD.com Inc, known as Jingdong and formerly called 360buy, is one of the biggest B2C e-commerce service providers in China and the world. It operates through the following business segments: JD Mall and New Businesses. The JD Mall segment represents its core e-commerce business.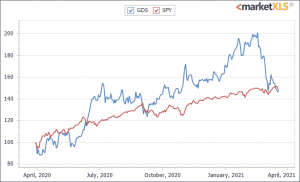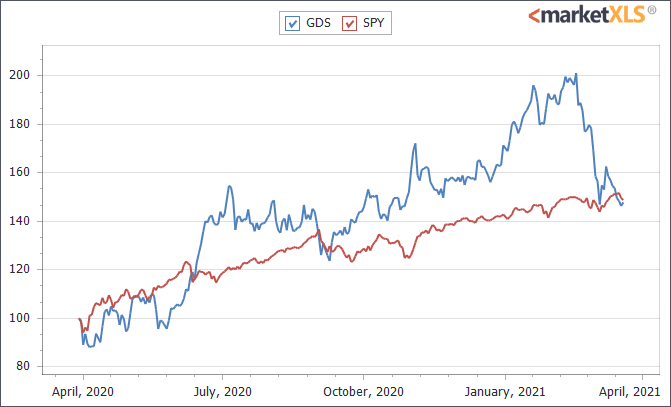 3. GDS Holdings Ltd. (NASDAQ: GDS)
GDS Holdings Limited operates as a leading developer and operator of data centers. It offers colocation and managed services and direct private connections to major public cloud platforms. This year marks a period of continued rapid growth, having increased its net revenue by 43.0% year-over-year to $224.6 million in the third quarter.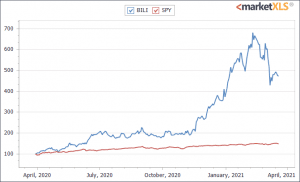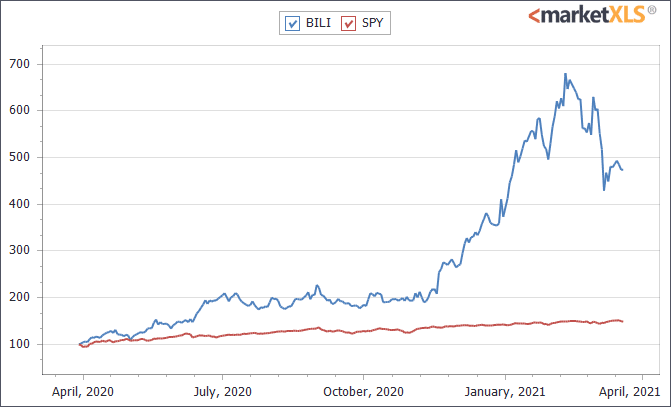 4. Bilibili Inc. (NASDAQ: BILI)
Bilibili Inc is a comprehensive online entertainment company covering various genres and media formats, including videos, live broadcasting, and mobile games. Bilibili, aside from a catchy name, is also a massive part of modern Chinese culture, being one of the most popular videos streaming platforms.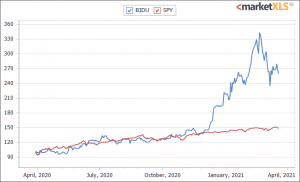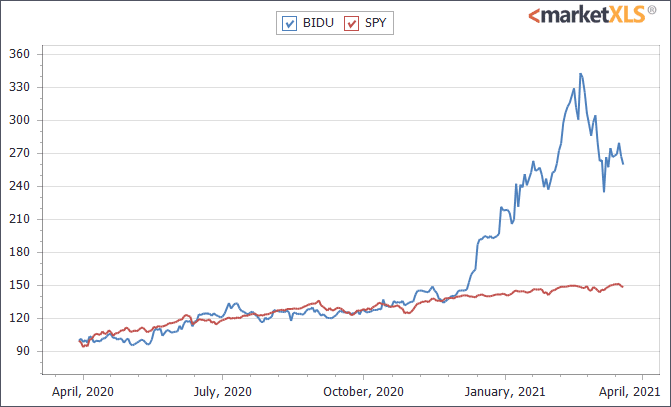 5. Baidu Inc (NASDAQ: BIDU)
Baidu, Inc. provides Internet search services in China and internationally. The company is called "the Chinese Google" by many. Just like its western alternative, Baidu provides internet, mapping, AI, and search engine services. The company has 58% ownership in iQIYI, Inc. (NASDAQ: IQ), a Netflix-like on-demand video streaming service, and 19% ownership of Ctrip (NASDAQ: CTRIP) which is a Chinese multinational online travel company that provides services including accommodation reservation, transportation ticketing, packaged tours, and corporate travel management.
Key Risk Factors
Investing in Chinese stocks can give an excellent diversification to the portfolio and mitigate some risks associated with the US-specific markets. However, there are significant risks associated with investing in foreign markets too. Many parts of the world, including China, are going through immense change and political upheaval. Unstable leadership can result in economic consequences that could negatively impact businesses, resulting in lower-than-expected returns to shareholders. The intermingling of politics and business can cause a blow to a company. This can compromise a business' reputation and transparency and result in shareholders losing faith in corporate governance. The following factors affect the risk of the investment in Chinese Markets:
1. Less information
Investors do not usually get a first-hand look at what is happening since they are not on the ground. There may be transparency issues where it can be challenging to find official documentation related to its financials or initiatives. Since the regulatory public reporting requirements are not as robust compared to those of the U.S., it may be challenging to uncover quality and reliable company information.
2. Changes in Currency Exchange Rates
A country's currency is tied to the performance of the economy. "Currency risk is the most critical difference between investing domestically and in emerging markets," says Eric Leve, chief investment officer at Bailard in San Mateo, California.
3. Government and Regulatory Policies
Part of the problem with Chinese stocks today has been growing regulatory pressure, both inside and outside the country. The state leaves many companies alone, provided they don't get involved in politics. However, Consider Jack Ma, CEO of Chinese Internet giant Alibaba (NYSE: BABA), who faced growing scrutiny from the government for many reasons, and the recently canceled IPO of Ant Financial.
Bottom line
Your investment in international markets also depends upon your risk tolerance. You shouldn't avoid China if you're looking for growth. China accounted for 41% of global growth in 2019 and is forecast to account for the U.S. and Europe combined over the next several years as per Matthews Asia. The total market capitalization of Chinese stock listings (Shanghai, Shenzhen, Hong Kong, and the U.S. listed ADRs was $14.1 trillion at the end of June 2020. For comparison's sake, that's almost twice the eurozone's listed market cap ($7.8 trillion.) So, avoiding a market twice the size of the eurozone won't make much sense.
China has adopted the free-market principles, but the rules that govern a public company in China are different than those in the United States. Hence, before making investments related to China, investors should consider the pitfalls, understand the risks and rewards, focus on shareholder-friendly companies, and stick to investments they know.
All trademark referenced is the property of their respective owners. Other trademarks and trade names may be used in this document to refer to either the entity claiming the marks and names or their products. MarketXLS disclaims any proprietary interest in trademarks and trade names other than its own, or affiliation with the trademark owner.
Disclaimer
None of the content published on marketxls.com constitutes a recommendation that any particular security, portfolio of securities, transaction, or investment strategy is suitable for any specific person. The author is not offering any professional advice of any kind. The reader should consult a professional financial advisor to determine their suitability for any strategies discussed herein. The article is written for helping users collect the required information from various sources deemed to be an authority in their content. The trademarks if any are the property of their owners and no representations are made.
Reference
How to Trade and Invest in Chinese Stocks and Companies https://www.mybanktracker.com/blog/investing/invest-chinese-stocks-309985
Best China ETFs for Q2 2021 – Investopedia. https://www.investopedia.com/top-china-etfs-for-2018-4580541
N-Shares – Wikipedia. https://en.wikipedia.org/wiki/N-shares
How to Invest in Emerging Markets in 2021  https://money.usnews.com/investing/investing-101/articles/how-to-invest-in-emerging-markets
Is Investing in Chinese Stocks Worth the Risk Right Now https://www.fool.com/investing/2020/12/12/is-investing-in-chinese-stocks-worth-the-risk-righ/
Interested in building, analyzing and managing Portfolios in Excel?
Download our Free Portfolio Template
Call:

1-877-778-8358
I am so happy you are here. My name is Ankur and I am the founder/CEO of MarketXLS. Over the past four years, I have helped more than 2500 customers to implement their own investment research strategies and monitoring systems in Excel.
Implement

"your own"

investment strategies in Excel with thousands of MarketXLS functions and starter sheets.
Get started today
Get Access to
1 Billion

Usable Market data points

IN YOUR EXCEL SHEETS

WITH EASY TO USE EXCEL FUNCTIONSGet started today
🎉 Exciting news! 🎉



You are invited to join our

Discord Channel

.

Interact, learn, and grow with experts in the markets! Join our Discord