Investing In The Health Care Sector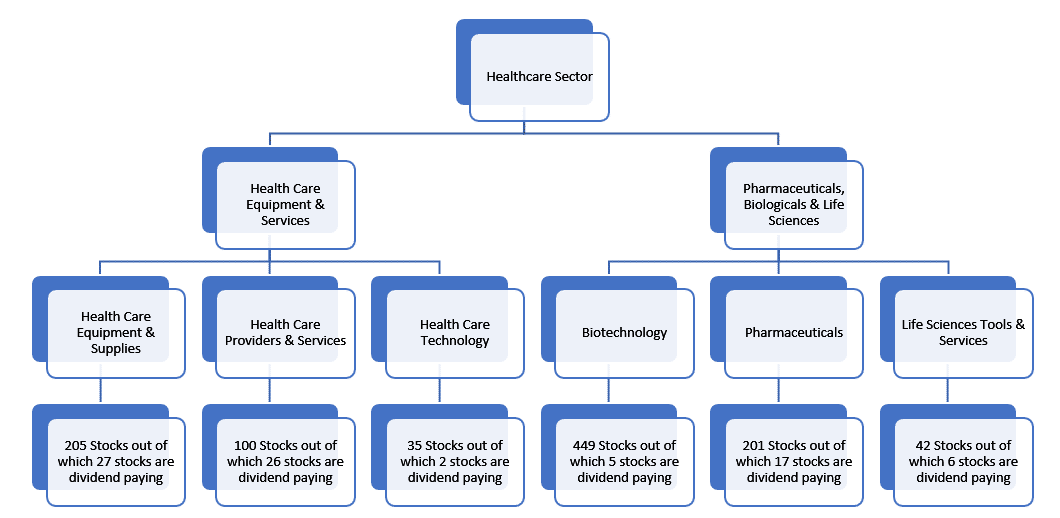 Introduction
Health Care sector is one of the largest sectors in the world. It is always in business and it is a booming sector. The need for healthcare sector has persistently increased in the 21st century. The stocks of this industry are diversified in nature. Hence, when they are included in the portfolio, they might diversify your portfolio, thereby reducing chances of a setback due to massive losses when there is an uncertain market crash.
Why to Invest in the Health Care Sector?
The investors of the Wall Street cannot avoid investing in the healthcare sector. There are various reasons for investing in the health care sector.
A booming and an ever-growing sector.

Increase in the number and complexity of the diseases
Fear of increase in the number of pandemics in the future
Desires of the people to live a long life
New technology being used
Other growth opportunities

Investing in healthcare sector makes the portfolio diversified since there is a huge variety of stocks to invest in
Second largest sector in the US S&P 500
The sector contains all types of stocks: growth, value, defensive, aggressive, small-cap, mid-cap and large-cap stocks
Participants in the Healthcare Sector
The healthcare sector is a diversified one having industries ranging from healthcare equipment and supplies to life sciences tools and services. There are, in total, 1035 stocks in this sector. Let us have an overview of the participants in the healthcare sector.
Ways of Investing
Investing in the healthcare sector without proper planning and information is like sky diving without a parachute. Similarly, before investing in the healthcare sector, it is essential to have certain basic knowledge about investing in the healthcare sector and the ways of investing in it. You can invest in the healthcare sector in the following ways:
• Blue-chip Pharma Companies/ Individual Stocks
You can invest in the big pharma companies, often known as blue-chip companies of the healthcare sector. Such companies have a huge market capitalization and are a mixture of value and growth companies. It is a possibility that they might be dividend-paying companies. They offer risk and returns on an equal basis. They might be a good option to invest.
• Healthcare Mutual Funds
Investors can also look for the option of mutual funds while investing in the healthcare sector. Investing in mutual funds results in diversification of your portfolio and reduces the risk. The following are the examples of some of the healthcare mutual funds:
o Fidelity Select Medical Equipment and Systems Portfolio (FSMEX)
o Vanguard Healthcare Fund (VGHCX)
o Eventide Healthcare and Life Sciences Fund
• Healthcare ETFs
Healthcare ETFs can also be a good option to consider. They can prove to be a good measure of portfolio diversification while investing in healthcare stocks. Healthcare ETFs are a group of a few representative healthcare stocks, which track the performance of the whole sector. They can be less risky as compared to direct investment in stocks. Some examples of them are:
o Fidelity MSCI Health Care ETF
o Invesco S&P 500 Equal Wt Hlth Care ETF
o Vanguard Health Care ETF
• Healthcare REITs
Health Care industry's primary need is real estate. The industry needs appropriate land space and infrastructure for manufacturing of equipment and medicines. It also needs space for building hospitals and factories. Thus, investing in Real Estate Investment Trusts of the health care sector can be a good option. There are many types of REITs but we will be focusing on Health Care REITs only. Some of the examples of Health Care REITs are:
o Welltower Inc.
o Care Trust REIT, Inc.
o Healthcare Realty Trust Incorporated
Risks Associated
There are many risks associated with investing in the healthcare sector.
Market risks: These risks occur due to changes in the economy / globe, which affect the overall stock market. Such risks are prevalent in all types of sectors.
Political risks: Health care sector is a sensitive sector. Hence, the government has imposed several stringent restrictions on it, which need to be considered before taking the investment decision. There can be sudden change in the restrictions as well, which might cause significant fluctuations in the share prices of health care stocks.
MarketXLS provides a ready-to-use template for facilitating comparison between various sectors. This analysis and comparison is done on the basis of various parameters. They include Return on Equity, P/E Ratio, Dividend Yield, etc.
You can click here to go to the template.
For more such exciting content, please visit https://marketxls.com/blog/
Key Takeaways
There are many advantages and disadvantages of investing in health care stocks. The health care sector is an excellent option to invest in, for long term. The needs, requirements and demand of medicine and health care equipment is never going to decline. The sector has technologically advanced in the past decade, resulting in development of better quality medicines at lower costs.
Disclaimer
None of the content published on marketxls.com constitutes a recommendation that any particular security, portfolio of securities, transaction, or investment strategy is suitable for any specific person.
The author is not offering any professional advice of any kind. The reader should consult a professional financial advisor to determine their suitability for any strategies discussed herein.
The article is written to help users collect the required information from various sources deemed to be an authority in their content. The trademarks, if any, are the property of their owners, and no representations are made. All trademarks referenced are the property of their respective owners. Other trademarks and trade names may be used in this document to refer to either the entity claiming the marks and names or their products. MarketXLS disclaims any proprietary interest in trademarks and trade names other than its own or affiliation with the trademark owner.
Reference
https://admiralmarkets.com/education/articles/shares/ways-to-invest-in-healthcare-stocks
Interested in building, analyzing and managing Portfolios in Excel?
Download our Free Portfolio Template
Call:

1-877-778-8358
I am so happy you are here. My name is Ankur and I am the founder/CEO of MarketXLS. Over the past four years, I have helped more than 2500 customers to implement their own investment research strategies and monitoring systems in Excel.
Implement

"your own"

investment strategies in Excel with thousands of MarketXLS functions and starter sheets.
Get started today