10 Portfolio Management Tips Before Retirement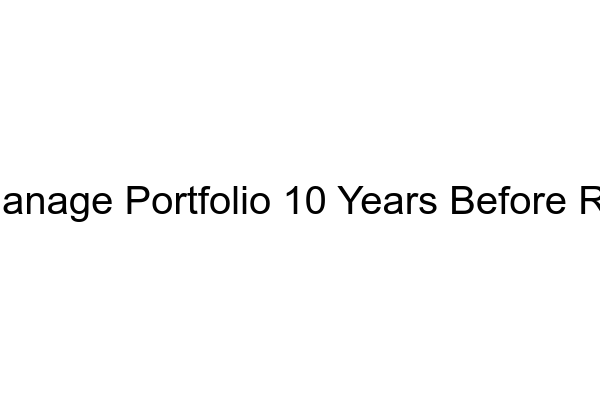 10 Important Portfolio Management Tips Before Retirement
Retirement is a key stage of life, and it requires careful planning and implementation of financial strategies. For that reason, it is important to have a solid portfolio management plan that incorporates long-term savings, risk management, asset allocation, and diversification as a part of retirement planning. Here are ten key steps worth considering as part of your retirement planning strategy.
1.Set Financial Goals
Creating financial goals for your retirement is the first and foremost step to take when approaching your portfolio management. By deciding what you want to achieve in the future, you will be able to set the parameters of your portfolio, and optimize your plan according to your financial goals.
2. Understand Your Retirement Goals
It is important to ensure that your retirement goals are in line with what you want in the future, and is achievable and realistic. Retirement goals are a key element to designing a successful retirement strategy and should be given priority when developing a portfolio management plan.
3. Estimate Your Social Security Benefits
Social security benefits play a key role in your retirement income, and should be carefully taken into account when designing your portfolio. To understand this aspect of your retirement planning, it is important to understand the various retirement benefits available, and estimate them accordingly.
4. Create Budget for Retirement
Financial planning for retirement requires proper budgeting. As part of your portfolio management, review your current spending and create a budget for retirement that takes into account your planned retirement income and expenses.
5. Consider Opening a Retirement Savings Account
Retirement savings accounts, such as Individual Retirement Accounts (IRAs), offer tax advantages and other benefits. Consider opening such accounts and investing informally in them to ensure a sound retirement strategy.
6. Invest in Retirement Funds
Retirement funds are a great way to save for those living on a low income during retirement. Invest in such funds and other retirement accounts to maximize your savings and help provide a secure retirement income.
7. Use Retirement Planning Tools
To ensure an effective portfolio management plan, you may consider using retirement planning tools that can help automate and optimize your investments. Such tools provide a better understanding of the various investment options and helps you to better manage your retirement risk.
8. Maximize Your Retirement Benefits
Many retirement accounts and investments offer additional benefits such as tax-deferred or tax-free growth. Make sure to take advantage of such benefits when making your investments. This can help you maximize your retirement benefits and give you a strong financial security in your golden years.
9. Diversify Your Investments
Creating a solid retirement portfolio requires diversifying investments across different asset classes. This helps reduce risk and ensure a balanced retirement portfolio with respect to risk-returns.
10. Rebalance Regularly
Once you have created the right retirement portfolio, it is important to regularly monitor and rebalance it depending upon your financial goals. This helps you stay on track with your retirement goals and also minimize potential losses.
MarketXLS
For those wanting to create a robust retirement portfolio, MarketXLS provides a range of products and services that can help you manage and monitor your investments. With MarketXLS's portfolio building tools, you can analyze and select the best investments for your retirement plan. You can also make use of our stock screener to find stocks that meet your investment criteria, as well as our backtesting tool to analyze your retirement portfolio and find the best strategies to meet your retirement goals. MarketXLS also provides asset allocation strategies as part of its services that can help you design a risk-averse portfolio with optimal returns.
Making use of MarketXLS's portfolio management tools can help you save time and money, allowing you to focus on other important matters related to retirement and retirement planning.
Here are some templates that you can use to create your own models
Search for all Templates here: https://marketxls.com/templates/
Interested in building, analyzing and managing Portfolios in Excel?
Download our Free Portfolio Template
Call:

1-877-778-8358
I am so happy you are here. My name is Ankur and I am the founder/CEO of MarketXLS. Over the past four years, I have helped more than 2500 customers to implement their own investment research strategies and monitoring systems in Excel.
Implement

"your own"

investment strategies in Excel with thousands of MarketXLS functions and starter sheets.
Get started today