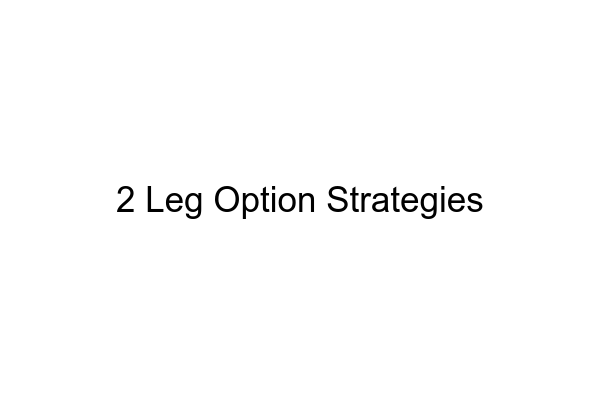 Is This A Bullish or a Bearish Strategy?
Two-Leg Option Strategies are non-directional strategies which actually indicate the market can move either up or down. This means the strategy is a neutral investment option and it is neither bullish or bearish.
Is This a Beginner or an Advanced Option Strategy?
Two-Leg Option Strategies are an advanced option trading strategy. Traders and investors creating a two-leg option strategy need to have a strong understanding of options trading basics, including creating spreads and selling options.
In What Situation Will I Use This Strategy?
Investors and traders use two-leg option strategies when they have identified an opportunity to take advantage of an underlying security with a low implied volatility. Specifically, traders look to generate income through a two-leg option strategy when they believe the underlying stock is not likely to make a large move either up or down.
How Is This Strategy Affected By the Greeks?
The greeks represent the sensitivity of an option's value to various factors, such as the underlying stock's price, implied volatility, and time decay. A two-leg option strategy benefits from a decrease in implied volatility and an increase in time decay. The two-leg option strategy is sensitive to delta and gamma movements, so traders need to keep their delta neutral when adjustments are made accordingly.
How Do I Know When To Exit This Strategy?
Traders should exit their two-leg option strategies when their risk-reward trade-off has been met. This means, when the value of the underlying security moves to the point where the position's maximum risk and reward have been met, traders should close out of the position.
Give Me an Example With Calculations of This Strategy
For example, let's assume that an underlying stock has a current share price of $50 and implied volatility of 10%. A trader wants to construct a two-leg strategy that consists of selling the 50 strike call option and simultaneously buying the 55 call option to create a call spread. Additionally, the trader will write a 50 put option and buy a 45 strike put option to create a put spread.
The trader collects a net premium of $2.15 and thus his maximum risk is limited to $2.15 if the underlying stock is greater than $50 at expiration.
Let's look at the maximum profit and maximum loss of this two-leg option strategy. The maximum profit of the trade is $3.85 and it occurs if the underlying stock is at $50 at expiration. The maximum loss of the trade is limited to the net premium that the trader paid, $2.15.
How MarketXLS Can Help
MarketXLS is an excel add-in that helps traders analyze stocks and options. With MarketXLS, traders can quickly analyze the greeks of various option strategies including the two-leg option strategy. MarketXLS also provides real-time stock and option quotes, market scanners and dashboards to easily analyze stocks and options on any timeframe. With MarketXLS, traders and investors can easily stay on top of their trading and make the most of the two-leg option strategy.
Here are some templates that you can use to create your own models
Search for all Templates here: https://marketxls.com/templates/
Interested in building, analyzing and managing Portfolios in Excel?
Download our Free Portfolio Template
Call:

1-877-778-8358
I am so happy you are here. My name is Ankur and I am the founder/CEO of MarketXLS. Over the past four years, I have helped more than 2500 customers to implement their own investment research strategies and monitoring systems in Excel.
Implement

"your own"

investment strategies in Excel with thousands of MarketXLS functions and starter sheets.
Get started today