Ben Graham Valuation Model (Excel Template)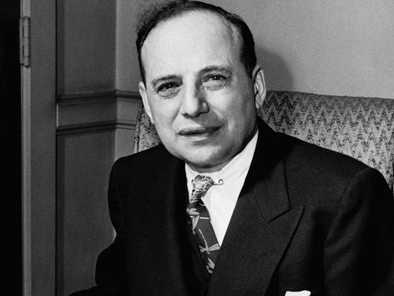 Ben Graham Valuation model is a simple and straightforward model used by investors to calculate the intrinsic value of a stock using fundamental analysis. It has to be noted that the Ben Graham model is applicable only from a long-term investment perspective.
Intrinsic value of the company is calculated using a company's factors such as its assets, earnings, and dividend payouts. If the intrinsic value is less than the current market price, the stock is considered to be overvalued. On the contrary, if the intrinsic value is greater than the market price it is considered to be undervalued.
About Ben Graham and Value Investing
Ben Graham is widely known to be the 'father of value investing' and is the author of the two best-selling books: The Intelligent Investor and Security Analysis with David Dodd.
His investment philosophy is based on value investing, investor psychology, minimal debt, buy-and-hold investing, fundamental analysis, concentrated diversification, buying within the margin of safety, activist investing, and contrarian mindsets.
Ben Graham Valuation Formula
Ben Graham strongly believed in efficient markets because the point of value investing would be pointless if markets were not efficient, as the fundamental principle of value investments lies in the ability of the markets to eventually correct to their intrinsic values. Common stocks will not remain inflated or bottomed-out forever despite the irrationality of investors in the market.
Key to Graham's approach is the margin of safety concept. He believes that due to the irrational behavior of investors and other factors, there is room for human error which results in stocks being undervalued/overvalued.
The Ben Graham formula is a simple and straightforward formula that investors can use to evaluate a stock's intrinsic value using fundamental analysis. Please note that it is applicable only for long-term investment.
MarketXLS Template
MarketXLS provides a template for this valuation model. Enter a Stock Ticker in the cell of this sheet to get the result.
For the purpose of this blog, we have used Amazon stock, and the template shows whether the stock is undervalued or overvalued and by how much percent.
For deeper analysis, switch to the Calculation sheet and look at the detailed working of the Ben Graham model.
Find this template here: https://marketxls.com/template/ben-graham-valuation-model/
The Bottom Line
Ben Graham offered a very simple formula to calculate the intrinsic value of a growth stock. It can be applied to other sectors and industries, but it works the best using a long-term perspective.
Disclaimer
All trademarks referenced are the property of their respective owners. Other trademarks and trade names may be used in this document to refer to either the entity claiming the marks and names or their products. MarketXLS disclaims any proprietary interest in trademarks and trade names other than its own, or affiliation with the trademark owners.
None of the content published on marketxls.com constitutes a recommendation that any particular security, portfolio of securities, transaction, or investment strategy is suitable for any specific person. The author is not offering any professional advice of any kind. The reader should consult a professional financial advisor to determine their suitability for any strategies discussed herein. The article is written for helping users collect the required information from various sources deemed to be an authority in their content. The trademarks if any are the property of their owners and no representations are made.
Interested in building, analyzing and managing Portfolios in Excel?
Download our Free Portfolio Template
Stock screens
Public saved screens
Top 100 Gainers Today
Top 100 losers Today
Call:

1-877-778-8358
I am so happy you are here. My name is Ankur and I am the founder/CEO of MarketXLS. Over the past four years, I have helped more than 2500 customers to implement their own investment research strategies and monitoring systems in Excel.
Implement

"your own"

investment strategies in Excel with thousands of MarketXLS functions and starter sheets.
Get started today