Finding the Right Time Frame for Testing Equity Strategies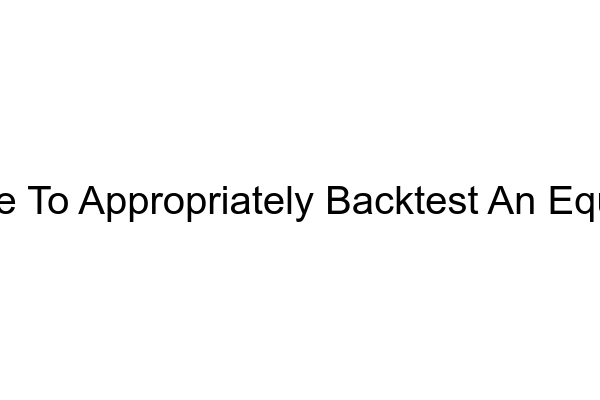 Finding the Right Time Frame for Testing Equity Strategies
Finding the right time frame for backtesting equity strategies is one of the key factors in determining the success of an investment plan. While the main goal is to maximize returns, there are a number of other considerations to take into account, such as market risk and the impact of historical data on the performance of the strategy. By understanding the right time frame, investors can better optimize their investment horizon and get a better statistical analysis of the results of their strategy.
Understanding Market Risk
Market risk is an important factor that should be taken into consideration when backtesting equity strategies. The level of risk in the market can vary greatly depending on the time frame selected. Generally speaking, short-term strategies carry higher risk than long-term strategies, as the impact of changing market conditions can be more significant over a shorter period of time. As such, investors should consider the level of risk they are comfortable with before selecting an appropriate time frame for testing.
Analyzing Historical Trends
Historical data can also be an important factor in determining the right time frame for backtesting equity strategies. By analyzing past patterns and trends, investors can identify the optimal time period for their strategy. For example, if certain markets are known to experience significant price movements during certain times of the year, it may be beneficial to adjust the backtesting strategy accordingly. However, investors should also be careful not to rely too heavily on past trends as market conditions can change rapidly.
Using a Trading Simulator
Investors looking to backtest equity strategies can make use of a trading simulator or portfolio optimization tool. These tools can help to simulate actual trading scenarios and provide statistical analysis of the results. They can also be helpful in testing different time frames to identify the optimal period for the particular strategy. However, it is important to remember that results from a simulator may not perfectly reflect the outcomes of an actual trading strategy.
MarketXLS – For Effortless Investment Analysis
MarketXLS is an innovative software for effortlessly performing investment analysis. Equipped with a wide variety of tools, MarketXLS provides a comprehensive set of tools to help investors perform detailed backtesting and portfolio optimization. The software enables users to backtest any strategy over multiple time frames with ease, and also provides users with an extensive range of market data and historical data to base their decisions on. With MarketXLS investors can confidently evaluate equity strategies and maximize returns over their investment horizon.
By properly selecting the right time frame for backtesting equity strategies, investors can more confidently optimize their investment portfolio and maximize their returns. Through careful consideration of factors such as market risk and historical trends, investors can better identify the perfect time period for their strategy and achieve better results from their investments. Tools such as MarketXLS can be very helpful in providing investors with the required data and tools to confidently evaluate and test any equity strategies.
Here are some templates that you can use to create your own models
Search for all Templates here: https://marketxls.com/templates/
Relevant blogs that you can read to learn more about the topic
Best Years for Backtesting Equity Strategies: A StepbyStep Guide
Interested in building, analyzing and managing Portfolios in Excel?
Download our Free Portfolio Template
Call:

1-877-778-8358
I am so happy you are here. My name is Ankur and I am the founder/CEO of MarketXLS. Over the past four years, I have helped more than 2500 customers to implement their own investment research strategies and monitoring systems in Excel.
Implement

"your own"

investment strategies in Excel with thousands of MarketXLS functions and starter sheets.
Get started today
Get Access to
1 Billion

Usable Market data points

IN YOUR EXCEL SHEETS

WITH EASY TO USE EXCEL FUNCTIONSGet started today