High Volatility Penny Stocks-Tracking And Trading (With Marketxls)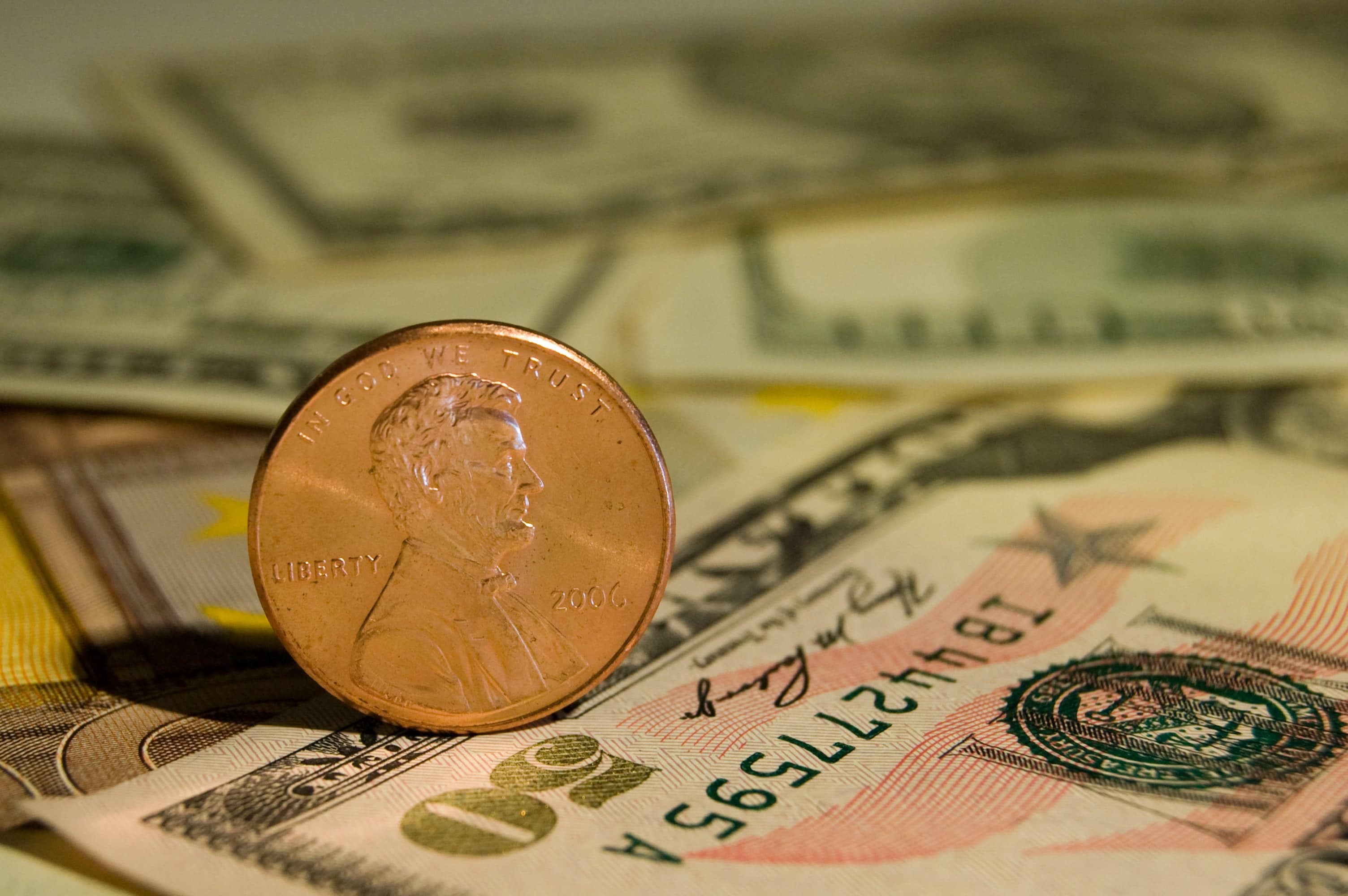 Penny stocks have had a long and exciting relationship with the stock markets. How are penny stocks different from regular stocks traded in mainstream markets? A penny stock typically refers to a small-company stock sold for less than $5 per share in the markets. Although some penny stocks are traded on large exchanges like New York Stock Exchange (NYSE), most of these stocks are traded via over-the-counter type transactions (OTC). Many also use the electronic OTCBB (OTC Bulletin Board) or privately owned OTC markets. Penny stocks are said to be traded on the Pink Market.
There are four tiers of penny stocks, and investors choose their preferred tier while making buying decisions. These tiers are based on the amount of information that the company is willing to share with the public. 
• Tier 1: these stocks are usually under $5 per share, but they can be priced slightly higher. These are listed on major stock exchanges 
• Tier 2: stocks belonging to this tier are priced between $0.01 and $1 and might be traded in fractions. These are not always listed on major exchanges, but they can be if they meet some basic requirements.
• Tier 3: These are traded for less than $0.01 and cannot be listed on the major exchanges.
• Tier 4: Also known as "hot penny stocks",  these are the cheapest option available.
Why are penny stocks so volatile?
Penny stocks are associated with small companies with low funding levels, so they often have liquidity issues. This is why investors often find it difficult to sell off such stocks because buyers are often unavailable. Due to this lack of liquidity and wide bid-ask spreads, penny stocks are generally considered to be highly speculative. What this means is that it is very easy for investors to make large gains through penny stocks but also probable for them to lose a lot of their investment.
Price fluctuations of penny stocks:
Penny stocks have a high potential for reward and a higher level of risk associated with their handling. These highly volatile stocks are thus great for investors with a high-risk appetite. Investors stand to lose their entire investment and even more if they have purchased on margin, meaning they have borrowed from banks or brokers. While trading in penny stocks, it is vital to have a strategy in place. Investors should have a stop-loss order set that is predetermined before entering the trade. If the market moves in the direction opposite to one that is favourable, the stop loss order sets in and automatically sells the securities. 
Penny stocks often fail because investors are unable to find adequate information about the company and its corporate performance to make an informed decision. Companies listed on the OTCBB are required to file their financial report with the SEC. However, stocks that are listed only on the Pink Sheets don't have the same criteria. Penny stocks (listed on the OTCBB and Pink Sheets) are exempted from fulfilling the minimum regulations required by the NYSE, NASDAQ, and other major exchanges. When a company is not regulated correctly, it becomes too risky to invest in it. Owing to low liquidity levels in the penny stocks market, traders often manipulate stock prices using the "pump and dump" scheme. Investors are lured in by scammers who buy large quantities of a stock and raise its market price to make it lucrative for investors. Once investors start buying the stocks, the scammers sell their shares, and the investors realise that there was never a rise in the actual market value of the share and incur heavy losses.
However, trading in penny stocks does have its advantages. With a low investment, penny stocks provide a way to make large amounts of profit. Not all companies listed on the Pink Sheets are fraudulent. Penny stocks are an excellent way for small businesses to gain public funding to expand their business.
Factors to consider while trading penny stocks:
Investors should consider the lack of volatility in the penny stocks market and the relaxed accounting standards. Investors should ideally only invest in penny stocks with risk money or those funds that they can afford to lose. It is crucial to study the market correctly and not be swayed by promises of easy money. The next step is to decide which type of companies to trade in. Usually, buyers tend to follow the word of mouth or the current fads. Still, it is essential to note that by the time everyone is talking about a stock making it big, it is likely to be on everyone's radar, making the scope of profit narrow. 
How can we use MarketXLS to track penny stocks?
MarketXLS can be a useful resource with hundreds of functions that can plugin into a list of penny stocks and help you compare them. Let us see how.
Step 1: Open a new excel workbook and go to the MarketXLS tab. Then click on Utilities and select the option "Useful Lists" and a window like this will open up.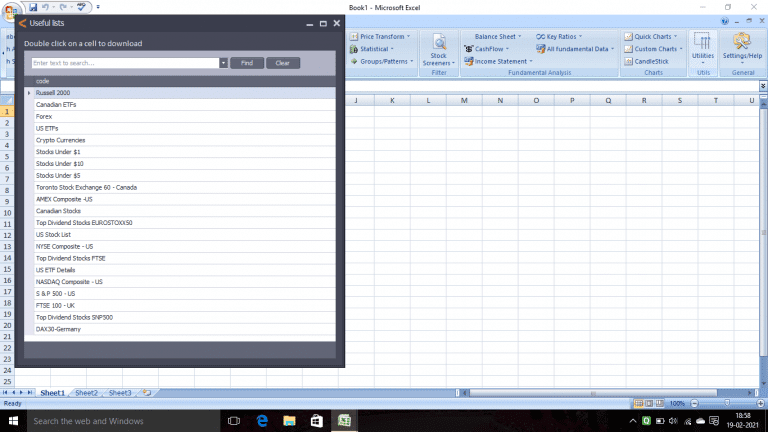 Step 2: Under useful lists, click on "stocks under $5". This will load penny stocks data on your sheet.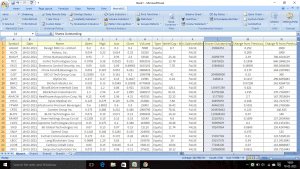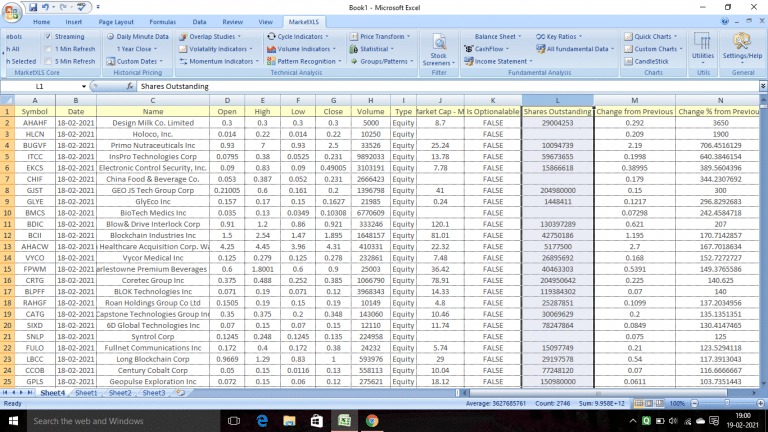 Step 3: To track the volatility of these stocks, MarketXLS provides a wide range of functions. Go to the Help button and type volatility in the search bar and options showing different volatility measures will show. Choose one most appropriate for you.
Step 4: Here, I have chosen the seven-day volatility indicator. Write down the function in cell O2 and enter the stock symbol from A2. Then drag down along column O to cover all the stocks.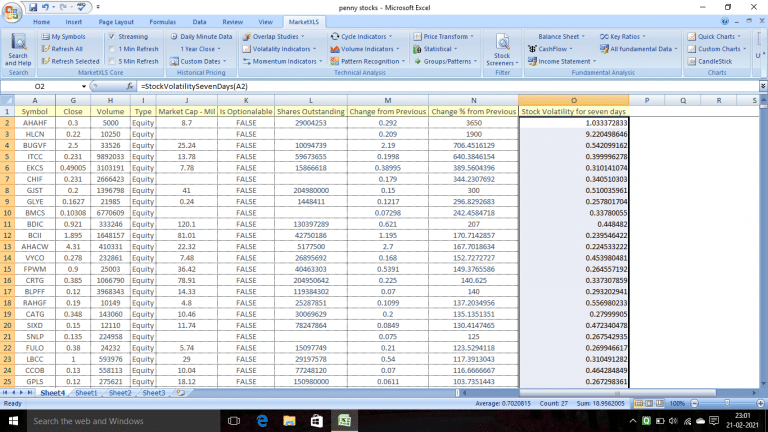 Disclaimer:
None of the content published on marketxls.com constitutes a recommendation that any particular security, portfolio of securities, transaction, or investment strategy is suitable for any specific person. The author is not offering any professional advice of any kind. The reader should consult a professional financial advisor to determine their suitability for any strategies discussed herein. The article is written to help users collect the required information from various sources deemed an authority in their content. The trademarks, if any, are the property of their owners, and no representations are made.
References:
https://www.investopedia.com/terms/p/pennystock.asp
https://www.benzinga.com/money/most-volatile-penny-stocks
Interested in building, analyzing and managing Portfolios in Excel?
Download our Free Portfolio Template
Call:

1-877-778-8358
I am so happy you are here. My name is Ankur and I am the founder/CEO of MarketXLS. Over the past four years, I have helped more than 2500 customers to implement their own investment research strategies and monitoring systems in Excel.
Implement

"your own"

investment strategies in Excel with thousands of MarketXLS functions and starter sheets.
Get started today
Get Access to
1 Billion

Usable Market data points

IN YOUR EXCEL SHEETS

WITH EASY TO USE EXCEL FUNCTIONSGet started today