Historical Stock Data in Excel
Historical Stock Data in Excel
Import Professional-grade Historical Stock quotes/Currency data in Excel
Nicely designed user interface to get data easily
History to 1996, reliable data source
Get data for multiple stocks and indices together
Nicely formatted data
Get Minute by Minute data updates
All US and Canadian securities
Data includes open, high, low, close, adjusted-close, volume, dividends & splits
Use Excel functions to get historical pricing for stocks/indices/currencies on any specific dates
Data includes dividends, splits, pricing and adjustments history
All major and minor currency pairs are included
See Next Feature
Download Historical Stock Data in Excel
Our stock prices data comes from reputed and reliable sources. The data can be downloaded with a few clicks using the MarketXLS user interface and it can also be accessed with easy to use Excel formulas like =close_historical("GOOG", Today()-30) . Historical data formulas are also available to get historical pricing of indices as well as easier comparison between individual stocks, sector indices, and other economic indicators.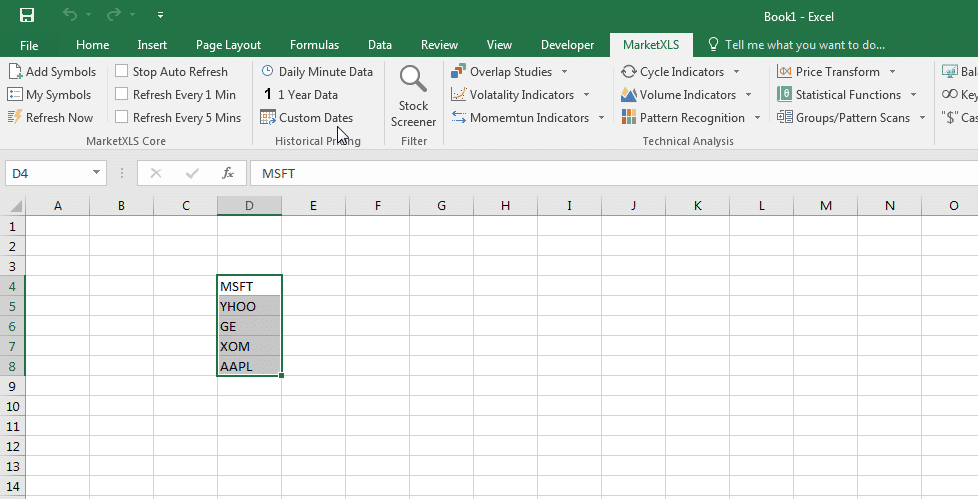 <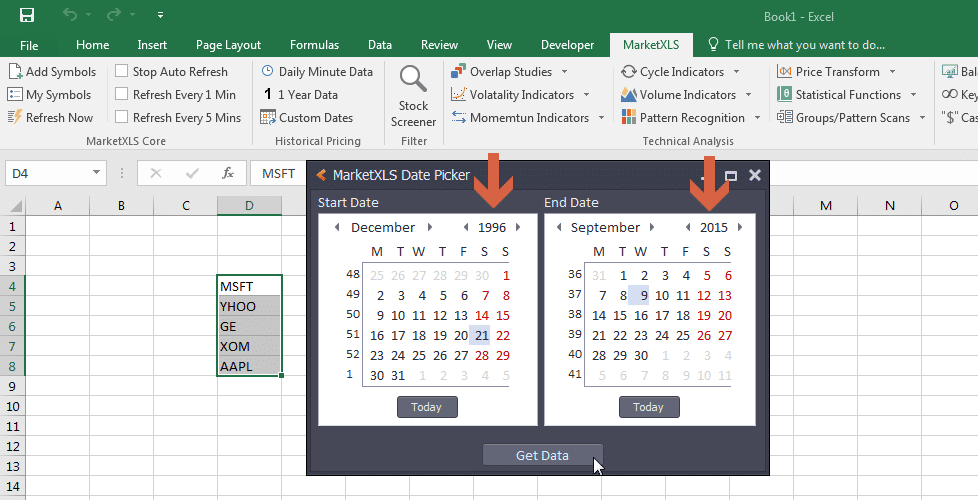 < >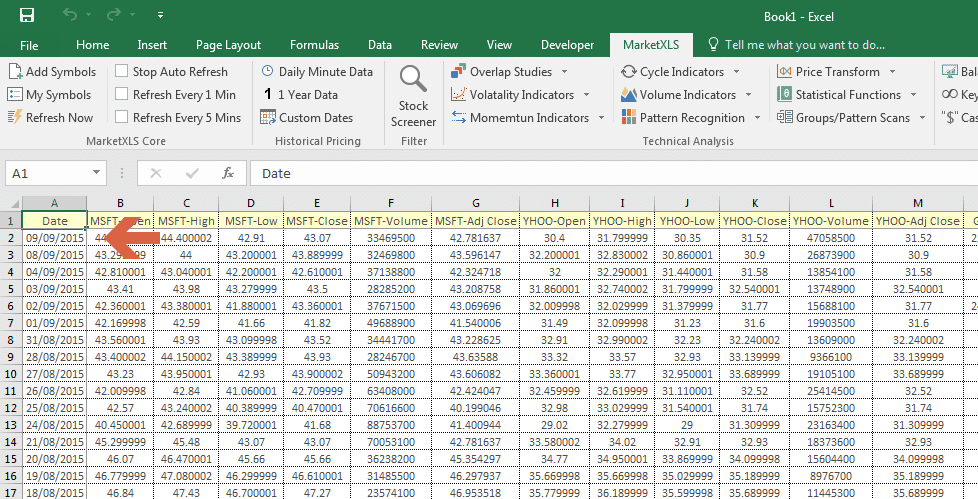 Import Historical Stock Prices with Excel Formulas
Apart from the menu system, you can also use MarketXLS functions like =close_historical("MSFT",Today()-1) to get the closing price of any symbol on any day. This example gets the close price of MSFT yesterday (Today()-1). You may also use a specific date in history and get the value.
Just like =close_historical, there are many other functions to get Open Price, High Price, Low Price and Volume.
MarketXLS has everything you would need as an investor to manage all your stock portfolio needs within Excel. The add-in is designed to fit right within your workflow and provides you the required data the way you want it. You can plug this data in your financial models or portfolio spreadsheets and the data will refresh automatically keeping your numbers current and up to date.
Other than historical stock data in excel, the add-in also provides live and delayed data for stock quotes, futures, options, ETFs, and currency quotes. The add-in also provides all the fundamental and technical data for the stocks including balance sheet, income statement, and cashflow metrics and hundreds of technical indicators and stock charts.
Supercharge your stock research with MarketXLS.Questions? Email support@marketxls.com