Basics
Informative
Portfolio
Stocks
Templates
Using MarketXLS
Investing in Consumer Staples Sector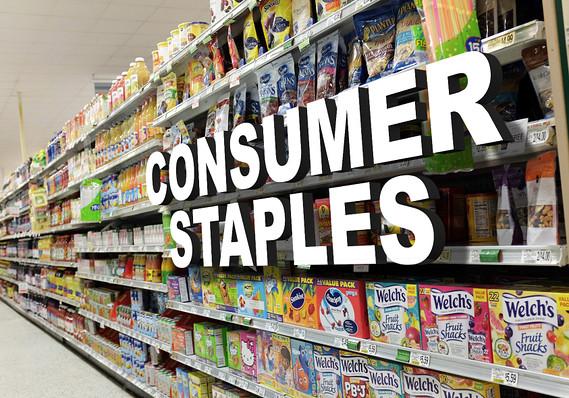 Introduction
Consumer staples refer to the essential products used by consumers. It includes things like foods and beverages, hygiene products, household goods, tobacco and alcohol. These are products that people are unwilling or cannot cut out of their budgets irrespective of their financial situation.
Consumer staples are considered to be non-cyclical because they are always in demand, year-round, no matter how the economy is performing. As such, consumer staples are resistant to business cycles. Also, people demand consumer staples at a relatively constant level, regardless of their price.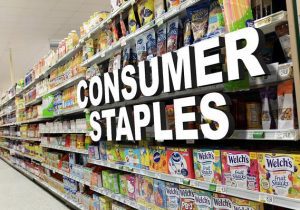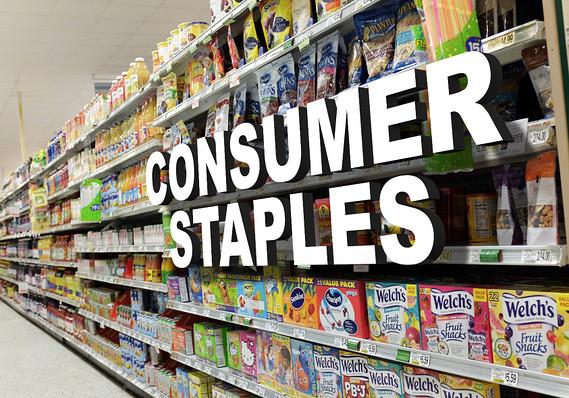 Spending on goods produced and sold by the consumer staples sector also tends to be non-cyclical because of the lower price elasticity of demand. Price elasticity is an economic concept that explains the change in consumer quantity demanded as prices change. The demand for consumer staples products remains fairly constant regardless of the cost of the product or the state of the economy.
Consumer Staples Stocks that may be considered for Investing:
Within the S&P 500 Index, consumer staples are broken down into the following industries:
PepsiCo is much more than just a beverage company. The company also owns brands like Frito-Lay, Quaker, Tropicana and Gatorade. Its Frito-Lay snacks segment generates nearly as much revenue as all of its beverages do globally, and that business has been a source of growth while soda sales are slow in the U.S. and around the world. It is also a Dividend Aristocrat, that has raised its quarterly payout for 48 years in a row. The company is encountering some troubles as it emerges from the pandemic, but its biggest businesses are growing and it should get a boost as the dine-in restaurant business resumes in the U.S. and elsewhere. Some of the key financial aspects of the company are:
Market capitalization- $216B
Dividend yield- 2.67%
P/E ratio- 26.43
Costco Wholesale Corporation (COST">COST)
Costco doesn't make consumer staples goods, but it sells them. Most of its inventory consists of household items like paper products and cleaning supplies and groceries. Costco outshines its retail peers, largely because its membership model creates a genuine customer base with a retention rate of approximately 90%. It also makes most of its profits from membership fees, so it can offer rock-bottom prices on merchandise, which is a competitive edge. The company rewarded investors with a $10-per-share special dividend in December 2020 to directly share with investors a portion of the windfall. Costco has a comparatively strong historic performance in terms of earnings. Over the past four quarters, the company has beaten earnings expectations three times. Some of the key financial aspects of the company are:
Market capitalization- $199B
Dividend yield- 0.71%
P/E ratio- 42.44
Walmart is one of the world's most successful retailers. Companies that see tremendous success in one area often diversify to use their strengths in others, and Walmart has done exactly that. One of the biggest of these is consumer staples products, which it sells exclusively in Sam's Club stores and Walmart. These products are labeled with the Great Value brand and offer low-cost alternatives to some of the most popular consumer staples products in the market.
The company manufactures everything from cleaning supplies to paper towels, paper plates, and utensils to food products and microwave dinners. The company also markets the Equate brand, offering a long list of medications and other hygiene and health care products. Some of the key financial aspects of the company are:
Market capitalization- $422B
Dividend yield- 1.47%
P/E ratio- 34.94
The Procter & Gamble Company (PG)
The Procter & Gamble Company provides branded consumer packaged goods to consumers in North and Latin America, the Asia Pacific, Europe, Greater China, the Middle East, India and Africa. It operates in five segments: Grooming, Beauty, Health Care, Baby, Feminine & Family Care and Fabric & Home Care. Today, the company has 22 well-known brands that each generate more than $1 billion in annual revenue, alongside a long list of lesser-known brands that helped the company generate around $70 billion in revenue in 2020.
The company is also constantly innovating. Most recently, it developed a safe, naturally produced line of insect repellent products known as Zeno. So Procter & Gamble continues to improvise, drive compelling sales, and show appreciation to its investors through aggressive dividend payments. Some of the key financial aspects of the company are:
Market capitalization- $350B
Dividend yield- 2.42%
P/E ratio- 26.23
Altria Group, Inc. (MO)
Altria Group is a tobacco consumer staples company with incredible historic growth and a strong start to the year which suggests that the growth will continue. The company is one of the largest tobacco corporations in the world, which takes investing in consumer staples to the next level.
The company also eyes incredible opportunities in the cannabis market as experts suggest that federal legalization for adult-use cannabis is likely to take place in the United States very soon. That said, if you are a socially responsible investor, Altria Group may not be the best choice, but if your focus is growth prospects over the long term, the stock is one that's hard to avoid. Some of the key financial aspects of the company are:
Market capitalization- $89B
Dividend yield- 7.08%
P/E ratio- 19.77
The Clorox Company manufactures and markets professional and consumer products worldwide. It operates through four segments: Household, Health and Wellness, Lifestyle, and International. The company has a relatively diverse portfolio of products. Although most of these products are in the cleaning space, Clorox has seen success in other sectors with brands like Brita, Kingsford and Hidden Valley.
Like all other consumer staples stocks on this list, Clorox is known for showing strong growth in revenue and Y-O-Y earnings. The company has also regularly paid decent dividends, with a current yield of over 2.50%. As vaccines reach consumers and COVID-19 case counts decline, consumers will put more emphasis on cleanliness than they did before the pandemic.
As a result, the cleaning supplies sector as a whole is expected to see a continuation of growth in demand. Some of the key financial aspects of the company are:
Market capitalization- $21B
Dividend yield- 2.75%
P/E ratio- 30.62
What ETFs track the consumer staples sector?
Some popular ETFs that follow the sector:
Pros of Investing in this Sector
Stability
Since the demand for consumer staples doesn't drop even in a weak economy, the sector is defensive. These stocks are less susceptible to the swings of the economy when consumer spending on luxury goods and discretionaries falls and rises.
Good long term returns
The consumer staples sector outperformed the S&P 500 index during the last three recessionary periods. For example, during the Great Recession of 2008, the consumer staples sector returned 13.7% as compared to the S&P 500 index which declined by 5%. Most investors don't acknowledge that the consumer staples sector has generated the largest returns of any sector over the long term.
Strategic Advantage
Investing in companies that you are already aware of gives you a strategic advantage in the stock market. Consumer staples stocks generally see slow and steady growth that can help in diversifying your portfolio. An added advantage is its higher dividend yield — more than the S&P 500 Index — even during the recession.
Cons of Investing in this Sector
Slow returns
These stocks make most of their return when the market is falling. When the economy is booming, the sector may see very slow growth or underperform, which may not suit some investors' appetites.
Economic Dependency
Consumer staples stocks are dependent on growth in consumer spending. When consumer spending slows, these companies can expect to see slow growth in revenue, leading to declines. Customers also shift their buying habits to e-commerce and specialty options, such as organic, fresh options. Companies need to continually keep in touch with consumers.
Interest Rates
Higher interest rates usually mean that borrowers end up paying more for the products. When interest rates go up, consumer spending drops, affecting sector performance.
Intra Sector Comparison using MarketXLS Template:
MarketXLS provides a ready-to-use template for facilitating intra sector comparison on the basis of Market Cap. for various sectors. Using the Intra Sector View template, the Investor can select the ETF and compare the companies that are part of that index. The investor can also modify the stocks/components of the ETF based on his requirement. The comparison is based on Current Market Price (CMP">CMP), Market Capitalisation, P/E, Revenue, and Profit Growth, ROE, and ROC indicators.
You can click here to go to the template. The template will also present detailed analysis and fundamentals comparison graphically for a better understanding.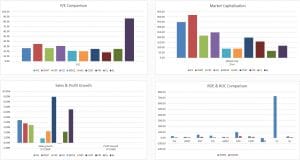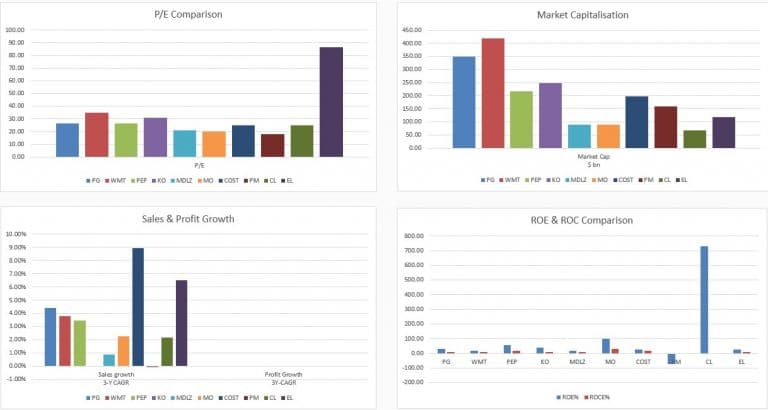 For more such informative content, visit https://marketxls.com/blog
Bottom Line
Consumer staples stocks are attractive, and most investors should have a small part of their portfolio dedicated to them. However, it is also important to consider your financial capabilities, unique goals,  and risk appetite when deciding how much of your money should be invested in these stocks.
The consumer staples sector may be a good choice if you don't mind slow and long-term growth. The consumer staples sector has outperformed all but one sector since 1962. According to the S&P Dow Jones Indices, for the last decade, the consumer staples sector returned 8.20% annually.
One of the most alluring aspects of consumer staples stocks is that they pay strong dividends. In fact, the dividend yield in these stocks often moves over the 3% mark, making the dividend income attractive. But there is more to it. Even in the consumer-staples sector, dividend yields will range from stock to stock. So, take time to get a good idea of the amount of dividends that you can expect. Research into the dividend history and growth seen over the last several years for any company you're exploring.
Disclaimer
All trademarks referenced are the property of their respective owners. Other trademarks and trade names may be used in this document to refer to either the entity claiming the marks and names or their products. MarketXLS disclaims any proprietary interest in trademarks and trade names other than its own, or affiliation with the trademark owners.
None of the content published on marketxls.com constitutes a recommendation that any particular security, portfolio of securities, transaction, or investment strategy is suitable for any specific person. The author is not offering any professional advice of any kind. The reader should consult a professional financial advisor to determine their suitability for any strategies discussed herein. The article is written for helping users collect the required information from various sources deemed to be an authority in their content. The trademarks if any are the property of their owners and no representations are made.
Reference
https://www.moneycrashers.com/consumer-staples-stocks-invest/
Image Source
https://seekingalpha.com/article/4304622-analyzing-consumer-staples-companies-mondelez-is-long-term-buy
https://www.moneycrashers.com/invest-consumer-staples-stocks/
Interested in building, analyzing and managing Portfolios in Excel?
Download our Free Portfolio Template
Stock screens
Public saved screens
Top 100 Gainers Today
Top 100 losers Today
Call:

1-877-778-8358
I am so happy you are here. My name is Ankur and I am the founder/CEO of MarketXLS. Over the past four years, I have helped more than 2500 customers to implement their own investment research strategies and monitoring systems in Excel.
Implement

"your own"

investment strategies in Excel with thousands of MarketXLS functions and starter sheets.
Get started today