Leveraging AI for Portfolio Optimization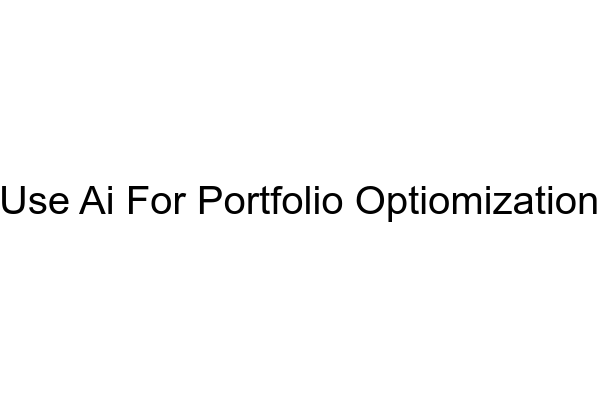 Leveraging AI for Portfolio Optimization
In the world of modern investing, investors have no dearth of tools to help them interpret financial data and make better investment decisions. One of the most prominent tools at their disposal is Artificial Intelligence (AI). AI technology has revolutionized several aspects of investing, particularly when it comes to portfolio optimization. In this article, we will explore how AI can be leveraged for portfolio optimization and how it can be used to maximize returns & minimize risk.
What Is Portfolio Optimization?
Portfolio optimization, also known as asset allocation, is the process of selecting and managing a portfolio of assets based on an investor's risk profile and goals. It involves careful selection of assets, stock selection, quantifying risks, and determining the right asset allocation. By optimizing the portfolio, investors evaluate the risk-reward tradeoff and maximize returns.
How AI & Machine Learning Can Be Used For Portfolio Optimization
AI, and more specifically machine learning, are helping investors to optimize their portfolios and improve returns. Machine learning is the application of Artificial Intelligence and data analysis techniques to learn from data and make predictions. It can be used to analyze large sets of data, and identify patterns and correlations that are not easily discernible by humans. It can also be used to identify new economic trends and risks which can be used to inform investment decisions.
When applied to portfolio optimization, machine learning can help investors to forecast the performance of different assets and identify the right asset allocation that fits their risk profile and needs. It can also be used to identify correlations between different assets, thus helping investors to diversify their portfolios and reduce risk.
Algorithmic Trading & Data-Driven Investing
AI and machine learning technologies are also being used to guide algorithmic trading and data-driven investing. Algorithmic trading systems, also known as trading robots, are computer programs that analyze the market and make trades based on predefined parameters. They can be used to optimize asset allocation, stock selection, and portfolio management, thereby helping investors to maximize returns.
Data-driven investing is another way in which AI can be used to optimize portfolios. Investors need access to vast volumes of data to make investment decisions. Using machine learning algorithms, investors can analyze large amounts of data to identify trends and correlations that are not easily visible to the human eye. This data can then be used to make informed investment decisions.
Risk Management
Risk management is another crucial aspect of portfolio optimization. AI-powered algorithms can be used to identify and quantify risks associated with different asset classes and help investors to adjust their risk profile to their needs. AI can also help investors to monitor their portfolios and identify any potential risk in real-time, thus enabling them to make timely adjustments to their portfolios.
Conclusion
In conclusion, AI is becoming an integral part of portfolio optimization and is helping investors to make better investment decisions. With the help of AI and machine learning, investors can easily access large amounts of data and use it to determine the right asset allocations, identify correlations between different assets, and optimize their portfolios for maximum returns.
MarketXLS is a powerful stock analysis software that uses AI and machine learning algorithms to help investors to find the best stocks and make informed investment decisions. With MarketXLS, you can easily access real-time data from thousands of stocks and quickly identify trends and correlations that are not easily discernible to the human eye. You can also use it to track your overall portfolio performance and make timely adjustments to minimize risk.
Here are some templates that you can use to create your own models
Search for all Templates here: https://marketxls.com/templates/
Interested in building, analyzing and managing Portfolios in Excel?
Download our Free Portfolio Template
Call:

1-877-778-8358
I am so happy you are here. My name is Ankur and I am the founder/CEO of MarketXLS. Over the past four years, I have helped more than 2500 customers to implement their own investment research strategies and monitoring systems in Excel.
Implement

"your own"

investment strategies in Excel with thousands of MarketXLS functions and starter sheets.
Get started today