NSE Option Chain (Reliance)
The title "NSE Option Chain (Reliance)" refers specifically to the detailed list of option contracts available for trading Reliance Industries Limited's stocks on the National Stock Exchange (NSE) in India. The
se contracts include both call and put options.
The NSE Option Chain, also known as an 'Options Matrix,' is essentially an organized listing of the key details associated with a company's available options contracts. It provides pertinent information such as the strike price, bid price, bid quantity, ask price, and ask quantity. Also given are details like implied volatility (IV), open interest (OI), and change in open interest for both call options and put options at various strike prices.
'Reliance' in "NSE Option Chain (Reliance)" refers to Reliance Industries Limited, one of the largest companies in India dealing in various sectors such as telecommunications, textiles, natural resources, petrochemicals and more. Therefore, the Option Chain for Reliance on the NSE is a detailed overview of all the options contracts (both call and put) related to the shares of Reliance Industries.
The Option Chain allows traders and investors to see all available option contracts of a given stock - in this case, Reliance - in one consolidated table. This makes it easier for them to analyze prospective derivatives investments and decide their trading strategies.
For more details regarding NSE Option Chain, you can refer to the official NSE India website at https://www.nseindia.com/. For more information specifically for NSE Option Chain for Reliance Industries, you can navigate to their dedicated page at https://www.nseindia.com/get-quotes/derivatives?symbol=RELIANCE
It is important to note, however, that investing in options carries significant risk and should be done under the guidance of a financial advisor or with a solid understanding of the financial markets.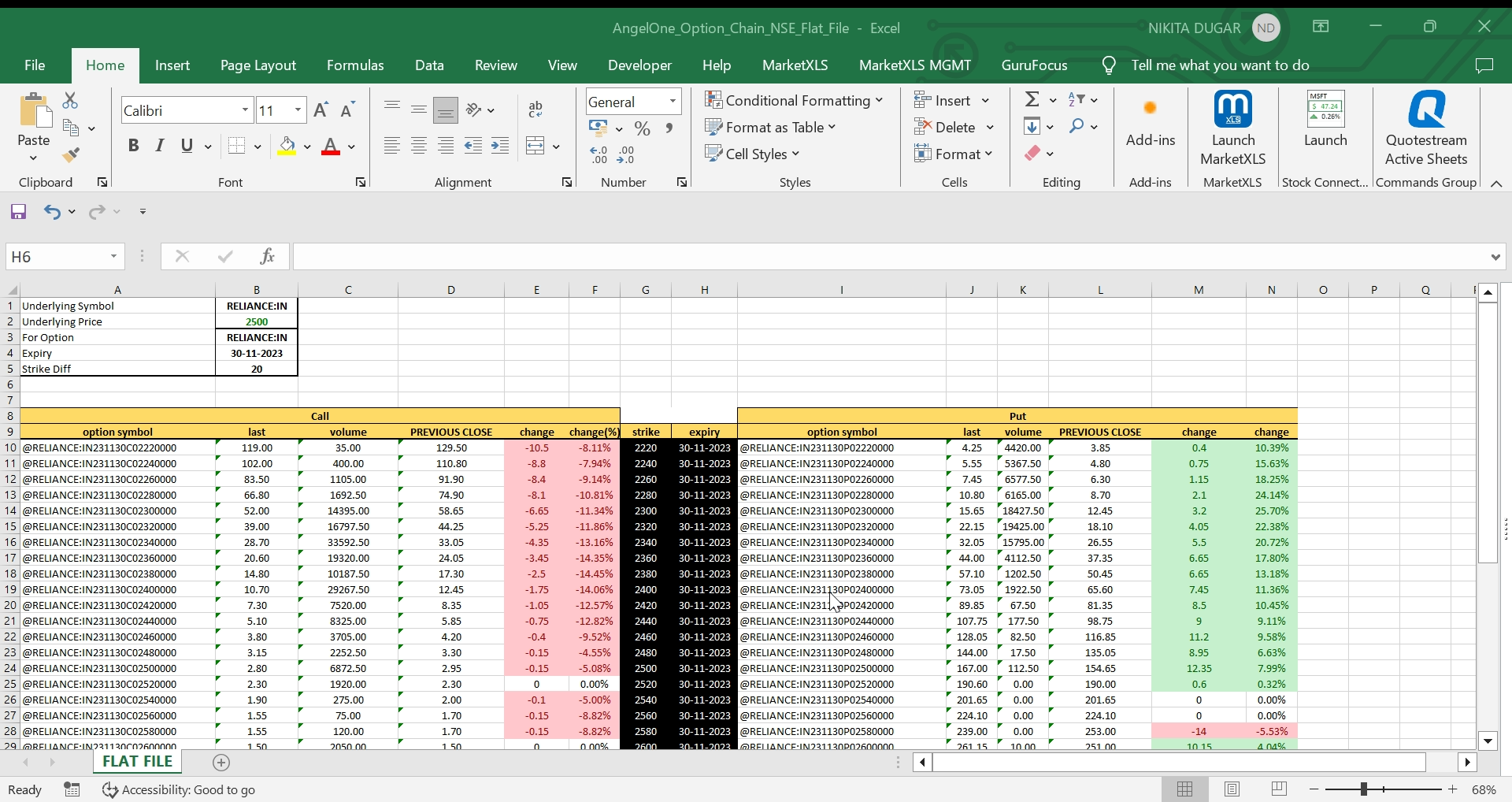 Created by: MarketXLS
Interested in building, analyzing and managing Portfolios in Excel?
Download our Free Portfolio Template
Call:

1-877-778-8358
Welcome! I'm Ankur, the founder/CEO of MarketXLS. With over six years of experience, I've helped 2500+ customers implement personalized investment research strategies and monitoring systems in Excel.
Implement

"your own"

investment strategies in Excel with thousands of MarketXLS functions and templates.
Get started today
Get Access to
1 Billion

Usable Market data points

IN YOUR EXCEL SHEETS

WITH EASY TO USE EXCEL FUNCTIONSGet started today
🎉 Exciting news! 🎉



You are invited to join our

Discord Channel

.

Interact, learn, and grow with experts in the markets! Join our Discord
Similar Posts