Fundamental analysis
Others
Screeners
Stock Screener: Comparing Stocks For Fundamentals History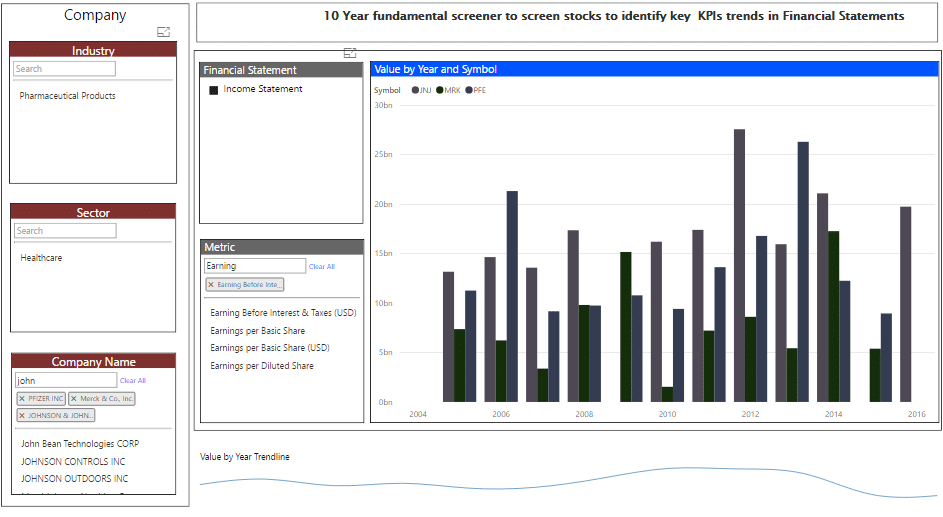 The MarketXLS stock screeners are designed to help you prioritize and research stocks in the most efficient way. If you want to learn how the stock screeners work, you should read our articles Stock Screeners by MarketXLS and Stock Screener: In-depth Research of a Stock.

In this article, we will focus on our stock screener 'Comparing Stocks' that allows you to compare metrics for multiple stocks. Let's say you are looking at Earnings Before Interest and Tax (EBIT) for Pfizer, and you want to compare it with the EBIT for Merck & Co. This screener allows you to do exactly that. As you can see, in the following screen, I have selected the two stocks from the Company selection box, and EBIT in the Metric selection. The chart shows me the 10-year comparison of EBIT for the two selected stocks.

While it is important that you select only one metric at a time for meaningful results, you are free to select as many companies as you want and compare their metrics on the chart.

Just like the Stock Screener: In-depth Research of a Stock, this screener also follows the associative principles which makes it easy to select/deselect anything you like at any time in your stock research. For example, let's say that you want to add one more stock to your comparison, i.e., Johnson & Johnson, first relook at their EBIT and then compare their free cash flow per share.

In the following screen, I've added Johnson & Johnson to the list, and can compare their EBIT.

Now that I have compared their EBIT, I can go ahead and compare their free cash flow. To do so, I will first deselect EBIT, change the Financial Statement group to Metrics & Ratios, and then select the metric Free Cash Flow per Share. The chart will immediately reflect the new metric.


These multiple stock screens complement each other and allow you to research stocks and look at the data from multiple dimensions with the goal of providing a complete picture.
Interested in building, analyzing and managing Portfolios in Excel?
Download our Free Portfolio Template
Call:

1-877-778-8358
I am so happy you are here. My name is Ankur and I am the founder/CEO of MarketXLS. Over the past four years, I have helped more than 2500 customers to implement their own investment research strategies and monitoring systems in Excel.
Implement

"your own"

investment strategies in Excel with thousands of MarketXLS functions and starter sheets.
Get started today
Get Access to
1 Billion

Usable Market data points

IN YOUR EXCEL SHEETS

WITH EASY TO USE EXCEL FUNCTIONSGet started today
🎉 Exciting news! 🎉



You are invited to join our

Discord Channel

.

Interact, learn, and grow with experts in the markets! Join our Discord