Dividend Paying Penny Stocks-Marketxls

Dividends
The dividend is a token of gratitude from a company to its shareholders keeping in mind the time and risk factors involved with the money they have invested. Dividends can be monetary or in the form of shares. Dividends are paid from the company's profits or reserves. However, a company is never obliged to pay dividends. Dividends are mostly given by stable companies with ensured profits in the future and it sends out a positive signal about the financial wellbeing of a company. Newly listed companies often tend to refrain from rolling out dividends to their shareholders as they incur losses at the initial stages of their operations.
Penny stocks
Penny stocks are those stocks that trade at or below $5. Before, the bar was set at a dollar but then the U.S securities and exchange (SEC) changed it to $5. These stocks are issued by companies that are in their nascent stage and are looking to raise capital. Though some of these stocks are traded at big stock exchanges like the NYSE, most of them are traded on a special type of marketplace called the OTC (over-the-counter) markets.
Should you buy penny stocks?
Normally, investing in penny stocks is considered a very risky business because of the low volatility and uncertainty about the company's future. An experienced investor would often refrain from putting his money in these stocks, however, the low prices can look appealing to a new investor. Penny stocks are not advisable but it's not a bad idea either. One can always put a stop loss to limit his losses. Moreover, every giant today was once a penny stock. Amazon was trading at a mere $2 when it was first listed in 1997. With thorough research, one can always pick a multi-bagger. One of the parameters that an investor can look into is dividends. As mentioned in the first paragraph, it gives a good indication of a company's future prospects. There are better indicators but dividends also help an investor to hedge against potential losses.
How marketXLS makes it easier
Looking for stocks based on your filters can always be tiresome and it is even tougher for penny stocks. You can always look it up on google but it will still take a lot of time to carry out a detailed analysis of stocks. With marketXLS you can do a thorough analysis of a company, be it financial statements or be it the ratios, that too on such a simple platform like MS Excel. One command and the whole data is in front of you. I will be showing you step by step, how it's done.
Let's first get the list of penny stocks.
Step 1: Click on the marketXLS tab.


Step 2: It will show a variety of options. Now, click on utilities. A dropdown will appear and then select useful lists.


Step 3: After clicking on useful lists, a new marketXLS window will where you need to select stocks under $5 to get the list of penny stocks.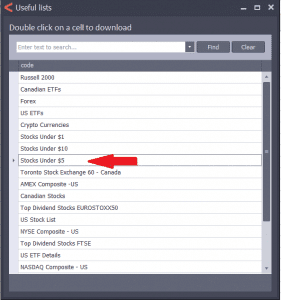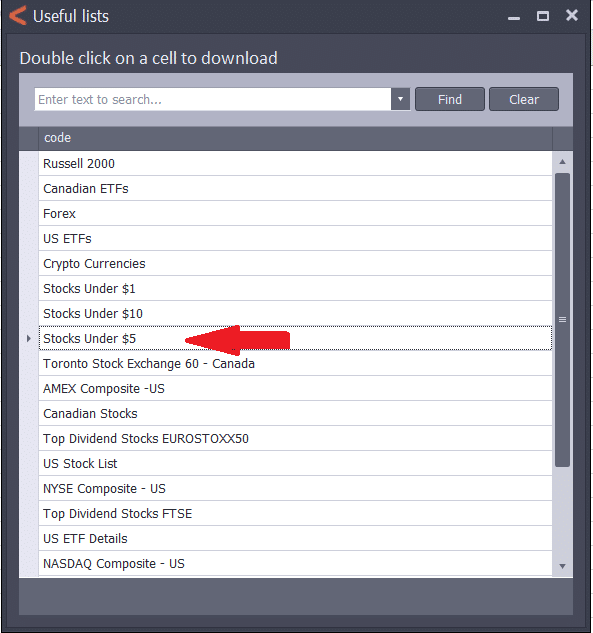 Here is the list of all the penny stocks.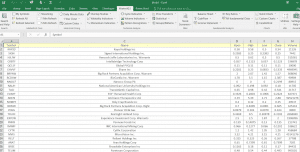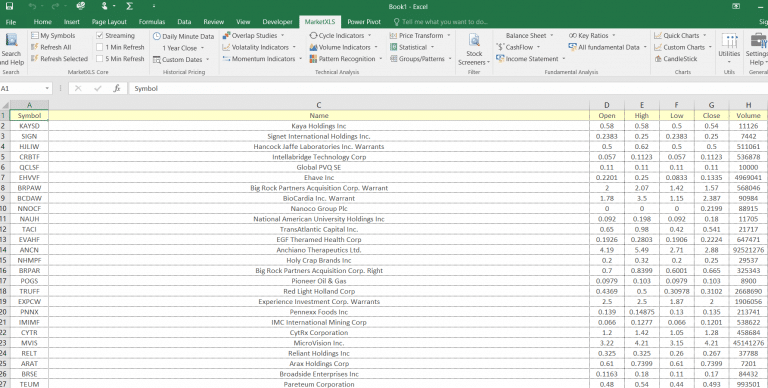 Step 4: Now that you have the list of all the penny stocks, it's time to get the list of the ones that pay dividends. MarketXLS has a function to get the dividend yield of a company, DividendYield("symbol").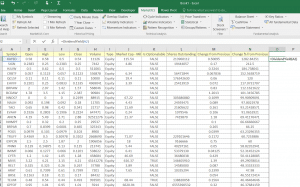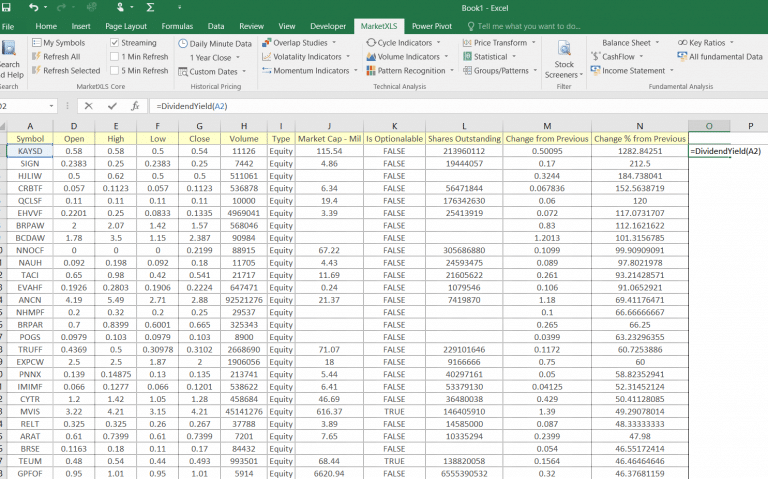 After using the function, you get to know which ones pay the dividends. Here is a list of two companies with dividend yields of 5.71 and 0.56 respectively.


Conclusion
Dividends alone cannot help you decide if a penny stock has potential. However, you can always dig deeper about a company with the help of marketXLS. You can import financial statements and ratios to carry out detailed analysis and take decisions accordingly.
Disclaimer
None of the content published on marketxls.com constitutes a recommendation that any particular security, portfolio of securities, transaction, or investment strategy is suitable for any specific person.
The author is not offering any professional advice of any kind. The reader should consult a professional financial advisor to determine their suitability for any strategies discussed herein.
the article is written for helping users collect the required information from various sources deemed to be an authority in their content. The trademarks if any are the property of their owners and no representations are made.
References
Read more about dividends here.
Read more about penny stocks here.
Read more about fundamental analysis of stocks with marketXLS here.
Interested in building, analyzing and managing Portfolios in Excel?
Download our Free Portfolio Template
Stock screens
Public saved screens
Top 100 Gainers Today
Top 100 losers Today
Call:

1-877-778-8358
I am so happy you are here. My name is Ankur and I am the founder/CEO of MarketXLS. Over the past four years, I have helped more than 2500 customers to implement their own investment research strategies and monitoring systems in Excel.
Implement

"your own"

investment strategies in Excel with thousands of MarketXLS functions and starter sheets.
Get started today