Others
Stock investments
Stocks
An Overview Of Gold Penny Stocks (Find It With Marketxls)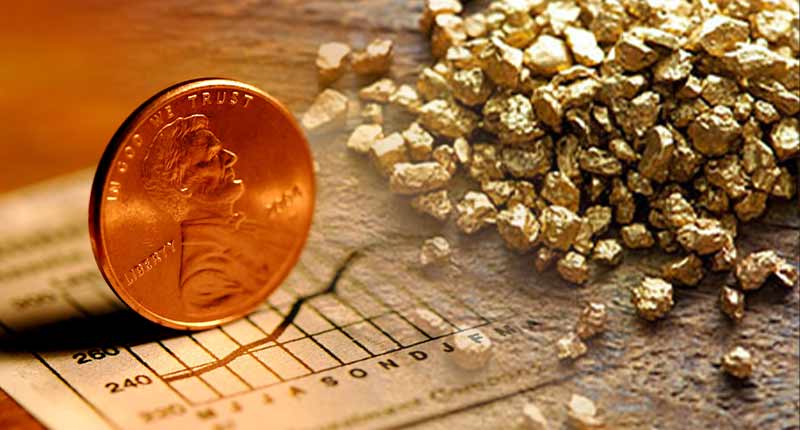 What is the Penny stock?
Penny stocks are the equity securities of a small company that trades below $5. Most of the penny stocks trade through the OTC Bulletin Board (OTCBB). Generally, small companies and start-ups with low market capitalization offer penny stocks to raise the initial funds.
Investors get attracted to penny stock because they are inexpensive. With a small amount of investment, they get more number of penny stocks. Traders believe that penny stocks provide greater returns in a small investment. But one should not forget to consider the risk-reward ratio associated with the penny stocks.
Let us discuss the risks associated with penny stocks
High volatility
Penny stocks are highly volatile stocks because of the illiquidity.
As there is a lack of awareness regarding these stocks, few buyers and sellers trade the penny stocks.
Lack of Information
Most small-sized companies and start-ups offer penny stocks. Information about their financial statements and historical performance isn't available easily.
Illiquidity
Illiquidity is one of the main risks of penny stock. In turn, this leads to a wide gap between bid and ask price. Traders find it hard to buy or sell stocks at the desired time.
Lack of Transparency
Companies with assets under $10 million and fewer than 500 shareholders are not required to file financial statements with federal securities regulators. Lesser control of authorities enhances the riskiness of the penny stocks.
Why Should One Invest In Gold?
Whenever the economy faces hardships and recession, investment in gold has proven to be safe. During the tough times of Covid, where most of the economies are struggling, investment in gold is considered a safe haven. It is a known fact that the value of gold and USD are inversely correlated.
Because when the USD weakens, investor's faith increases in gold. They include gold in their portfolio to hedge against the risk.
Investors can invest in gold through various means such as physical metal, gold exchange-traded funds (ETF), gold mutual funds, and gold options or futures. But investment in physical gold cannot bring returns like interest and dividends, so many investors opt for gold securities. Small traders may find it hard to invest in gold ETFs and other gold securities as gold prices are shooting up immensely. So they can invest in gold penny stocks.
What is Gold Penny Stocks?
One can buy gold penny stocks by investing in a gold mining company whose stock trades below $5. It is not a strict rule that stock should be trading below $5. It means that stock is available at a low rate. Since the prices of gold are soaring high, one can think of buying gold penny stocks.
List of the Gold Penny Stocks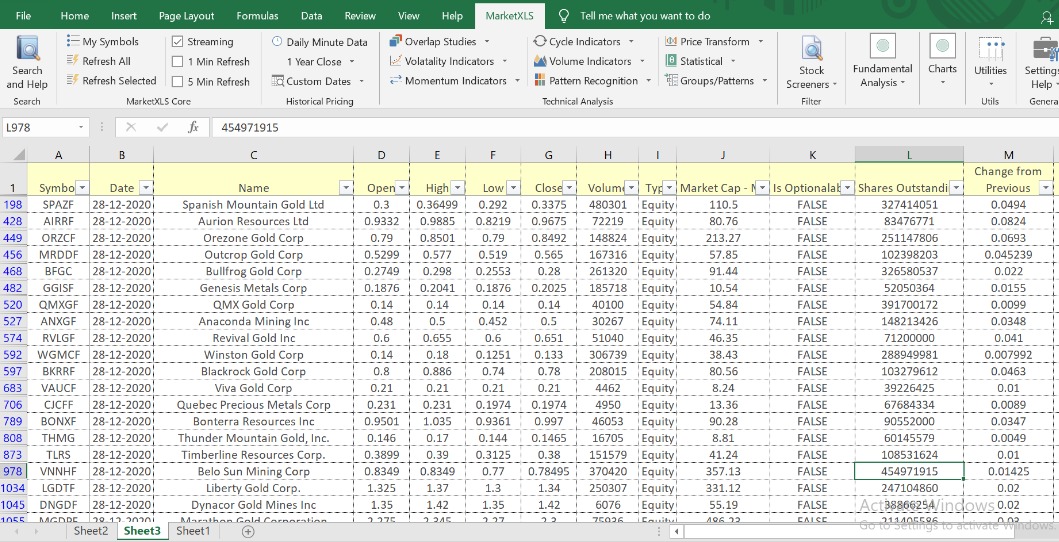 You will get all the information related to the gold penny stocks with the MarketXLS – Excel-based Investment Research Solution for Serious Investors.
Why Should One Invest in Gold Penny stocks?
Investing in gold penny stocks provides an opportunity to include gold in your portfolio with marginal capital. Since ancient times the demand for gold is significantly high. The precious metal is used for jewelry making and in various other things. Mining companies and other companies involved in refining and polishing have the potential to generate good returns.
Factors to be considered while investing in the gold penny stocks
The following points should be considered while investing in gold penny stocks:
Company
Research thoroughly about the company, its incorporation, operations, business model, clients, market penetration, past events, latest news, etc.
Management
It is the management who can take the company to the peak or bring it to the valley. It is advisable to examine the management team, board of directors, Chairman, etc., before investing in any stocks.
Promoters holdings
Significant promoter holdings suggest that promoters are interested in the company. It creates confidence among the investors about the authenticity of the company.
Location
Location plays a significant role, especially in the case of mining companies. The sites of the mines and surrounding infrastructure gives a clear picture of the companies operations.
Projects
Information regarding the current projects and future projects gives the idea of the company's scalability.
Financial Soundness
Financially sound companies meet their working capital requirements and other obligations. Financial statements provide a detailed picture of a company's financial position.
Past Performance
Historical performance helps to understand the company's profit-generating capacity. Year-on-year growth, revenues, operating cash flows, debt-to-equity ratio, etc., indicate a company's efficiency and reliability.
Conclusion
Investment in penny stock is suitable for high risk-taking individuals. One needs to be very careful while investing in penny stocks as they are very volatile. Gold penny stocks may give better returns if the company discovers a new mining site. Stocks may shoot up because of high demand. But it is seen in the past that promoters and other individuals increased the price through manipulation and unfair practices. One such technique is Pump & Dump.
Disclaimer
None of the content published on marketxls.com constitutes a recommendation that any particular security, portfolio of securities, transaction, or investment strategy is suitable for any specific person.
The author is not offering any professional advice of any kind. The reader should consult a professional financial advisor to determine their suitability for any strategies discussed herein.
the article is written for helping users collect the required information from various sources deemed to be an authority in their content. The trademarks if any are the property of their owners and no representations are made.
References
Learn more about penny stocks here
Learn more about gold penny stocks here
Interested in building, analyzing and managing Portfolios in Excel?
Download our Free Portfolio Template
Call:

1-877-778-8358
I am so happy you are here. My name is Ankur and I am the founder/CEO of MarketXLS. Over the past four years, I have helped more than 2500 customers to implement their own investment research strategies and monitoring systems in Excel.
Implement

"your own"

investment strategies in Excel with thousands of MarketXLS functions and starter sheets.
Get started today
Get Access to
1 Billion

Usable Market data points

IN YOUR EXCEL SHEETS

WITH EASY TO USE EXCEL FUNCTIONSGet started today
🎉 Exciting news! 🎉



You are invited to join our

Discord Channel

.

Interact, learn, and grow with experts in the markets! Join our Discord