Get Live Stock Prices in Excel: The Ultimate Guide with MarketXLS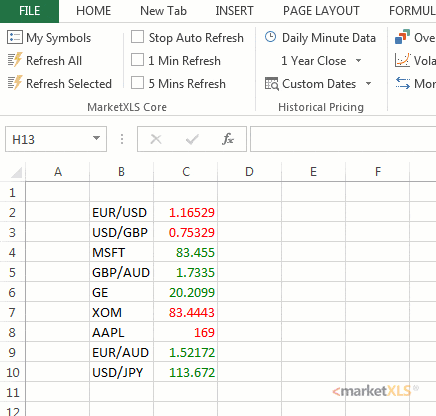 Introduction to Live Stock Prices in Excel
For many investors and traders, Excel is a go-to tool for analyzing the stock market. However, getting real-time stock data in Excel can be a challenge due to data type limitations and the need to manually update prices. Luckily, with the right tools like MarketXLS, you can easily get live stock prices in Excel by simply clicking stocks and entering stock names in a cell. MarketXLS offers secure and reliable connection methods to convert stock data into easy-to-read formats, allowing you to quickly analyze and write about trends. This article will explore how MarketXLS can help you get real-time stock prices in Excel. By simply clicking on stocks and keeping track of stock data in Excel, you can make informed decisions quickly and easily.
Understanding the Importance of Real-Time Stock Data
In today's fast-paced stock market, having secure access to real-time stock data is essential. By matching the speed of the market, investors and traders can react quickly to market changes and identify opportunities. Beginning with a step-by-step video guide and adding MarketXLS header to your Excel addin, you can choose the stock list to be shown and copy the stock data onto your cells in Excel. These steps are available in English and can be completed easily with a secure connection to MarketXLS. Don't miss out on critical market movements or make decisions based on outdated information. Stay up-to-date with real-time data using MarketXLS.
How MarketXLS Can Help You Get Live Stock Prices in Excel
MarketXLS is a powerful Excel plugin that provides a seamless experience for investors and traders to access real-time stock data, historical data, options data, and more. After installing MarketXLS, a stock icon is added to your Excel spreadsheet, and you can easily select a cell to enter your desired stock ticker. By using the stockhistory function or historical functions, you can retrieve the latest and most accurate market data directly from Microsoft Excel  addin MarketXLS. With a secure connection to MarketXLS site, you can extract data without worrying about errors. You can drag and drop queries to join different data types or click the icon to watch a step-by-step video tutorial to learn how to add tickers and get results. Change the result column to see different types of data and have the rights to do various things with the data. MarketXLS is a game-changer for anyone who wants to access and analyze real-time stock data in Excel.
Installing and Setting Up MarketXLS for Excel
To get started with MarketXLS, you need to download and install the plugin, which is a straightforward process. Once installed, you can use the today function or QM functions to get the latest market data for the current day. There are also more options available with a premium account, including the feature to retrieve data for multiple stocks options at once. Additionally, MarketXLS offers a free formula for users to try out. Once you have the plugin on your device, you can sign in to the MarketXLS site and establish a secure connection to your Excel workbook.
The MarketXLS site provides recommendations for setting up your workbook, including default column widths and linked values. You can link your Excel worksheet to the MarketXLS site to pull data and have it automatically update. Simply click the update or refresh button to check for new data. With its easy setup process and user-friendly interface, it is no wonder why MarketXLS works so well for investors and traders alike. You can also use the MarketXLS File to quickly retrieve company information and stock price lists.  Finally, with the Stock Icon you can easily view the prices of stocks and other securities over time and allow you to stay informed on stock market data.
Getting Real-Time Stock Prices with MarketXLS
With MarketXLS installed and set up, you can easily get real-time stock prices in Excel. MarketXLS supports various data types and the ticker symbols can be used "as is" with the following formula to convert text into stocks: MSFT. If you want to add more columns of stocks, simply click the add column button. MarketXLS uses Microsoft web data sources to ensure you can rely on its data for your analysis. With a secure connection, your data is protected on your screen. MarketXLS is a secure solution for anyone who wants to access reliable stock data. Once you've converted your text into stocks, scroll and click the icon to see a summary of the stock symbol's information.
You can select the data fields you want to add to your worksheet, and the selected information will be added automatically from the functions given in the Excel ribbon. Additionally, the MarketXLS Stock Connector Add-in can provide real-time stock prices and news for trading purposes, automatically updating when information is released. MarketXLS offers a comprehensive and easy-to-use solution for anyone who wants to analyze real-time stock data. Additionally, use the FieldValue Function to access real-time stock information and store it in a spreadsheet, to get the latest stock quote. Happy analyzing!
Advanced Features of MarketXLS for Excel Users
MarketXLS offers advanced features in Microsoft Excel as part of Microsoft Office. Whether you are a seasoned Excel user or just learning how to use Excel, MarketXLS makes it easy to track stocks and create custom charts. With MarketXLS, you can retrieve stock data using the ticker symbol and refresh the data for up-to-date information. The secure connection to the MarketXLS site allows you to paste data directly into your Excel worksheet, making data analysis more efficient. MarketXLS also offers advanced features like options data tracking, custom chart creation, and backtesting trading strategies.
Note that if you encounter an error, MarketXLS has a dedicated support team ready to help. With the hope of bringing value to your data analysis, MarketXLS has provided a page of recommended settings and linked values to change. If you added a new field or column to your worksheet, simply refresh the data, and the added information will be automatically updated. Share your charts with others by sharing your Excel worksheet, and MarketXLS will take care of the rest. MarketXLS has helped countless traders and investors take their Excel analysis to the next level, and it can do the same for you!
MarketXLS Tips for Live Stock Prices in Excel
To get the most out of MarketXLS, you can use several tips and tricks. For example, you can group data types, such as by fund name, to analyze trends more easily. MarketXLS offers Microsoft data functions to retrieve data for free, and with a secure connection to MarketXLS, you can access private and delayed data as well. MarketXLS offers videos and a dedicated page for support to help you make the most out of its features. Simply click the icon and select the data you want to open, select the option that fits your analysis, and pick the right way to present your data. You can also automate data updates with MarketXLS, allowing you to focus on the rest of your analysis. MarketXLS works well with other Excel plugins, allowing you to customize your analysis even further. These tips and tricks can help you maximize your experience with MarketXLS and make the most informed trading decisions.
Conclusion: Improving Stock Analysis with Live Excel Data
By using MarketXLS to get live stock prices in Excel, you can improve your analysis and make more informed trading decisions. You can find live stock prices by navigating to the data tab in Excel and searching for ticker symbols, company names, or funds. MarketXLS makes it easy to add tables and fields to your spreadsheet, allowing you to analyze stock prices and company values in real-time. If you encounter any errors, MarketXLS has a dedicated support page to answer your questions. With MarketXLS, you can stay up-to-date with the latest stock prices every day. You can enter the current time period to retrieve the latest information. MarketXLS also offers a variety of advanced features, including custom formulas and live stock price data, to help you stay ahead of the curve. With MarketXLS, you can improve your analysis and make more informed trading decisions.
Relevant blogs that you can read to learn more about the topic
Build Your Own Stock Portfolio Tracker in Excel with MarketXLS
Get High Quality Stock Data Easily with Excel Addin
Stay UptoDate on RealTime Stock Prices
Stay Up to Date With Live Stock Quotes
Get RealTime Updated Option Prices
Interested in building, analyzing and managing Portfolios in Excel?
Download our Free Portfolio Template
Call:

1-877-778-8358
I am so happy you are here. My name is Ankur and I am the founder/CEO of MarketXLS. Over the past four years, I have helped more than 2500 customers to implement their own investment research strategies and monitoring systems in Excel.
Implement

"your own"

investment strategies in Excel with thousands of MarketXLS functions and starter sheets.
Get started today
Get Access to
1 Billion

Usable Market data points

IN YOUR EXCEL SHEETS

WITH EASY TO USE EXCEL FUNCTIONSGet started today
🎉 Exciting news! 🎉



You are invited to join our

Discord Channel

.

Interact, learn, and grow with experts in the markets! Join our Discord