Guru functions
Guru Strategies
Screeners
Philip Fisher Screen (Excel Template)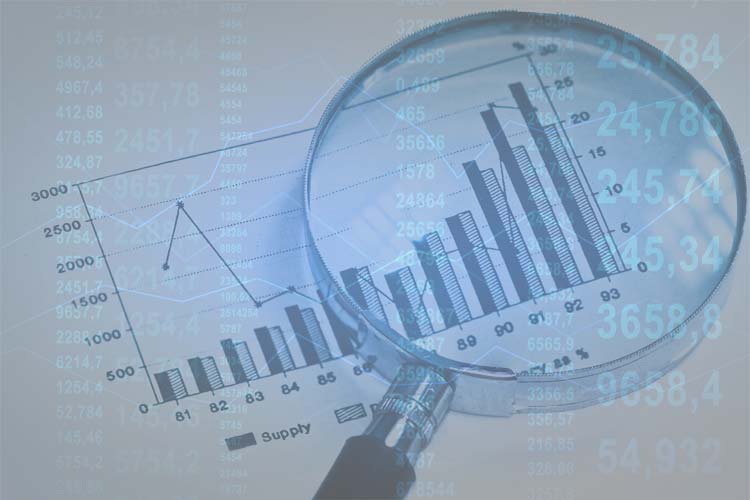 How does an investor identify the specific company which might be undervalued and have a high possibility of a significant upside? Philip Fisher Screen gives a broad overview of the kind of stocks that one should be in the quest to find outstanding investments.
The Philip Fisher screen is a strategy given by Philip Fisher in his book "Common Stocks and Uncommon Profits." He suggests a 15-point checklist method to look in for a Common Stock. If accurately handled, it provides the indicators that are needed to identify outperforming investments. Some of these points are the business affairs of the company and the efficiency of its policies.
About Philip Fisher
Philip Fisher was a well-known investor and author known for writing the book "Common Stocks and Uncommon Profits." He's believed to have a pioneer status in the field of growth investing. He's had a significant influence on modern investment theory. His investment philosophy is about purchasing a concentrated portfolio of companies with tantalizing growth prospects that you can understand and hold for a long time.
Screening the Stocks using MS-Excel:
Here is a screenshot of the Excel template that MarketXLS provides for screening the stocks as per Fisher's growth strategy. All you need to do is add the ticker symbol.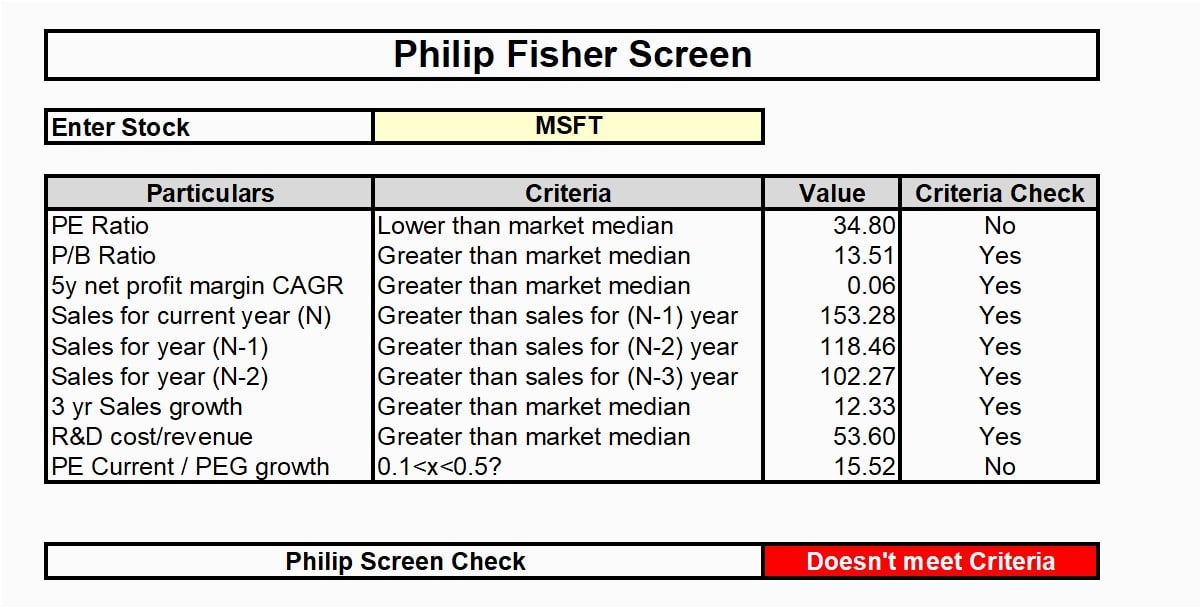 This template mainly tries to highlight the growth stocks and provides in depth analysis with respect to:
Consistent strong profitability
Consistent Sales growth
Growth exceeding industry norms
Reasonable price compared to future growth prospects
Other than this, the Net profit margin for the last 12 months and each of the previous five years has to be greater than the industry median net profit margin for the same period. The three-year average growth rate in sales should be greater than or equal to the industry's median average sales growth rate over the same period. The ratio of the forward P/E to the estimated growth rate in earnings (PEG ratio) is greater than 0.1 and less than or equal to 0.5.
Here, we've taken an example of the Microsoft (MSFT) Stock; it doesn't meet Fisher's screen criteria since the P/E ratio, and the P/E growth are not as per the requirement it does not meet criteria.
The 15 Points-Scale Explained:
Does the company have products or services with sufficient market potential to make a sizable increase in sales for at least several years?
Correctly judging the sales curve of the company is very significant. Those companies that decade by decade have consistently shown spectacular growth should not be considered annually but by taking units of several years each.
Does the management have a determination to continue to develop products or processes that will still further increase total sales potentials when the growth potentials of currently attractive product lines have largely been exploited?
A one-time profit provided by the significant growth prospect for the next few years because of new demand for existing lines is not apt to provide the means for the consistent gains. Scientific research and development engineering also plays a vital role in determining the growth potentials.
How effective are the company's research and development efforts about its size?
The percent of each sales dollar that a company is devoting to research and development is crucial for its analysis.
Does the company have an above-average sales organization?
Survival without sales is impossible. Hence, the investor must consider the relative efficiency of a company's sales, advertising, and distributive organizations.
Does the company have a worthwhile profit margin?
Sales are only of value when and if they lead to increased profits. To rightly examine the gains, one must study a company's profit margin, that is, to determine the number of cents generated by each dollar of sales.
What is the company doing to maintain or improve profit margins?
The profit margins of the future are more important than the past. Hence, an investor must give considerable attention to the work done on new ideas for cutting costs and improving profit margins.
Does the company have outstanding labor and personnel relations?
The difference in the degree of profitability is far more significant than the direct cost of strikes. Efficient leadership increases productivity per worker, and it also saves substantial training costs for every new worker.
Does the company have outstanding executive relations?
Having the right atmosphere among executive personnel is vital because it is them whose judgment, ingenuity, and teamwork will make or break the business. The company should not create conditions where the top executive talent does not stay with the company.
Does the company have depth to its management?
To take advantage of further opportunities, the company must start developing executive talent in some depth. Management will grow only when specific additional policies are in effect. The top management should welcome and evaluate personnel suggestions even if, at times, those suggestions carry with them adverse criticism of current management practices.
How good are the company's cost analysis and accounting controls?
Cost analysis and break down of over-all costs with sufficient accuracy are crucial for a company to have outstanding success for a long time. It will help in establishing pricing policies and the management to know what most needs its attention.
Are there other aspects of the business, somewhat peculiar to the industry involved, which will give the investor important clues as to how outstanding the company may be in relation to its competition?
These other aspects are bound to differ considerably but can be of great importance in some business lines. These include essential operations involving retailing, handling real estate matters (quality of leases), and the relative skill with which a company manages its credits.
The total insurance costs mount to a vital percent of the sales dollar. They primarily reflect over-all skill in handling people, inventory, and fixed property to reduce the overall amount of accident, damage, and waste and thereby make these lower costs possible.
Does the company have a short-range or long-range outlook in regard to profits?
The company may either conduct affairs in such a way to gain the highest possible profit right now or deliberately curtail maximum immediate profits to build up goodwill and thereby achieve greater overall profits over a period of years. It is seen in the treatment of its customers and vendors. The investor wanting maximum results should favor companies with a genuinely long-range outlook concerning profits.
In the foreseeable future, will the growth of the company require sufficient equity financing so that the larger number of shares then outstanding will largely cancel the existing stockholders' benefit from this anticipated growth?
The company's cash plus further borrowing ability is sufficient to take care of the capital needed to exploit the next several years' prospects is of crucial importance that should matter to the investor. If the investor has adequately appraised the situation, any equity financing that might be done some years ahead will be at prices so much higher than present levels that he need not be concerned.
Does the management talk freely to investors about its affairs when things are going well but "clam up" when troubles and disappointments occur?
How management reacts to such matters can be a valuable clue to the investor. The management has a good sense of responsibility to its stockholders, seeing no reason why it should report more than what may seem expedient at the moment. In any event, the investor will do well to exclude from investment any company that withholds or tries to hide bad news.
Does the company have a management of unquestionable integrity?
The company's management is equivalent to its assets, and hence the integrity is of utmost importance. Investors must look for ways in which, without breaking any laws, those in control are not benefitting themselves and their families at the expense of the ordinary stockholder.
Disclaimer
None of the content published on marketxls.com constitutes a recommendation that any particular security, portfolio of securities, transaction, or investment strategy is suitable for any specific person.
The author is not offering any professional advice of any kind. The reader should consult a professional financial advisor to determine their suitability for any strategies discussed herein.
the article is written for helping users collect the required information from various sources deemed to be an authority in their content. The trademarks if any are the property of their owners and no representations are made.
References
Common Stocks and Uncommon Profits and Other Writings by Philip A. Fisher
Philip Fisher Screen: The Father Of Growth Investing | Ben Hobson
Interested in building, analyzing and managing Portfolios in Excel?
Download our Free Portfolio Template
Call:

1-877-778-8358
I am so happy you are here. My name is Ankur and I am the founder/CEO of MarketXLS. Over the past four years, I have helped more than 2500 customers to implement their own investment research strategies and monitoring systems in Excel.
Implement

"your own"

investment strategies in Excel with thousands of MarketXLS functions and starter sheets.
Get started today
Get Access to
1 Billion

Usable Market data points

IN YOUR EXCEL SHEETS

WITH EASY TO USE EXCEL FUNCTIONSGet started today