Guru functions
Guru Strategies
Portfolio analysis and optimization
Valuation Models
The Defensive Investor (Utility) Strategy By Benjamin Graham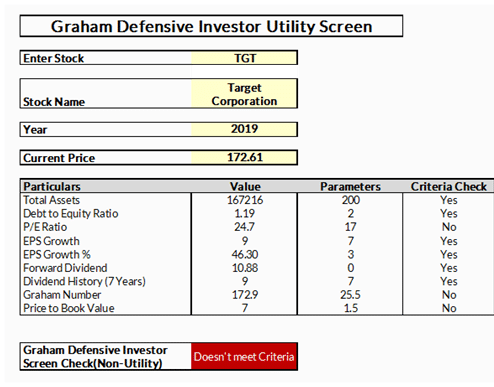 The Defensive Investor (Utility) Strategy by Benjamin Graham
What is Defensive investor strategy?
Benjamin Graham needs no introduction in the world of stock market. He was a mentor to Warren Buffet and a prominent face who redefined the flow of investing in the modern stock world. Graham Defensive Investor screen is a stock picking strategy demanding, deep value 'bargain' investing based on stringent rules. This Screener is kept in mind for the investors who are risk averse and do not have ample amount of time to spend in tracking the markets. Hence this strategy helps in selecting the stocks which are financially sound and don't require constant examination. 
It uses price-to-earnings as a valuation measure and looks for larger companies with a consistent track record of earnings and dividend growth, manageable debt and a high current ratio. Ben Graham wrote: "An investment operation is one which, upon thorough analysis, promises safety of principal and an adequate return. Operations not meeting these requirements are speculative." Defensive Investor is a stricter approach than Ben Graham's enterprising strategy, which look for unpopular companies, special situations and 'bargain' issues.
How Does It Work?
Graham's defensive investor strategy works on strict rules that need to be followed while building a prospective portfolio in line with the guidance provided by Graham under his defensive investor strategy. Let's take a thorough look at these parameters instructed as per below:
Adequate size:

 A company must have at least $500 million in sales on a trailing 12-month basis. (Graham used a $100 million minimum and at least $200 million in total assets.)
Strong financial condition:

A firm must have a "current ratio" (current assets divided by current liabilities) of at least 2.0. It must also have less long-term debt less than working capital.
Earnings stability:

A business has to have had positive earnings for the past seven years. (Graham used a 10-year minimum). Share Price should not be 1.5x book value.

Dividend record:

 The Company must have paid a dividend for the past seven years. (Graham required 20 years.)

Earnings growth:

 Earnings must have expanded by at least 3% compounded annually over the past seven years. (Graham mandated a one-third gain in earnings per share over the latest 10 years.)
Moderate price-to-earnings ratio:

 A stock must have had a 17 or lower average P/E over the past three years.
Moderate ratio of price to assets:

The price-to-earnings ratio times the price-to-book ratio must be less than 25.5.
No utilities or retailers.
Working example using the MarketXLS template
This Template works by matching some key metrics and ratios of a company with the values of Defensive Investor Screen. This Screen assumes that the investor is not an active investor and hence operates in a risk adverse fashion. The criteria mentioned in this strategy are very defensive and conservative. Hence they require very less monitoring of performances. These parameters in this screen are only applicable for companies in the Utilities sector.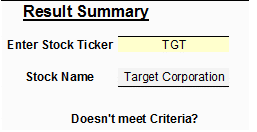 Limitations: This strategy is dependent upon past data and does not guarantee the continuity of the same results in the future.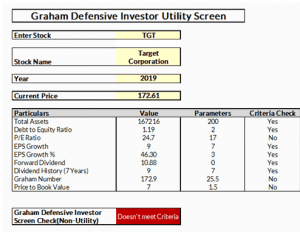 *Enter Stock Ticker at cell C4.
How Effective Is It?
AAII data shows that its Defensive Investor Screen has enjoyed an 8.2% return since inception. Graham summarized his own philosophy by stating that intelligent investing consists of analyzing potential purchases according to sound business principles. This includes making your own decisions, ensuring that you are not risking a substantial portion of your original investment, and sticking to your own judgments without regard to market opinion. Graham's goal in establishing the cut-off of a 15x P/E was apparently to establish a portfolio that was priced reasonably on average compared to the yield available to the AA bond yield. At the time he wrote the book, investment-grade bonds were yielding 7.5% (the inverse of this yield 13.3 determines the overall portfolio price-earnings ratio target and therefore the maximum of 15 times.
Disclaimer
None of the content published on marketxls.com constitutes a recommendation that any particular security, portfolio of securities, transaction, or investment strategy is suitable for any specific person. The author is not offering any professional advice of any kind. The reader should consult a professional financial advisor to determine their suitability for any strategies discussed herein. The article is written for helping users collect the required information from various sources deemed to be an authority in their content. The trademarks if any are the property of their owners and no representations are made.
References
https://www.stockopedia.com/
https://realmoney.thestreet.com/
Interested in building, analyzing and managing Portfolios in Excel?
Download our Free Portfolio Template
Stock screens
Public saved screens
Top 100 Gainers Today
Top 100 losers Today
Call:

1-877-778-8358
I am so happy you are here. My name is Ankur and I am the founder/CEO of MarketXLS. Over the past four years, I have helped more than 2500 customers to implement their own investment research strategies and monitoring systems in Excel.
Invest with confidence

with billions of data points and thousands of pre-built functions and templates.
Get started today