Charts
Portfolio analysis and optimization
Portfolio Management
Yahoo Portfolio – Export Portfolio In Excel (To Use With Marketxls)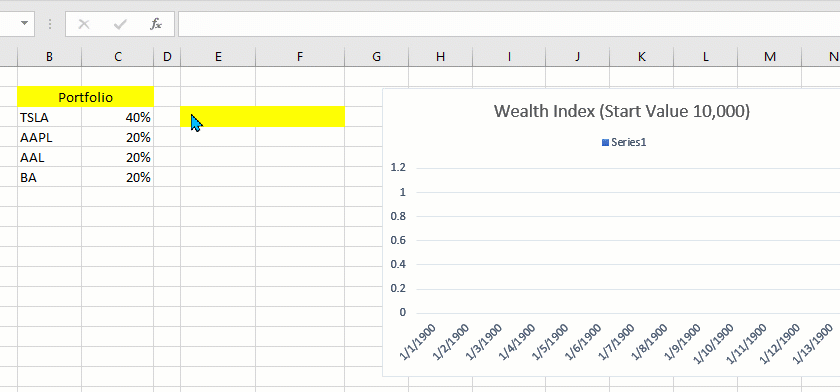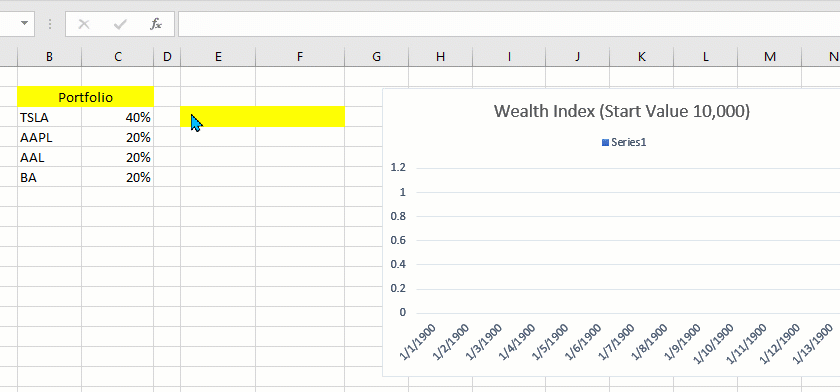 Yahoo Portfolio is a great way to keep track of your investments and stock purchases online. Yahoo Finance portfolio has a great and intuitive way to add your transactions and then track your portfolio in real-time.
And with the "Create New View" screen you can simply add many more parameters in the table and compare the detailed performance of each stock in your portfolio.
Yahoo finance portfolios provide a very convenient way to export your portfolio in Excel as shown below.
With one click now, you have your portfolio in Excel.  The downloaded file looks something like shown below.
At MarketXLS, we have created a utility and template which takes and this input and turns yahoo portfolio into a portfolio analytics dashboard in your Excel using MarketXLS's portfolio analytics functions.
A portfolio is essentially a range of cells that has the stocks in your portfolio and the corresponding proportion of stocks as shown below.
The total of all the weights in the portfolio should need to be 100% for these functions to work. These portfolio functions should work for all US & Canadian stocks and ETFs.
The range B3: C11 which is highlighted in the image below is what is the portfolio input.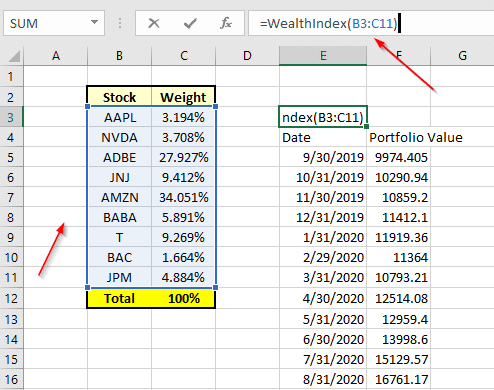 We have a category for portfolio functions. You should see this in Excel's functions browser.
In all MarketXLS portfolio functions, a portfolio range is the first and the only required input. The default time period we use for all our calculations is 12 months and all the results are calculated with monthly returns. The number of periods can be modified by providing an optional integer value after the portfolio as shown below.
=monthlyReturns("Portfolio Range",18) will return monthly returns for 18 months.
We would recommend downloading the presentation for these functions and further details around calculations and inputs to these functions.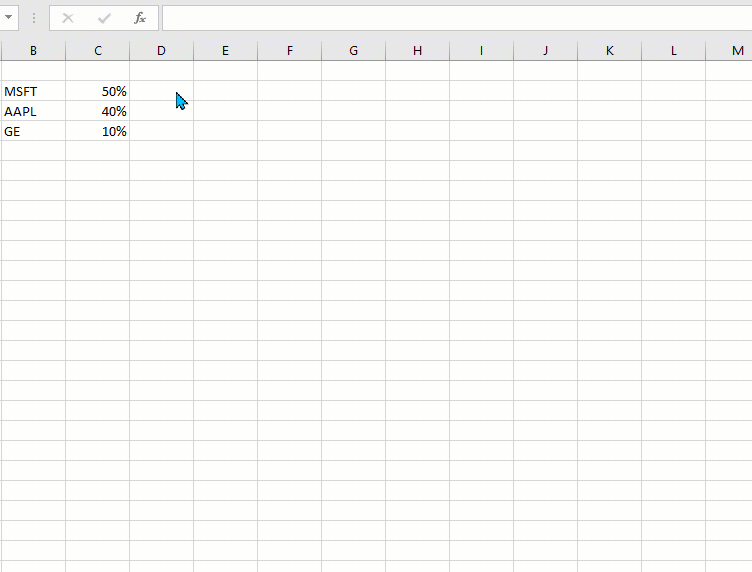 Interested in building, analyzing and managing Portfolios in Excel?
Download our Free Portfolio Template
Top 100 Gainers Today
Top 100 losers Today
Stand with Ukraine
As the situation in Ukraine escalates, many of us in MarketXLS are left with emotions too overwhelming to name. If you'd like to show your support, but aren't sure how to, we want to help make it easier for you to act.
For any amount donated, we'll extend your MarketXLS subscription for double of the donated amount. Please send proof of your payment to support@marketxls.com to avail the extention
From all of us at MarketXLS, thank you!