Stock investments
Stocks
Technical analysis
52-Week High/Low Stocks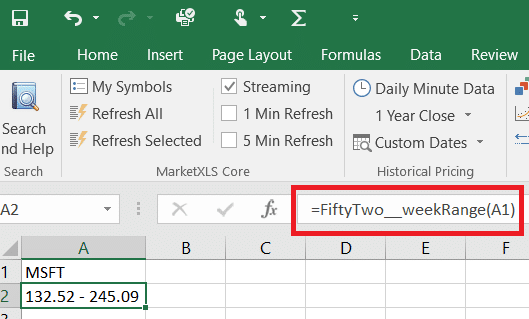 52-week low/high
The 52-week low is the lowest price of a particular share in the last 52 weeks, equivalent to a year. Similarly, a 52-week high is the highest price of an underlying in the last one year, until today. This introduces us to one more term 52-week range, which spans from low to high. For example, if the low of a stock is $20 and high at $50. We will write the range is $20-$50.
How to use it?
It comes under the technical indicator segment of stock analysis. Like simple and exponential moving averages, most traders use it to know the current stock trend. If the stock is trading at a price above the 52-week high, it means that the trend is bullish. Similarly, if the stock is trading below the 52-week low, the trend is seen as bearish.
A trader can enter trades based on these prices, however, these prices can also be used as exit points provided they are backed with some good candlestick patterns like the Doji, morning star, bullish engulfing, etc. If there is a reversal pattern like the Doji or the morning star, the stock is likely to take a U-turn from that point. What I am trying to say here is that using 52-week low or high may not be as effective but if they combined with good candlestick patterns, they can give good entry and exit signals.
52-week low can also be used to find undervalued stocks. When I say a stock is undervalued, it means that a particular stock has good fundamentals, but is trading at a lower price due to some unforeseen reasons. When it comes to stock pricing, a myriad of factors are reflected in the price, not just fundamentals. But, in the long run, financials are always the kingmaker. This technique can be used the other way round. If a stock without very good fundamentals is trading above the 52-week high, you should probably get out of it as they are overpriced and its valuations will be reflected on the price, sooner or later.
Using marketXLS
There are ample websites that provide a list of 52-week low or high stocks. Yahoo Finance, Benzinga, bar chart are some of the major ones. what if, you are looking at the fundamentals of a stock and you feel the urge to know where the stock stands in terms of its 52-week high or low. In layman's, if it will be wise to get into the stock as per the current price. This is when marketXLS comes in handy. Marketxls is an excel based platform with over 600 functions for stock analysis. Below is a screenshot of how it's done in marketXLS.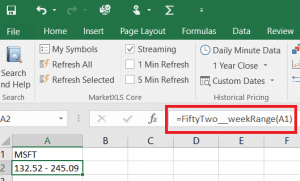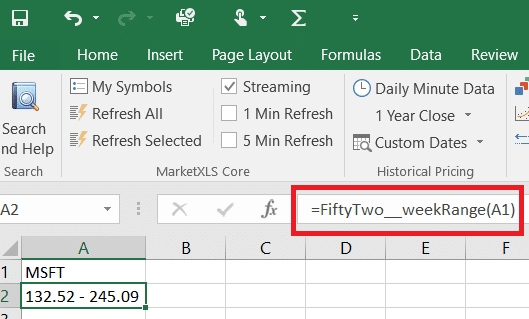 The example taken here is MSFT (Microsoft corp.). As you can see, the function used is FiftyTwo_weekRange (MSFT) and the range of 52-week high and low is $132.52-$245.09. Microsoft is an excellent company based on its fundamentals. If somehow it dips below $132.52, you can buy it without a second thought. Moreover, you can also expect reversal from this point. Whether to buy above $245.09 will depend upon various factors including candlesticks.
Conclusion
Technical analysis works best in tandem with other tools. whether to use 52-week high or low as entry and exit points are still debatable. However, traders often use them to get a flavor of the current market scenario.
Disclaimer
None of the content published on marketxls.com constitutes a recommendation that any particular security, portfolio of securities, transaction, or investment strategy is suitable for any specific person.
The author is not offering any professional advice of any kind. The reader should consult a professional financial advisor to determine their suitability for any strategies discussed herein.
the article is written for helping users collect the required information from various sources deemed to be an authority in their content. The trademarks if any are the property of their owners and no representations are made.
References
Learn more about 52-week low/high here.
Learn more about using 52-week low/high here.
Interested in building, analyzing and managing Portfolios in Excel?
Download our Free Portfolio Template
Call:

1-877-778-8358
I am so happy you are here. My name is Ankur and I am the founder/CEO of MarketXLS. Over the past four years, I have helped more than 2500 customers to implement their own investment research strategies and monitoring systems in Excel.
Implement

"your own"

investment strategies in Excel with thousands of MarketXLS functions and starter sheets.
Get started today
Get Access to
1 Billion

Usable Market data points

IN YOUR EXCEL SHEETS

WITH EASY TO USE EXCEL FUNCTIONSGet started today