How the MarketXLS Excel Stock Data Addin Makes Tracking Stocks Easier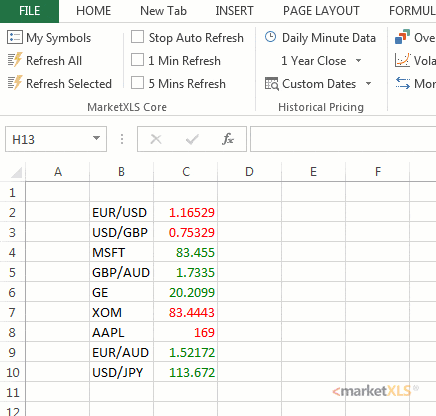 What are the advantages of having stock data in Excel?
Excel offers a range of options to access stock data, including external data connections and stock connectors, allowing you to easily bring in real-time data from a variety of sources. Excel also supports data types, including geography data type, which allow you to access data from other cells and quickly analyze data related to specific locations. Real-time data can be particularly useful for tracking international stocks, and Excel offers a variety of data types that can be used to import data from a variety of sources, including stock exchanges around the world. In addition, with the help of a stock data Excel addin like MarketXLS, you can easily enhance your stock analysis and management capabilities within Excel.
Excel's data types are also automatically updated, so you can easily track changes in stock prices and other data points in real-time. If you need to update data manually, Excel provides a refresh button that allows you to update your data with the latest information. Excel's data types are particularly useful for tracking trading days, which can be a challenge when working with large numbers of data points. To quickly update your data, simply right-click on the cell and select "Refresh."
If you're just getting started with Excel, there are a number of resources available to help you learn more about the program and how to use it to analyze stock data. You can find tutorials and guides online or take a course to learn more about Excel's features and how to use them to analyze data. With the right tools and knowledge, Excel can be a powerful tool for managing your portfolio and making informed investment decisions.
Why may your Excel version not have stock data?
Excel is a powerful tool for data analysis and charting, but it may not provide access to all the stock information you need. This is because certain data points, such as company names, stock prices, stock charts, and stock market indices, are not available within Excel. To access this information, you can use MarketXLS, which offers easy access to high-quality stock data and allows you to create a portfolio management tool, track dividends, and view stock prices in Excel.
Additionally, MarketXLS can export data from other sources such as the stock screener, stock market research, and selection of stocks, and you can use the historical functions to calculate data points for each stock in your portfolio. With MarketXLS, you can also have the ability to add an add-column button for series, data type, and formatting for your workflow. This add-in is a great solution for creating stock portfolios, and risk measures, as well as to customize the output and analytics for your investments. You can get started by using the stock connector button to select a particular company, linked data type to quickly get data on balance sheet, income statement, and cash flow, and other data connections to retrieve new data sources. The real-time data and automatically refresh features are available as a premium feature with MarketXLS add-in.
Why stock data quality matters while making investment decisions?
Investing in the stocks requires a data-driven approach that utilizes reliable and high-quality stock data to make informed investment decisions. Stock data quality is crucial for accurate analysis, charting, and formatting of stock information, and can provide investors access to various data sources such as company names, industry sectors, stock charts, and market indices.
One way to obtain quality stock data is by using tools such as the MarketXLS add-in. This add-in offers several features and functions including the Stock Connector, Linked Data Types, and text-to-data conversion. With these features, investors can easily access and export current stock data, create and manage a portfolio, and analyze market trends by comparing stocks with similar stocks or benchmark indices.
The Stock Connector feature allows investors to link data from various online data sources to their Excel spreadsheet. The Linked Data Types feature allows investors to access specific data points linked to a particular company such as the balance sheet and income statement. Text-to-data conversion is also available, which can convert unstructured text into a data type, such as geography data types, for easier analysis and charting.
MarketXLS add-in is not limited to just the desktop version of Excel, as it is also available for Excel Online. The add-in can be accessed through the Task Pane in Excel Online, allowing investors to access quality stock information anytime, anywhere. Additionally, investors can create a new data source and access real-time data for international stocks with a premium feature.
Investors can easily analyze, chart, and format stock data for powerful market research with the MarketXLS add-in. The add-in offers a wide range of core features accessible through the Data tab on Excel, including the Stock Connector, Linked Data Types, and portfolio tracking spreadsheets. Users can access related information such as company names, fund names, and previous close prices with Linked Data Types. The add-in also offers unlimited data types to track stocks data and enables users to get stock quotes and charts using the selected cell feature. Additionally, users can make voluntary contributions to a portfolio and export back-tested series and stock quotation data for further analysis.
How can MarketXLS help with enterprise-grade data premium quality in Excel?
MarketXLS is a comprehensive solution that provides users with access to premium quality data directly within Excel. The Stocks data type and Stock Connector task pane allow users to easily access stock data, stock portfolios, and other data types, as well as add fields to their spreadsheets. Multiple accounts can be easily managed which is considered a linked data type.
In addition to Excel, MarketXLS is also available for Google Sheets, providing users with flexibility and convenience in accessing their stock data. With just a few clicks, users can add a column button, format cells, and export data to other applications.
MarketXLS also offers a powerful Stock Screener, which allows users to filter stocks based on various criteria such as industry, market capitalization, and dividend yield. The tool's historical functions allow users to request data for a particular stock, enabling precise analysis and research. The tool provides real-time output, analytics, and benchmarks, allowing users to efficiently manage their portfolio holdings and compare them to relevant market index. With the stocks data type, users can easily access and analyze a variety of stock data points and further enhance their research and analysis capabilities.
With customizable calculations and the ability to select specific ticker symbols, MarketXLS provides a complete and comprehensive workflow that allows users to efficiently create and manage their portfolios. The software is easy to use, and users can get started in just 5 minutes. Additionally, the add-in offers external data connection, which enable users to easily bring in real-time data from various sources, making it a valuable tool for anyone looking to analyze and track stocks in Microsoft Excel.
How do you add stock data in Excel with MarketXLS?
Adding stock data in Microsoft Excel with MarketXLS is a straightforward and efficient process that simplifies the work of market research and analysis for businesses and professionals. With MarketXLS, users can easily access tools such as stock charts, stock screener, and stock portfolio management to quickly get the data they need. The MarketXLS add-in provides users with the ability to add columns of data points such as company name, industry, price, ticker symbol, and other information to a selection of cells in Excel. Users can also export stock market data, series information, and benchmarks directly from the tool.
The Stock Connector feature in MarketXLS allows users to easily access data connections to stock information sources directly from the Excel workbook. Users can access the Stock Connector task pane to get real-time stock data, including historical data, and link it to other information in their Excel workbook. With the fieldvalue function, users can also request stock information and indices. The historical functions and the stock portfolio holdings feature allow users to access complex data formats and data types that can be used for analysis, charting, and risk measures in respective portfolios.
Moreover, users can upload and format market data and easily export items such as charting, curves, solutions, and analytics. With MarketXLS, users can comprehensively access the market, gain insights on investments and other data points to ensure a smooth workflow. The tool provides a range of templates to help make stock pricing for Excel even easier. With the ability to get the data you want and customize your analysis, MarketXLS is a valuable tool for anyone looking to analyze and track stocks in Microsoft Excel.
Visit https://marketxls.com/get-high-quality-stock-data-easily-with-excel-addin for more details.
How MarketXLS Excel add-in for stock and Options updates the data automatically?
The Stock Connector feature in the MarketXLS enables users to link data from various data sources to their Excel spreadsheets. This feature updates the linked data automatically, providing users with the most up-to-date information for their analysis. Users can also access data type that are linked to a particular stock, such as the stock name and columns B and C, making it easier to extract relevant data points.
The MarketXLS add-in also offers real-time data for stocks and options, making it easier for users to make informed investment decisions. Users can access a wide range of data types, including stock quotes, stock charts, and other financial data sources, and can easily export this data to other programs or applications. With the MarketXLS Excel add-in, users can also create and manage their portfolios, and use the add-in's advanced analysis and data formatting capabilities to enhance their investment decisions.
To get started with the MarketXLS, users simply need to go to the Home tab on their Excel spreadsheet and select the Stock Connector option from the MarketXLS tab. From there, they can link to various data sources, select the data types they want, and customize their output. The add-in also offers more options, such as the ability to add columns and customize the data types, making it a powerful tool for data-driven investment analysis.
Investors can easily get started with MarketXLS and take advantage of these powerful features to improve their investment decisions. Happy investing!
Relevant MarketXLS functions on this topic
| Function Title | Function Example | Function Result |
| --- | --- | --- |
| EMA | =ExponentialMovingAverage("MSFT") | It is a technical indicator that gives more importance to recent data points used to generate buy and sell signals based on historical average crossovers. |
| Current Day's High | =DaysHigh("MSFT") | Returns the highest price at which the stock was traded on the last traded date |
| Today's Volume | =Volume("MSFT") | The volume of the stock traded on the last traded date |
| Portfolio Efficient Frontier Chart | =PortfolioEfficientFrontierChart(A3:B10) | It brings up a chart that shows the set of portfolios which satisfy the condition that no other portfolio exists with a higher expected return but with the same standard deviation of return. |
| Last Price | =Last("MSFT") | This is the default function and does not need any addon. All US and Canadian stocks, Cryptocurrencies and ETFs 'Last price' can be obtained using this function. |
Use AI driven search for all functions on MarketXLS here: https://marketxls.com/functions
Download from the link below, a sample spreadsheet created with MarketXLS Spreadsheet builder
https://mxls-templates.s3.us-west-2.amazonaws.com/MarketXLS-Model-ID-xfphUv.xlsx
Note this spreadsheet will pull latest data if you have MarketXLS installed. If you do not have MarketXLS consider subscribing here
Relevant blogs that you can read to learn more about the topic
Build Your Own Stock Portfolio Tracker in Excel with MarketXLS
Get High Quality Stock Data Easily with Excel Addin
Track Your Dividend Portfolio with the MarketXLS Spreadsheets
Mutual Funds Prices In Excel (With Marketxls Addin)
Interested in building, analyzing and managing Portfolios in Excel?
Download our Free Portfolio Template
Call:

1-877-778-8358
I am so happy you are here. My name is Ankur and I am the founder/CEO of MarketXLS. Over the past four years, I have helped more than 2500 customers to implement their own investment research strategies and monitoring systems in Excel.
Implement

"your own"

investment strategies in Excel with thousands of MarketXLS functions and starter sheets.
Get started today
Get Access to
1 Billion

Usable Market data points

IN YOUR EXCEL SHEETS

WITH EASY TO USE EXCEL FUNCTIONSGet started today
🎉 Exciting news! 🎉



You are invited to join our

Discord Channel

.

Interact, learn, and grow with experts in the markets! Join our Discord