Mastering the Art of Bollinger Band Trading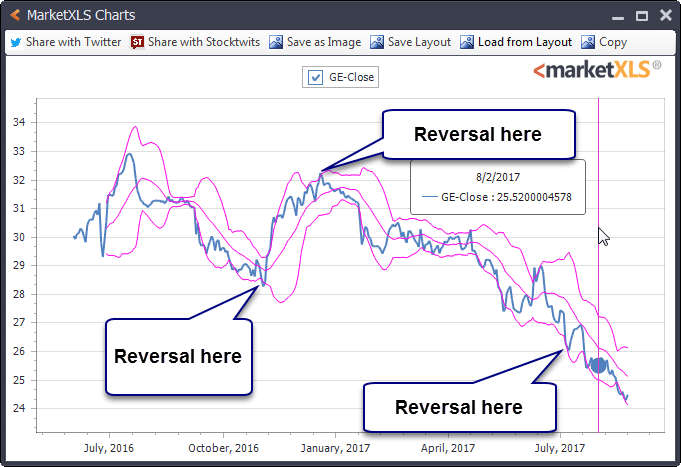 Mastering the Art of Bollinger Band Trading
Day trading can be an overwhelming and daunting task for those who lack experience, knowledge, or in-depth understanding. However, one of the best ways to level the playing field and overcome these beginner hurdles is to master the use of Bollinger bands. This technique helps to proactively identify and alert the user to key market movements, which gives the trader a competitive edge.
What are Bollinger Bands?
Bollinger Bands are essentially lines that are plotted two standard deviations away from a simple moving average. The bands illustrate the volatility of the security's price. The upper band is a measure of the high or resistance level and the lower band is a measure of the low or support level.
How To Use Bollinger Bands?
Bollinger bands can be used to identify breakouts, which indicate potential entry or exit points for trades. When the price reaches the upper band, it is considered to be overbought and a sell signal is generated. On the other hand, when the price reaches the lower band, it is considered to be oversold and a buy signal is generated.
Types Of Bollinger Bands
There are three main types of Bollinger Bands: Simple, Exponential, and Weighted. Each type utilizes different calculations to determine the bands. Simple Bollinger Bands are calculated using simple calculations, whereas Exponential and Weighted Bollinger Bands utilize exponential and weighted calculations respectively.
Bollinger Band Indicators
Bollinger Bands consist of three components: an upside band (resistance level), a downside band (support level), and a middle line. A trader can use these components in combination with additional technical indicators to identify and take advantage of key market movements.
For example, when the price of a security moves significantly above or below the upper or lower band, it is likely to return to the mid line. When using the Bollinger Bands technique, traders should look for support and resistance levels. Additionally, traders should identify patterns in the chart and use those patterns to determine potential entry and exit points.
Using MarketXLS for Bollinger Band Trading
MarketXLS is an excellent tool for traders who are looking to master the art of Bollinger band trading. MarketXLS can provide detailed analytics and insights into your investments, such as historical data, company insights, and market sentiment. Additionally, MarketXLS provides powerful stock analysis tools that can help analyze the performance of individual stocks and ETFs with Bollinger bands, as well as compare them with other securities.
MarketXLS is also helpful for executing trades, with features such as integration with Charles Schwab and easy order placement.
Conclusion
Learning to master the art of Bollinger Band Trading can be a challenge for beginners, but with the use of MarketXLS, traders can make the most of their investments and increase the chance for success. MarketXLS offers a host of features to help traders gain more insights into the markets, such as historical data, company insights, and market sentiment. MarketXLS also provides powerful stock analysis tools that can help traders analyze the performance of individual securities and ETFs and make informed decisions within their investment strategies.
To get started with Bollinger Band Trading and master the art of investing, check out MarketXLS and Charles Schwab. Investing with MarketXLS and Charles Schwab can help traders gain the edge they need to become successful traders and master the art of Bollinger Band Trading.
Here are some templates that you can use to create your own models
Search for all Templates here: https://marketxls.com/templates/
Relevant blogs that you can read to learn more about the topic
Bollinger Bands Trading Strategy
Technical Indicators – Meaning & Application
Technical Indicators For Swing Traders (Using Marketxls)
Charles Schwab-Portfolio Management And Exporting To Excel
Interested in building, analyzing and managing Portfolios in Excel?
Download our Free Portfolio Template
Call:

1-877-778-8358
I am so happy you are here. My name is Ankur and I am the founder/CEO of MarketXLS. Over the past four years, I have helped more than 2500 customers to implement their own investment research strategies and monitoring systems in Excel.
Implement

"your own"

investment strategies in Excel with thousands of MarketXLS functions and starter sheets.
Get started today