Options
Options strategies
Spy-Spdr S&P 500 Trust Etf(Most Actively Traded Option)
What is the SPY?
The SPDR S&P 500 Trust ETF (SPY) is an exchange-traded fund (ETF) that tracks the Standard & Poor's 500 (S&P 500) index. SPDR stands for the Standard & Poor's Depositary Receipts, the former name of the ETF.
SPY was the first exchange-traded fund listed in the United States and launched in 1993. State Street Global Advisors introduced it.
The SPY units are listed on and traded on the New York Stock Exchange under the symbol "SPY." It is one of the most popular ETFs, with an average volume of approximately 70 million shares. An ETF is similar to a mutual fund, which invests in the various companies' bonds and shares to make a diversified portfolio. ETFs units are listed on the exchange. Many investors and traders trade SPY as it provides exposure to invest in the 500 large USA companies.
SPY Options are also trendy among traders and investors. Many investors and fund managers use SPY Options to hedge their portfolios. Because of the enormous trading volume, the SPY is one of the most liquid ETFs. There is always a tight spread between the bid and ask price of the SPY options.
SPY fund Overview
Issuer – State Street Global Advisors
Brand – SPDR
Inception Date – 01/22/93
Assets Under Management – $330.50B
Average Daily $ Volume – $20.67B
Expense Ratio – 0.09%.
Yield – 1.52%
YTD Daily Total Return – 4.24%
Assets Allocation Of SPY
SPY has a diversified assets allocation; it is a basket of assets of large 500 USA companies. A buyer who buys SPY units is investing in the 500 USA giants instead of buying individual stocks. As SPY tracks S&P 500 index, its fund allocation follows a similar pattern to the S&P 500. About 24.8% of fund allocation is in Technology, 13.9% in Healthcare, 13.8% in Financial Services, etc.(Feb 2021)
 Approximately 28.10% of funds are invested in the top 10 holdings. In Apple, there is the highest allocation of funds (6.62%), followed by Microsoft (5.54%) and Amazon(4.29%).
Performance Of SPY
SPY has generated good returns compared to other huge blend of the ETFs; its trailing 3-Year Daily Total Return is 17.04%, while 1-Year Daily Total Return is 19.79%. SPY's year to date (YTD) Daily Total Return is 4.37%. In 2020 the fund generated the Annual Total Return of 18.40%. As of December 2020, its 12-month yield is approximately 1.55%.
SPY's  Historical Price-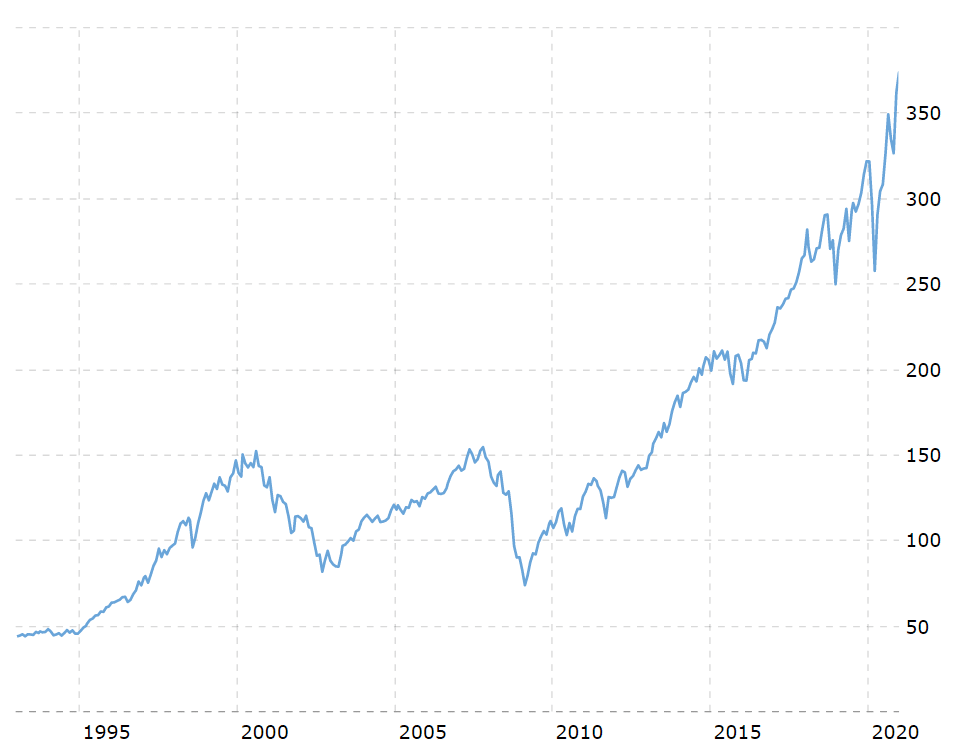 SPY Options
When using options to invest in the S&P 500 Index, we can trade an index with the ticker SPX or an exchange-traded fund (ETF) with the ticker SPY. These options are ideal for trading because both are very liquid with high trading volume. It facilitates to square off the positions.
SPY options are American style options and may be exercised at any time before they expire. In contrast, SPX  options are European style and only exercised on expiration. American- style options are settled in the actual shares, which increases the cost of commission.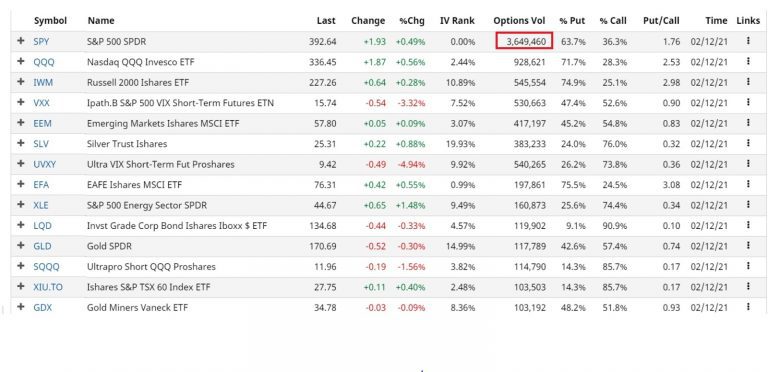 As SPY pays a quarterly dividend, many traders with in-the-money (ITM) call options often exercise them so that they can collect the dividend. One SPY option with the same strike and expiration date is 1/10th of the SPX option's value. Say if you are bullish on the S&P 500 index, you can buy call options or short put options and can invest in a diversified portfolio with lesser capital margin requirements.
SPY is the most liquid ETF with a maximum volume of options. It helps the traders to enter or exit a trade at any time before expiry. As the options expire in the short term and also deal with option greeks entry and exit at the right time is of utmost importance.
Disclaimer-
None of the content published on marketxls.com constitutes a recommendation that any particular security, portfolio of securities, transaction, or investment strategy is suitable for any specific person.The author is not offering any professional advice of any kind. The reader should consult a professional financial advisor to determine their suitability for any strategies discussed herein.The article is written to help users collect the required information from various sources deemed an authority in their content. The trademarks, if any, are the property of their owners, and no representations are made.
Reference-
To know more about SPY Options click here
Get Real-Time Options Pricing in Excel
Use MarketXLS to stream real-time Stock Option Pricing in Excel. Save hundreds of hours searching for reliable financial information and get all the options data you need to make your trading decisions in real-time.
Call:

1-877-778-8358
I am so happy you are here. My name is Ankur and I am the founder/CEO of MarketXLS. Over the past four years, I have helped more than 2500 customers to implement their own investment research strategies and monitoring systems in Excel.
Implement

"your own"

investment strategies in Excel with thousands of MarketXLS functions and starter sheets.
Get started today
Get Access to
1 Billion

Usable Market data points

IN YOUR EXCEL SHEETS

WITH EASY TO USE EXCEL FUNCTIONSGet started today