Option Strategies
Options
Options strategies
The Benefits of Using Call Credit Spreads for Trading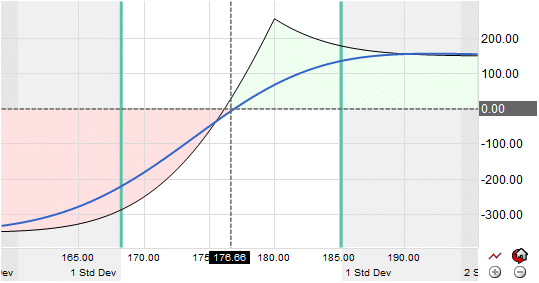 The Benefits of Using Call Credit Spreads for Trading
Options trading has become a mainstream way of investing as it offers more sophisticated ways of placing trades with limited risk. One of the most popular strategies used by investors and traders alike is Call Credit Spreads. This strategy is a valuable tool in terms of both overall risk management as well as trading.
Risk Management
Using Call Credit Spreads as part of your trading strategy is beneficial for risk management as it offers a favorable risk/reward ratio. By creating a spread with two legs (a long call and a short call), you are able to benefit from the low cost of the short call, while simultaneously limiting your overall risk. As the long call offsets the potential loss from the short call, it allows traders to set predefined maximum loss or cut-off levels to control the exposure and risk associated with the trade.
Volatility
Call Credit Spreads can be used in many different market environments, but are most effective when markets are relatively stable and/or slightly bullish. This is because the spread utilizes out-of-the money calls, meaning that it may become more valuable if prices move in the direction of the spread – thus profiting from changes in volatility. This provides an added layer of protection in case of sudden price movements that are not expected, making it a great risk management tool.
Bullish Strategies
Call Credit Spreads can be used for bullish strategies, as long as the underlying stock or other security is above the strike price of the short call. This strategy is most successful when the underlying asset closes near or at the strike price of the long call. This can provide a nice return with limited downside risk.
Bearish Strategies
Call Credit Spreads can also be used to profit from price declines in the underlying asset. By using this strategy, traders can benefit from synthetic positions created by the spread. This way, traders can limit their risk while still being able to take advantage of any shifts in the market.
Probability of Profit
When using Call Credit Spreads, one of the most important factors to consider is the probability of profit. This can be determined by looking at both the current market conditions and the strike prices of the long and short calls. For example, if the current market price of the underlying asset is near the strike price of the long call, then the probability of profit will be higher than if it was further away.
MarketXLS
MarketXLS is a powerful and intuitive analysis and portfolio management tool that is specifically designed for options traders. By incorporating the methods discussed above, traders can use MarketXLS to test their strategies and optimize their portfolios. Additionally, they can also use the software to analyze various option strategies, such as Put Ratio Spreads, Guts, and Condors.
In conclusion, Call Credit Spreads are one of the best options trading strategies to use. By using it, traders can limit their maximum risk while still having the potential to earn a high return. In addition, they can also use MarketXLS to further optimize their options trading strategies and analyze various option spreads.
Here are some templates that you can use to create your own models
Call Condor Spread
Iron Albatross Spread
Short Gut
Short Butterfly Spread
Call Ratio Back-Spread
Search for all Templates here: https://marketxls.com/templates/
Relevant blogs that you can read to learn more about the topic
Diagonal Spread With Calls Option Strategy (Excel Template)
All About Credit Spreads (Explained With Examples)
Credit Spread Vs Debit Spread
Call Ratio Spread-Neutral Option Strategy
Calls And Call Ratio Backspread (Explained With Real Time Data)
Interested in building, analyzing and managing Portfolios in Excel?
Download our Free Portfolio Template
Call:

1-877-778-8358
I am so happy you are here. My name is Ankur and I am the founder/CEO of MarketXLS. Over the past four years, I have helped more than 2500 customers to implement their own investment research strategies and monitoring systems in Excel.
Implement

"your own"

investment strategies in Excel with thousands of MarketXLS functions and starter sheets.
Get started today