Create a Dividend Calendar Spreadsheet to Maximize Retirement Income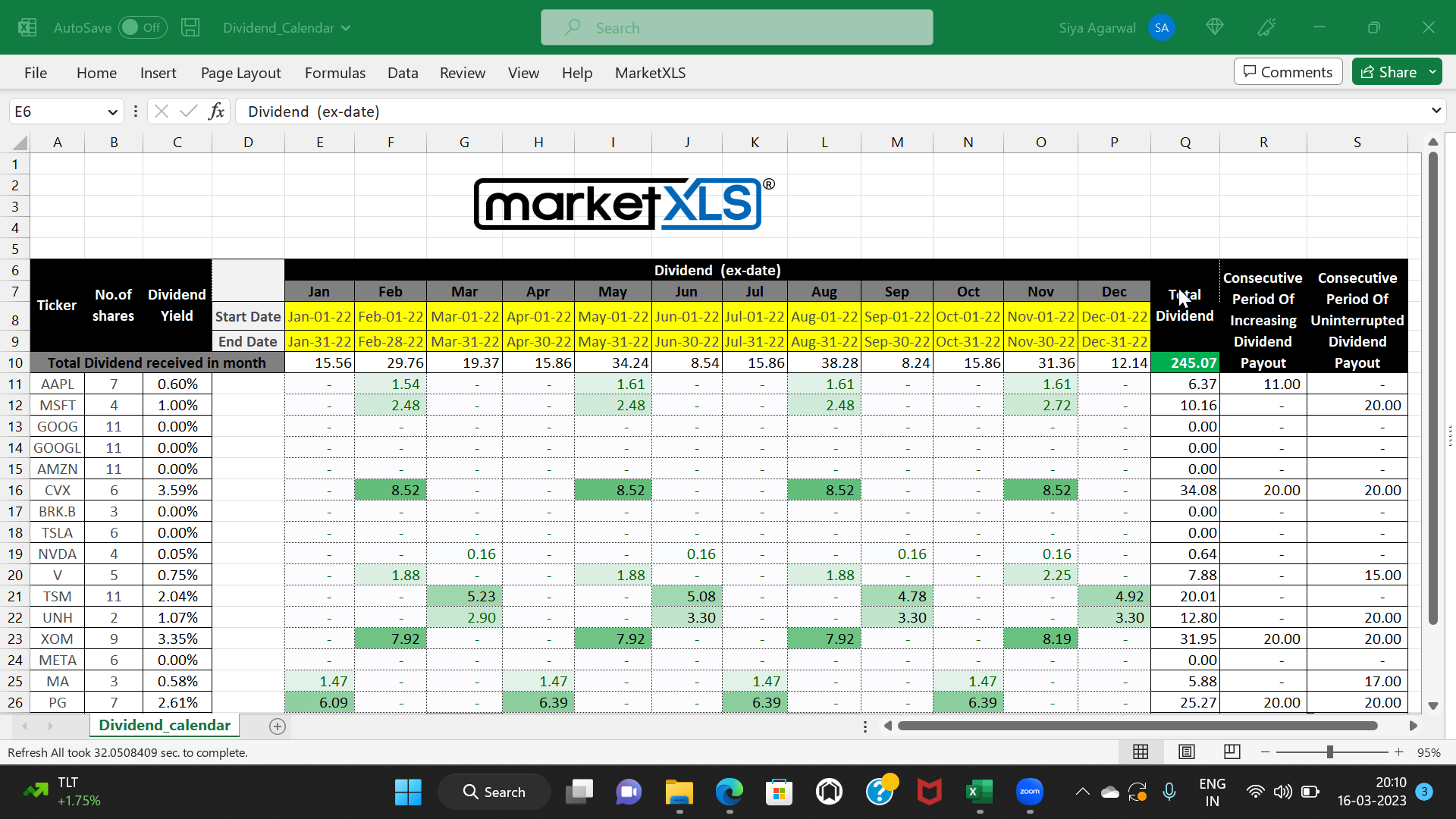 Why would an investor look at the dividend calendar?
As an investor, it's important to consider dividends as a key component of your portfolio, providing income in retirement and potential capital appreciation. To maximize dividend income, investors often turn to the dividend calendar to stay informed about when companies they've invested in are expected to issue dividends. This calendar shows the dates when publicly traded companies will declare their dividend payouts, allowing investors to plan and calculate their expected cash flows. Additionally, the dividend calendar can help investors understand unexpected changes in dividend payouts and identify high-yield stocks to purchase at the right time. By utilizing the dividend calendar effectively, investors can make informed decisions to optimize their dividend income and achieve their investment goals.
What does a typical dividend calendar spreadsheet include?
A typical dividend calendar spreadsheet includes important data about when and how much a dividend will be paid, as well as the record date, ex-dividend date, and payment date. It may also contain additional information such as current and projected dividend yields, historical dividend payments, and debt-to-equity ratios. This information can help investors decide whether to buy or sell a particular stock and stay on track with their portfolio management.
How can you use MarketXLS to create your own dividend cash flow calendar?
MarketXLS provides users with a powerful platform to create their own dividend cash flow calendar. In fact, you can use specific functions such as Dividend Frequency, Dividend Pay Date, Dividend Per Share TTM, and Dividend Yield TTM to get real-time data about dividend payments. The table below provides the aforementioned functions with their descriptions:
| Function Title | Function Example |
| --- | --- |
| Dividend Frequency | =DividendFrequency("MSFT") |
| Dividend Pay Date (MM/DD/YYYY) | =DividendPayDate("MSFT") – Returns the most recent dividend pay date for MSFT. |
| Dividend Per Share TTM ($) | =DividendPerShare("MSFT") – Returns the TTM dividend for MSFT. |
| Dividend Yield (TTM) | =DividendYield("MSFT") – Returns the TTM dividend yield for MSFT. |
You can also use the AI driven search for all functions on MarketXLS using the following link: https://marketxls.com/functions
Below, you will find a sample dividend calendar to help you keep track of your dividend-paying stocks corresponding to the ex-dividend date throughout a specified period. The main function used here is:
= (DividendBetweenTwoDates(Stock Ticker, Start Date, End Date)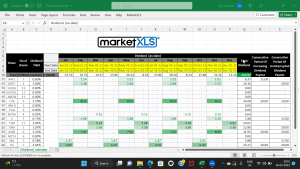 Download a Sample Spreadsheet Created with MarketXLS Spreadsheet Builder
To help you get started, MarketXLS has a sample spreadsheet you can download that is already created using the Spreadsheet Builder.
This sample spreadsheet includes the latest data, so if you don't have MarketXLS installed, consider subscribing here
https://mxls-templates.s3.us-west-2.amazonaws.com/MarketXLS-Model-ID-QGSC2m.xlsx
As a matter of fact, MarketXLS provides relevant Templates to help you learn more about dividend calendar. They are given below:
Further, you can also use the AI driven Search for all templates on MarketXLS here: https://marketxls.com/templates/
Following are some blogs that you can read to learn more about the subject matter.
Dividend Growth Investing
Monthly Dividend Stocks (3 Good Monthly Dividend Stocks)
Boost Returns With a Dividend Stock Screener
Interested in building, analyzing and managing Portfolios in Excel?
Download our Free Portfolio Template
Call:

1-877-778-8358
I am so happy you are here. My name is Ankur and I am the founder/CEO of MarketXLS. Over the past four years, I have helped more than 2500 customers to implement their own investment research strategies and monitoring systems in Excel.
Implement

"your own"

investment strategies in Excel with thousands of MarketXLS functions and starter sheets.
Get started today
Get Access to
1 Billion

Usable Market data points

IN YOUR EXCEL SHEETS

WITH EASY TO USE EXCEL FUNCTIONSGet started today