Options strategies
Stocks
Technical analysis
High Volume Stocks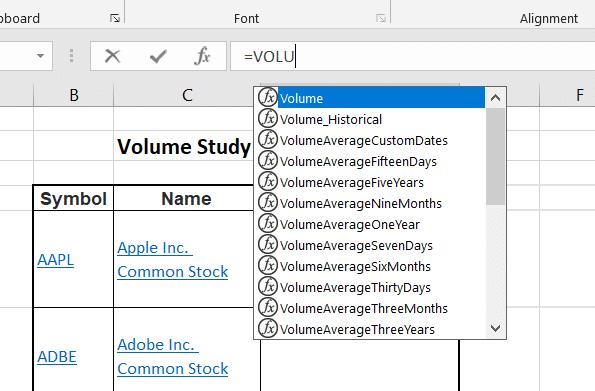 High volume stocks refer to the securities that investors most trade in a given period. Generally, high volume stocks are less volatile due to the high demand and, thus, less likely to see huge swings in prices.
Understanding the change in volume of a stock helps an investor in taking his buy/sell decision.
ABC.png">
ABC.png" alt="Stock Volatility" width="960″ height="537″ />
Why should one look at high volume stocks?
High Volume Stocks are highly liquid, and one can quickly enter or exit a position due to massive demand from other investors. Due to the high volume involved, these stocks are generally less volatile and less risky.
A high volume does not always mean less volatility in the stock. In some cases, positive news regarding a company arouses investor interest leading to higher buying volume for the stock. Looking at such opportunities can allow investors to reap good returns in a short period.
Also, such stocks have a lower gap between the bid and ask price. The low gap means investors can easily buy or sell the stock.
Why does the volume in stocks matter?
When a stock is having a high volume and its share price is going up, it is a good sign to invest in security. The high volume shows that most investors believe that the price will rise further, and thus, the stock price will observe an upward trend.
High Volume Stocks also ensure that an Investor is not in a situation where he/she is unable to close the position. Many times, investors cannot close their positions due to no buyers or sellers on the other side of the transaction. The most significant example of this is when Game Stock surged 2500% in 1 month, and big hedge funds which were shorting the stock were unable to repurchase it. The hedge funds faced millions in losses for this single transaction as Game Stop was a low-volume stock, and buyers were unwilling to sell the stock.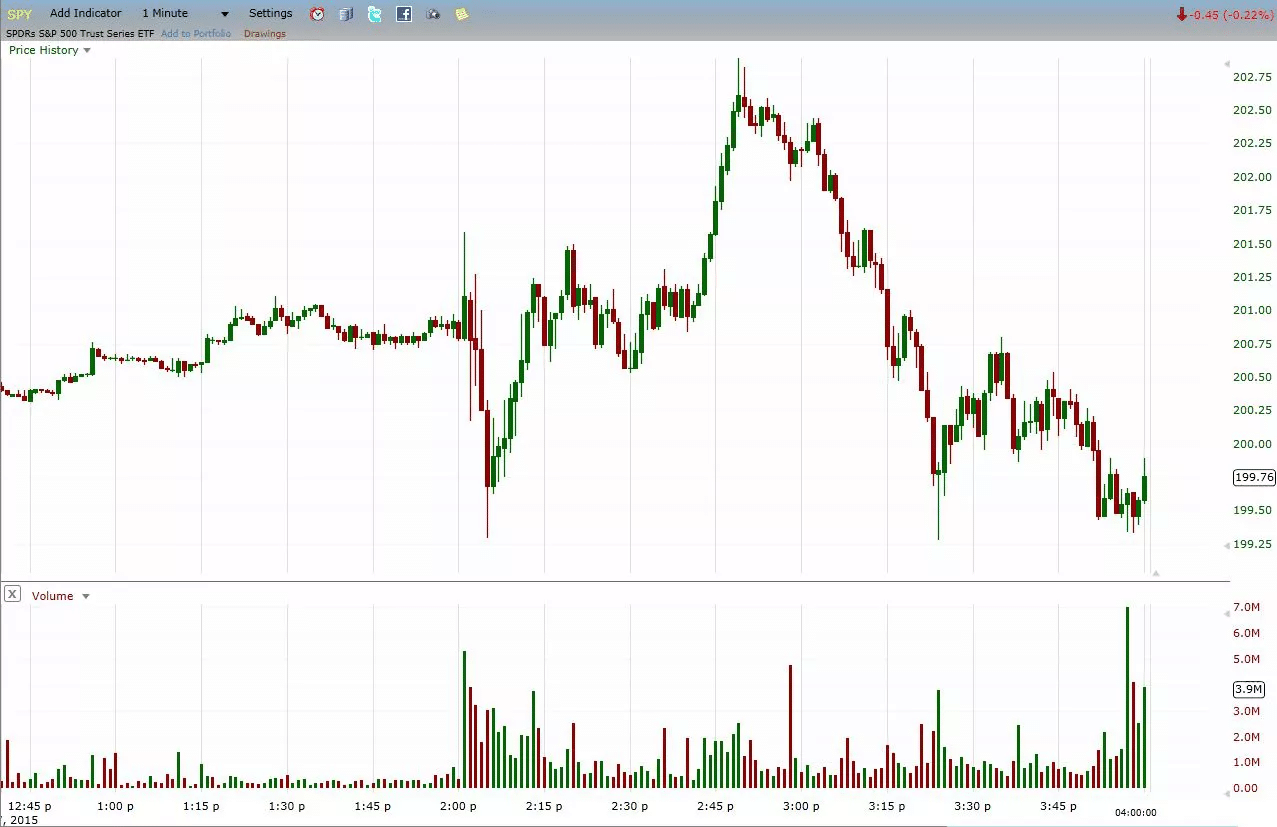 How does stock volume help in Trading?
In stock market terms, the volume is a leading indicator that indicates the market trend and direction in which stock price would move. High volume would easily help an investor to determine the future price movement of the stock. For Intraday Traders, Volume is a crucial aspect and used in many critical technical indicators.
Some guidelines which traders should follow while using volume for decision making:
It is not always the case that high volume stocks are less volatile. In some cases, a stock is highly traded because of some positive or negative news involving the company. This will result in a higher volume on either side of the trade, i.e., buy or sell. Traders should pay attention to any unusual rise in the volumes and decide on their trades accordingly. Spotting such opportunities would allow them to earn good returns in a short period.
After entering a position, one should observe the change in the stock's price and volume. An increase in price and decrease in volume would mean that investor interest is slowly fading away, and the chances of a price reversal are high.
Instead of investing after observing an increase in volume, traders should understand why volume has risen and then invest accordingly.
To understand volume and its impact on price, Investors should analyze the previous historical data of volume and its effect on the share price.
Traders should consider various other aspects other than volume for buy/sell decisions. Solely taking decisions based on volume may backfire.
How to find high volume stocks with MarketXLS lists?
MarketXLS is an excel based platform with over 600 functions for stock analysis. Using MarketXLS Software, you can use 50+ functions related to volume to identify the high-volume stocks.
Below is a screenshot showing some of the different volume functions that can be used to analyze stocks. Users only have to type in the Stock Symbol and enter the function, thereby directly getting the volume.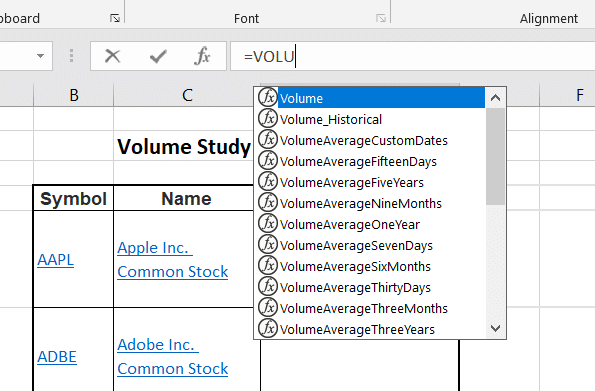 With the help of Sort Function, users can quickly identify the stocks having the highest volume and invest accordingly.
The Bottom Line
Stock Trading using Volume as a factor is beneficial, but traders must consider other factors as well. Investors should understand the reason behind the increase in volume before entering a high-volume stock trade. In the words of Benjamin Franklin, "An investment in knowledge pays the best interest."
Disclaimer:
None of the content published on marketxls.com constitutes a recommendation that any particular security, portfolio of securities, transaction, or investment strategy is suitable for any specific person. The author is not offering any professional advice of any kind. The reader should consult a professional financial advisor to determine their suitability for any strategies discussed herein. The article is written for helping users collect the required information from various sources deemed to be an authority in their content. The images, copyrights, and trademarks if any are the property of their owners, and no further representations are made.
References:
https://www.thebalance.com/day-trading-based-on-buying-volume-and-selling-volume1031209
Get Real-Time Options Pricing in Excel
Use MarketXLS to stream real-time Stock Option Pricing in Excel. Save hundreds of hours searching for reliable financial information and get all the options data you need to make your trading decisions in real-time.
Call:

1-877-778-8358
I am so happy you are here. My name is Ankur and I am the founder/CEO of MarketXLS. Over the past four years, I have helped more than 2500 customers to implement their own investment research strategies and monitoring systems in Excel.
Implement

"your own"

investment strategies in Excel with thousands of MarketXLS functions and starter sheets.
Get started today
Get Access to
1 Billion

Usable Market data points

IN YOUR EXCEL SHEETS

WITH EASY TO USE EXCEL FUNCTIONSGet started today
🎉 Exciting news! 🎉



You are invited to join our

Discord Channel

.

Interact, learn, and grow with experts in the markets! Join our Discord