Virtual Reality Stocks (Vr/Ar)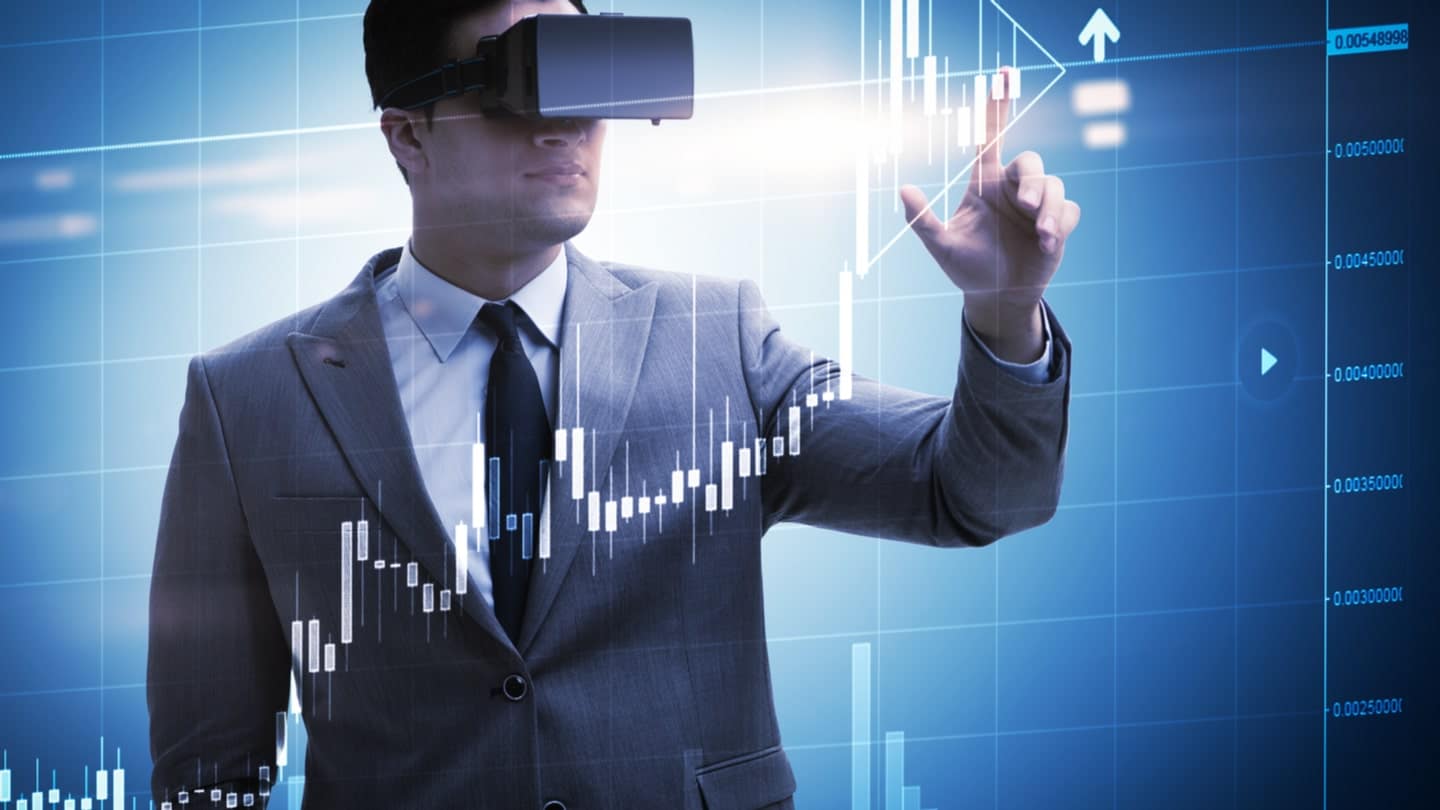 Many tech companies consider virtual reality (VR) devices, which immerse users in digital worlds, and augmented reality (AR) devices, which digitally enhance our real-world surroundings, to be the major computing platforms. However, many virtual reality and AR products are still considered niche devices that are either too pricey or too cumbersome for mainstream users.
But that could all change over the next few years as more advanced chipmaking and display technologies hit the market. If that happens, the global AR and virtual reality markets could grow at a compound annual growth rate (CAGR) of 42.9% between 2020 and 2030, according to Research and Markets.
The potential to boost productivity and safety encourages the adoption of virtual reality technology beyond gaming. Remote learning and training with virtual reality have become essential use cases due to the coronavirus pandemic to minimize the risk of exposure.
LEADING PICKS AMONG VIRTUAL REALITY STOCKS :
1. Facebook (NASDAQ:FB)
Facebook established a first-mover's advantage in the virtual reality market when it acquired Oculus virtual reality for $2 billion in 2014. It launched its first consumer virtual reality headset for PCs in 2016. But over the past three years, Facebook has focused on developing stand-alone virtual reality headsets that don't require high-end PCs or smartphones. Those efforts started with the Oculus Go in 2017 and continued with the Oculus Quest in 2019 and the Oculus Quest 2 in 2020. Facebook also reportedly plans to release its AR glasses, which were developed with Essilor Luxottica's Ray-Ban, later this year after nearly four years of development.
Facebook is investing heavily to develop a virtual reality content ecosystem. In September, Facebook rebranded its AR and virtual reality efforts as Facebook Reality Labs. Facebook said it will be spending over $3 billion in the next 10 years on virtual reality.
2. Alphabet (NASDAQ:GOOGL)
This parent company of Google is a growing player in virtual reality — in fact, the search engine giant has taken a somewhat experimental approach to virtual reality. While companies like Microsoft have created high-tech virtual reality headsets, Alphabet has released what it calls Google Cardboard. It's a headset that is literally made of cardboard, with which users can insert a smartphone to create an instant virtual setting. Now, Alphabet is integrating aspects of virtual reality into some of its more popular Android operating features like Google Maps and its Pixel smartphones. It is also experimenting with integrating virtual reality into YouTube, its video content sharing website.
Where the company will ultimately go with this technology remains to be seen, but it is a growing part of its business. Simply put, Alphabet is a powerhouse and, as such, a solid bet when it comes to virtual reality stocks to buy. GOOGL stock has risen roughly 71% since March. It's now at over $1,800 per share.
3. Apple (NASDAQ:AAPL)
Apple has a history of disrupting markets it didn't create with simpler, consumer-friendly devices — as it did with MP3 players, smartphones, tablets, and smartwatches — so it could finally be the company that turns AR devices into mainstream consumer devices. Successfully launching a new line of AR devices would benefit Apple in four ways: It would reduce its dependence on the iPhone, tighten its grip on its users with yet another hardware device, extend its services ecosystem with new AR applications, and help it keep pace with Facebook, Microsoft, and other tech giants in the AR market.
The creation of a new AR ecosystem could also pave the way for Apple's long-rumored launch of a driverless electric car within the next few years. Those cars could be tightly tethered to Apple's software and AR services.
4. Microsoft (NASDAQ:MSFT)
Microsoft has been involved with virtual reality for some time now, but the Seattle-based firm has chosen to focus its virtual reality offerings on business and government clients rather than average consumers. In 2019, Microsoft released its HoloLens 2 headset, an upgraded version of the first HoloLens headset released in 2016.
Aimed squarely at businesses for training purposes, the HoloLens 2 has a price tag of $3,500 — not cheap. However, the real benefit for Microsoft has come from the U.S. Army. In 2018, the military branch granted MSFT a $488 million contract for headsets that can be used to prepare soldiers for real-world combat situations.
So, while virtual reality remains a small part of Microsoft's overall business, the company is clearly pushing in that direction. MSFT stock continues to perform well and is up 67% from its March low to around $222 a share.
5. Sony (NYSE:SNE)
Sony is taking a contrary position to Microsoft when it comes to virtual reality — unlike MSFT, the Japanese company is aiming its virtual reality offering squarely at consumers. And by consumers, we mean gamers.
Mainly, Sony has been trying to sell video game enthusiasts on a virtual reality headset that can be used with its popular PlayStation console. As a result, the uptake of its PS virtual reality has been strong. SNE reports that it has sold more than five million units. The company has also hinted that an updated version could accompany the new PS5 console that came out this past November. So, while Sony is not focusing on virtual reality beyond video games, it has enjoyed tremendous success with its PlayStation-based headset. And gaming remains an important segment of the company's business, helping lift SNE stock nearly 98% from its March doldrums this year. With strong sales expected for the company's PlayStation 5 console, the stock should continue performing well in 2021. That makes it one of the better virtual reality stocks to buy.
6. Qualcomm (NASDAQ:QCOM)
Qualcomm produces key components found in more than 30 AR and VR headsets, including Facebook's Oculus Quest 2, making it the leader in powering virtual reality. The key is Qualcomm's Snapdragon XR2 chipset platform, the "world's first 5G XR platform," which not only makes stand-alone VR headsets work but also works with cheaper, lightweight headsets that connect to a phone. "XR" is short for "extended reality." And while the XR2 is the latest and greatest in VR technology, Qualcomm's XL1 and Snapdragon 835 processors continue to be used by headset makers around the world. Providing the technology behind a range of VR and AR headsets across the market means Qualcomm is an easy pick for any VR investor.
7. Snapchat (NYSE:SNAP)
Snapchat learned the importance of taking VR technology to consumers by creating Snapchat spectacles. In the years since, Snap has taken a different route – with cute filters, colorful creations and an intuitive interface, the company has made AR technology fun and easy to use. The Snapchat app has put augmented reality into the hands of anyone with a smartphone, expanding its reach to 249 million daily active users in the third quarter. Snap made it easy for people to stay in communication with loved ones from home this year. Considering that the average number of Snaps created every day grew 25% year over year in the third quarter, the company is clearly on to something.
8. Nvidia Corp. (NASDAQ:NVDA)
Stunning, realistic graphics are essential to the VR experience – that's where Nvidia comes in, providing the graphics processing units, or GPUs, that developers need to bring virtual worlds to life, as well as drivers that can be used with all the major headset brands including the Oculus, the Valve Index and the HTC Vive. While Nvidia's bread and butter remain semiconductors and graphics cards, it's clear that the company is taking a hard look at the future of virtual reality. Its VR Works suite helps developers build virtual reality applications. While the company didn't break out any specifics in its latest earnings report, VR was mentioned as a growth driver for both Nvidia's gaming division and its professional visualization division.
Nvidia designs leading Pascal GPUs, drivers, and SDKs to meet the needs of gamers, developers, and professionals. Like Qualcomm, Nvidia's technology is prevalent across the VR industry, making this company an excellent all-around VR investment.
DISCLAIMER :
Investors shouldn't buy shares of these companies based on their potential growth in the AR and VR markets alone. All of these companies still generate most of their revenue from other businesses that aren't strictly related to AR and VR headsets and applications — so investors should dig deeper before pulling the trigger. But over the next decade, the secular growth of the AR and VR markets could unlock fresh growth opportunities for all these companies.
References :
https://money.usnews.com/investing/stock-market-news/slideshows/virtual-reality-stocks-to-watch
https://in.finance.yahoo.com/news/5-stocks-ride-virtual-reality-144402750.html
Interested in building, analyzing and managing Portfolios in Excel?
Download our Free Portfolio Template
Call:

1-877-778-8358
I am so happy you are here. My name is Ankur and I am the founder/CEO of MarketXLS. Over the past four years, I have helped more than 2500 customers to implement their own investment research strategies and monitoring systems in Excel.
Implement

"your own"

investment strategies in Excel with thousands of MarketXLS functions and starter sheets.
Get started today
Get Access to
1 Billion

Usable Market data points

IN YOUR EXCEL SHEETS

WITH EASY TO USE EXCEL FUNCTIONSGet started today