Guru functions
Guru Strategies
Screeners
Valuation Models
Lynch Screen (Screening Stocks Using Excel)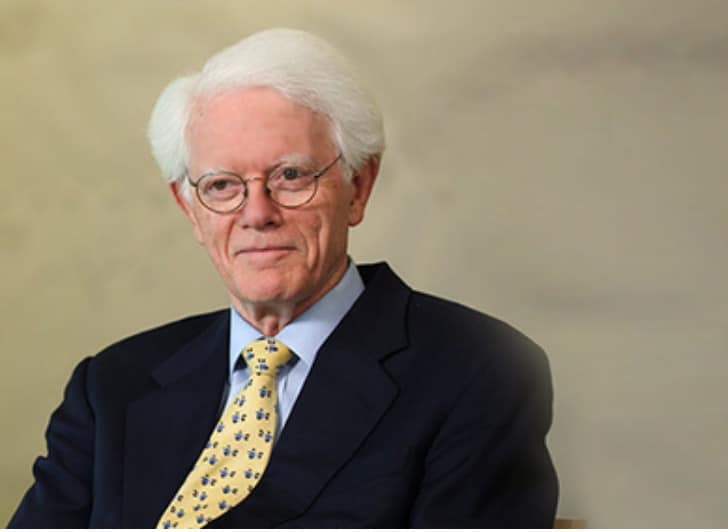 Peter Lynch screen is a growth investing strategy inspired by the approach of Peter Lynch, who looks for consistently profitable, relatively unknown, low-debt, reasonably priced stocks with high, but not excessive, growth. Peter Lynch wrote: "If you stay half-alert, you can pick the spectacular performers right from your place of business or out of the neighborhood shopping mall, and long before Wall Street discovers them."
When selecting a stock to invest in, Lynch is the first to say you should understand and be familiar with the business first. He urged investors to adopt a bottom-up investing process and "buy what you know."
Analysis is central to Lynch's approach. In examining a company, he seeks to understand the firm's business and prospects, including any competitive advantages, and evaluate any potential pitfalls that may prevent the favorable "story" from occurring. Besides, an investor cannot make a profit if the story has a happy ending, but he purchased it at a too-high price. Hence, he also seeks to determine reasonable value. According to Lynch, categorizing a company can help you develop the "story" line and come up with reasonable expectations.
Screening stocks as per Peter Lynch using the Market XLS Excel Template:
All you need to do is enter the stock ticker in the cell and check whether the stock meets the Lynch Screen criteria, and if it does, then which one.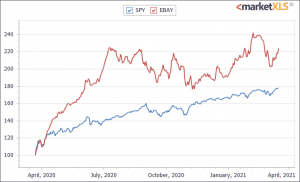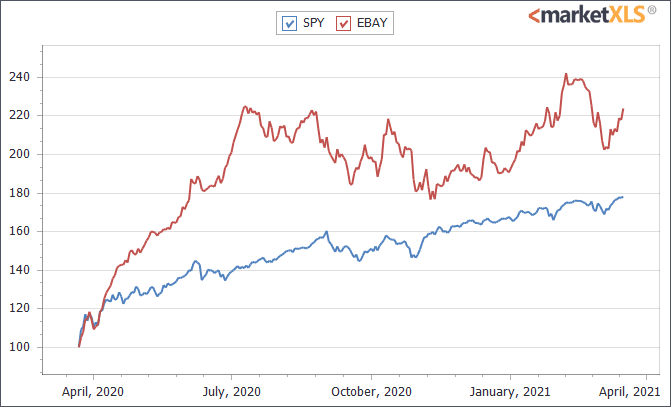 Slow Growers: These are companies with the scope of growing at a steady pace forever as external factors like wars, elections, and rising interest rates do not affect them. They are large and aging companies expected to grow only slightly faster than the U.S. economy as a whole but often paying significant regular dividends. These are not among his favorites. The chart shows the eBay (NASDAQ: EBAY) stock movement, which is a slow grower as per Lynch Screen Criteria.
ABG_SPY.png">
ABG_SPY-300×182.png" alt="Asbury Automotive Group- 1 year chart" width="300″ height="182″ />Stalwarts: These are large companies with annual earnings growth rates of around 10% to 12% who can still grow. When moderate gains are reached, Lynch suggests rotating among the companies, selling and repeating the process with others that haven't yet appreciated. These firms also offer downside protection during recessions. However, These companies aren't likely to go out of business. The critical issue is the price, and the p/e ratio will tell you whether you are paying too much. They typically tend to have a portfolio of strong brands – diversified for different markets. In case one brand fizzles out, a stalwart is still capable of generating solid results. Asbury Automotive Group Inc (NYSE: ABG) is one such stock identified as a stalwart as per Lynch Screen.

IRBT_SPY.png">
IRBT_SPY-300×182.png" alt="iRobot Corporation-1 year chart" width="300″ height="182″ />Fast-Growers: These stocks are Small, aggressive new firms with annual earnings growth of 20% to 25% a year. They do not have to be in fast-growing industries, and in fact, Lynch prefers those that are not. Fast-growers are among Lynch's favorites, and he says that an investor's most significant gains will come from this type of stock. However, they also carry considerable risk. Every investor is looking for Fast Grower stocks—the company which is likely to grow multi-fold in the next few years. Growth stocks lie in emerging sectors as the entire industry is in a growth phase. and has enough steam to pull the stocks along. He says fast-growing companies that expand at over 25% a year aren't many. They have a capability for defying their size, finding new and exciting ways to grow earnings, and giving investors enough time to participate. They keep growing – for five, 10, 20, and many more years. Revenues and earnings that proliferate are hallmarks.  The iRobot Corporation (NASDAQ: IRBT) is one such identified stock as per Lynch Screen.
Selection Criteria
Sustainable Earnings per share growth: The firm's "story" should fit with the growth rate of earnings –fast-growers should have higher growth rates than slow-growers. High earnings growth rates are not sustainable, but continued high growth may be factored into the price. Average five years EPS growth should be greater than 20% for the fast growers.
Price-Earnings growth: Companies with better prospects should sell with higher price-earnings ratios, but the ratio between the two can reveal bargains or overvaluations. A price-earnings ratio of half the historical earnings growth level is considered attractive, while relative ratios above 2.0 are unattractive, above 1.0 are considered poor, while ratios below 0.5 are considered attractive.
Inventories: Are inventories piling up? Revenues involve items sold from inventory, and hence overstocking of inventories may signal a red flag for investors. On the contrary, the first key sign of a turnaround when a company is depressed is when inventories start to deplete.
Debt to Equity: How much debt is on the balance sheet? A strong balance sheet provides maneuvering room as the company expands or experiences trouble. Lynch is especially wary of bank debt, which the bank can usually call in on demand.
The Bottom line
For investors, categorization is not an end in itself—it is a way to get started in the right area of the market. Balance is a key to successful stock investing. Stock picking is a risk-reward trade-off.
According to Lynch, while evaluating a company for investment, investors should determine whether it has good growth prospects. Investors should also focus on its products, where its money is coming from, and what it is competing against.
If the company's stock is behaving differently from the expectation, it is wise to determine the reason for it. Investors should look out for companies that have a long history of an increase in earnings and dividends, introducing new products, cutting costs, and showcasing a great balance sheet coupled with a terrific brand name.
Disclaimer
None of the content published on marketxls.com constitutes a recommendation that any particular security, portfolio of securities, transaction, or investment strategy is suitable for any specific person. The author is not offering any professional advice of any kind. The reader should consult a professional financial advisor to determine their suitability for any strategies discussed herein. The article is written for helping users collect the required information from various sources deemed to be an authority in their content. The trademarks if any are the property of their owners and no representations are made.
References:
13 Peter Lynch-Inspired Stock Ideas. https://www.forbes.com/sites/investor/2020/08/02/13-peter-lynch-inspired-stock-ideas/
The Peter Lynch Approach to Investing in Understandable Stocks. http://grahamanddoddsville.net/files/lynch_the_peter_lynch_approach_aaii_journal_199701.pdf
Stock tips: Peter Lynch's 5 types of stocks  https://economictimes.indiatimes.com/markets/stocks/news/peter-lynchs-5-types-of-stocks-how-to-make-money-in-them/articleshow/70655615.cms
'One Up on Wall Street': Peter Lynch's 6 Categories of Stocks https://www.gurufocus.com/news/711216/one-up-on-wall-street-peter-lynchs-6-categories-of-stocks
Interested in building, analyzing and managing Portfolios in Excel?
Download our Free Portfolio Template
Stock screens
Public saved screens
Top 100 Gainers Today
Top 100 losers Today
Call:

1-877-778-8358
I am so happy you are here. My name is Ankur and I am the founder/CEO of MarketXLS. Over the past four years, I have helped more than 2500 customers to implement their own investment research strategies and monitoring systems in Excel.
Implement

"your own"

investment strategies in Excel with thousands of MarketXLS functions and starter sheets.
Get started today